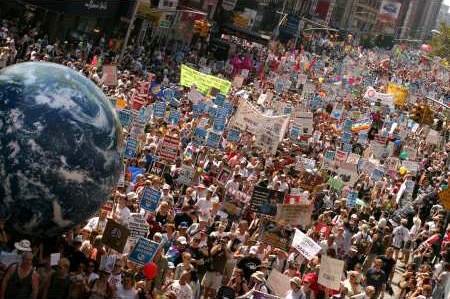 Celebrating 40 years as an independent think tank and networking hub, the Americas Program is a leading source of analysis and information for activists, academics and citizens concerned about US foreign policy in Latin America, human rights and movements for social justice within the hemisphere.
From our office in Mexico City, the Americas Program publishes a steady flow of original research and materials that report and analyze events throughout the hemisphere. The Program also acts as a cyber-hub to link up movements in our eight areas: migration, food sovereignty, drug war, democracy and society, land and territory, social movements, human rights and gender equality.
We take a facts-based look at U.S. foreign policy by examining the on-the-ground impact and allying with movements for justice. Our network of writers in countries throughout the region traces the threats, achievements, setbacks and challenges for grassroots movements as the essential component of real social change.  In our writings, public speaking, media interviews and multimedia production, we seek to increase North-South dialogue, break down stereotypes and help inform and broaden networks.
Vision: A hemisphere where all people–men, women and children–live in peace and have the basic means for a life with dignity and full enjoyment of human rights.
Mission: The Americas Program seeks to:
Analyze the impact and promote discussion of U.S. foreign (and domestic) policy in Latin America
Promote grassroots democracy and policies that emphasize human rights, mutual respect in international relations, gender equality and demilitarization
Strengthen mutual ties among social justice organizations & movements within Latin America, and between Latin American and U.S. organizations to  increase their overall success in achieving their goals.
Actions:
Analyze the impact of U.S. foreign and domestic policies in Latin America and build recommendations and advocacy for change
Document, analyze and give visibility to social movements; contribute to building and allying movements
Raise awareness and develop understanding among activists, academics and residents of countries throughout the hemisphere via:
Web Ezines (Americas Updater and Boletín Américas), MexicoBlog and the Americas Program trilingual website www.americas.org
Multimedia productions
Media interviews and contributions to print and electronic publications
Public speaking and tours
Build partnerships with other organizations around common goals
4. Build relationships between social justice movements
5. Promote U.S.- Latin America dialogue
VISIT OUR WEB PAGE TO SEE HOW THESE GOALS ARE GROUNDED IN ACTION ACROSS THE HEMISPHERE
To see Americas Program finances and contribute to our work:
To meet Americas Program staff and volunteers: HERE.   (http://www.americas.org/people)
Donations to the Americas Program are tax-deductible.

To see our 2017 Report HERE 
To see past reports: HERE.
This website is maintained by the Americas Program.