Recent Posts by americas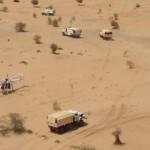 The fact that Salvadorans form part of the mercenary armies operating in Yemen is an open secret. A military intelligence source from the Salvadoran Ministry of Defense, speaking on the condition of anonymity, confirmed to the Americas Program that there are 100 Salvadorans carrying out operations of that type in Yemen.
A nascent student group calling itself Yo Soy 132 (or I Am 132) held its second national march June 10, in protest of Mexican presidential candidate, Enrique Peña Nieto. Estimates had the crowd numbers in Mexico City alone at over 90,000.
Written on June 19, 2012 at 11:10 pm
Categories: Uncategorized
The South American Integrated Regional Infrastructure (IIRSA) project is an ambitious plan to integrate the continent through new transportation, energy, Continue Reading »
Written on February 10, 2007 at 10:03 pm
Categories: Uncategorized
Recent Comments by americas