Recent Posts by David Bacon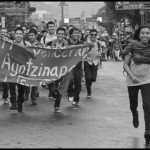 Every year on October 2 thousands of Mexican students pour into the streets of Mexico City, marching from Tlatelolco through the historic city center downtown, to the main plaza. This year they commemorated the 1968 massacre of students, the attack on Ayotzinapa students last month and the life of Raúl Alvarez Garin, "the hero of Tlatelolco".
In November of 2011, six months before the United States gave Colombia a clean bill of health and allowed the US-Colombia Free Trade Agreement to take effect, paramilitaries invaded the home of Juan Carlos Galvis in Barrancabermeja. Two black-clad invaders held a gun to the head of Galvis' daughter…
For over two decades in many parts of Mexico, large corporations — mostly foreign-owned but usually with wealthy Mexican partners Continue Reading »
For over two decades, Smithfield has used NAFTA and the forces it unleashed to become one of the world's largest growers, packers and exporters of hogs and pork. But the conditions created in Veracruz to help it make high profits, as one of Mexico's largest pig producers, also plunged thousands of Veracruz residents into poverty.
Over the 27 years since IRCA, a general division has marked the U.S. immigrant rights movement. On one side are well-financed advocacy organizations in Washington DC, with links to the Democratic Party and large corporations. They formulate and negotiate over immigration reform proposals that combine labor supply programs and increased enforcement against the undocumented. On the other side are organizations based in immigrant communities, and among labor and political activists, who defend undocumented migrants, and who resist proposals for greater enforcement and labor programs with diminished rights.
Written on January 14, 2012 at 11:24 pm
Categories: Uncategorized
Over the last 25 years, guest worker programs have increasingly become a vehicle for channeling the migration that has stemmed from free market reforms. Increasing numbers of guest workers are recruited each year for labor in the U.S. from Mexico, Central America and the Caribbean under the H1-B, H2-A and H2-B programs. Recruiters promise high wages and charge thousands of dollars for visas, fees and transportation. By the time they leave home, the debts of guest workers are crushing.
Written on January 14, 2012 at 11:18 pm
Categories: Uncategorized
A political alliance is developing between countries with a labor export policy and the corporations who use that labor in the global north.
Written on January 12, 2012 at 9:41 pm
Categories: Uncategorized
Recent Comments by David Bacon
No comments by David Bacon