Recent Posts by Christine Kovic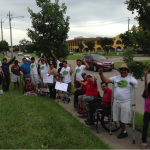 Paradoxically, from their status of limited mobility—both as unauthorized migrants and as individuals with injuries—the members of AMIREDIS demand the rights of human mobility, the right to cross borders with dignity, and the right of all to live with dignity in their homeland.
Migrant border deaths are at an all-time high in the state of Texas according to a new report. Over the past two decades thousands of men, women, and children have died attempting to cross the U.S.-Mexico border. Even as the number of migrants crossing the border falls, members of the U.S. Congress are pushing for an increase in border "security", pouring more and more public money into the very enforcement policies that produce the deaths.
Written on June 21, 2013 at 12:59 pm
Categories: Migration
By Christine Kovic From July 25 to August 2 of this year, hundreds of Central American migrants, their family members, Continue Reading »
Written on September 6, 2011 at 8:05 am
Categories: Uncategorized
From July 25 to August 2, 2011, hundreds of Central Americans retraced the steps of family members through southern Mexico. They were searching for relatives who have disappeared and demanding respect for immigrant rights. This is Part 1 of the Americas Program three-part series on the caravan and the dire situation of Central American migrants traveling through Mexico.
Written on August 25, 2011 at 7:50 am
Categories: Uncategorized
On Friday, June 23 a group of Central American migrants crossing Mexico by freight train en route to the United States were kidnapped at gunpoint in Medias Aguas, Veracruz. This is just the latest example of how U.S.-Mexico "security" policy has placed migrants at greater risk than ever.
Recent Comments by Christine Kovic
No comments by Christine Kovic