Recent Posts by Claudia Pompa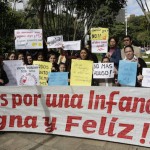 Mother's Day—an emotional date where millions of women celebrate giving birth and the joy of children. However, for one ten-year-old pregnant girl in Paraguay, this day was not one she was hoping to celebrate any time soon.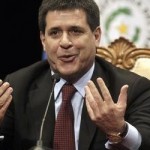 On April 22 2013, Horacio Cartes' victory in the Paraguayan presidential elections marked the return of the right-wing Colorado Party to power—a position it held for 61 years before left-wing former Catholic bishop Fernando Lugo won office in 2008. Cartes – a political novice who had never even voted in presidential elections before running for the office and who faced accusations that his wealth was acquired by money laundering, cigarette smuggling and drug trafficking – ran on a platform promising "a new path" and economic prosperity to all.
Written on July 15, 2014 at 3:52 pm
Categories: Uncategorized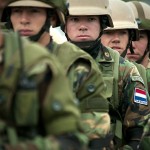 The state-party-military trilogy in Paraguay has been reincarnated when the President was granted the power to unilaterally deploy troops to fight the alienated north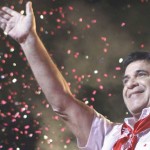 Horacio Cartes, tobacco tycoon and political novice, had a resounding victory in Paraguayan presidential elections, bringing back to power the Colorado Party, which ruled the country with a tight grip of power for over sixty years until 2008.
Cartes, who has accusations of narcotrafficing, smuggling and money laundering[CP1] all of which he was denied, won the elections with 45.8% of the votes, while second runner-up, Efrain Alegre, got 36.94%. 68.57% of the more than 3.5 million Paraguayans that could vote went to the polls to cast their ballots and choose not only president and vice president, but also members of congress, governors and representatives to the Mercosur parliament.
Written on May 3, 2013 at 2:55 pm
Categories: Uncategorized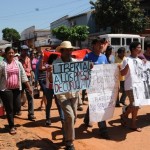 What happened in Curuguaty? That's the question that has been lingering in the minds of many Paraguayans after the controversial death of Vidal Vega, the peasant leader who was a key witness to the investigations of the Curuguaty massacre. Vidal Vega, 48, leader of a landless peasant movement in Paraguay was shot four times on December 1 2012, by bullets from a 12-gauge shotgun and a 38-caliber revolver fired by two unidentified men who sped away on a motorcycle, according to an official report prepared at the police headquarters in the provincial capital of Curuguaty.
In a controversial move seen by many as proof that Monsanto meddled in Paraguay's domestic affairs, the Franco government has approved the cultivation of genetically modified corn and cotton.
In a surprisingly fast sequence of events, Paraguay's Senate voted to remove President Fernando Lugo from power pushing the country Continue Reading »
Recent Comments by Claudia Pompa
No comments by Claudia Pompa