Recent Posts by Jonathan Treat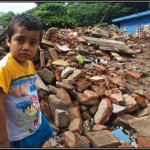 Photographer Jonathan Treat visited the Istmo region days after the earthquake and shares with Educa this photo reporting about the people´s struggle for survival in the communities of San Mateo del Mar, Matías Romero, Rio de Pachiñe, Santa María Xadani and Las Flores.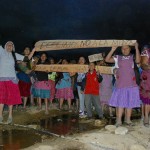 An Americas Program slideshow on women's resistance, organization and hope in Mexico 2014.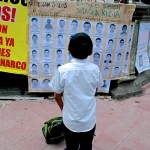 In Oaxaca, thousands of people in five separate marches converged in the city's center, the Zocalo, many wearing photos of the disappeared students.
Written on October 9, 2014 at 10:04 pm
Categories: Uncategorized

Tags: Mexico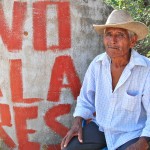 Community human rights defenders from Paso de la Reina, Oaxaca have organized to successfully block the imposition of a hydroelectric dam project on the Rio Verde for four years now.
A nonviolent protest on March 15 at Fortuna Silver´s Trinidad/Cuzcatlán mine in San José del Progreso turned tense, when pro-mine groups surrounded and fired shots toward local community activists, national and international human rights observers and journalists in this small Zapotec town in Oaxaca, Mexico.
More than 500 people from 12 countries traveled the sinuous mountain road from Oaxaca, México to the small Zapotec community of Capulálpam de Méndez to attend the "Yes to Life, No to Mining" Forum of Mesoamerican Peoples. Community activists and indigenous leaders shared experiences of resistance, and developed strategies for defending their territories against the onslaught of ongoing and planned mega-mining projects that threaten their communities.
On the evening of June 16, a red Dodge Ram pickup truck drove by spraying two anti-mining activists with bullets. They survived but two leaders of the Coalition of United Peoples of the Ocotlán Valley (CPUVO), which opposes the Canadian Fortuna Silver mine in Oaxaca, were killed in similar incidents. Why the mounting violence?
Recent Comments by Jonathan Treat
No comments by Jonathan Treat