Recent Posts by Movimiento Migrante Mesoamericano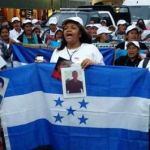 Today, we are with mothers and fathers, brothers and sisters from Central America who are searching for their loved ones, who are not in their places of origin, nor their destinations, and the last communication they sent was from here, from the country of transit.
As the Comprehensive Immigration Reform advances in the U.S. Senate, repressive policies against migrants who pass through Mexico have become more pronounced and represent a huge step backwards.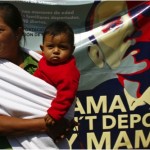 During President Barack Obama's recent visit to Mexico, hundreds of migrants and rights activists in four cities protested Obama's deportation policies and called for inclusive, comprehensive immigration reform in the United States.
Written on May 23, 2013 at 9:32 pm
Categories: Uncategorized
Recent Comments by Movimiento Migrante Mesoamericano
No comments by Movimiento Migrante Mesoamericano