Recent Posts by various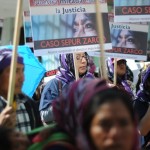 We, plaintiffs and supporters of the Sepur Zarco case for justice for sexual slavery, take up the political cause that gave rise to this commemoration. Today, more than ever, we women remember, we reclaim our history and we affirm that we will not turn back. Today more than ever: No to Oblivion. No to Silence. No to Impunity.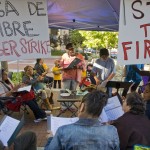 As the Senate passes its comprehensive immigration reform bill, it's important to remember that workers and immigrants have never made significant progress in gaining rights in the U.S. without a fight.
Written on August 14, 2013 at 4:04 pm
Categories: Uncategorized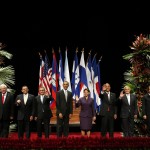 "Our organizations have documented an alarming increase in violence and human rights violations. While we recognize that transnational crime and drug-trafficking play a role in this violence, we call on our governments to acknowledge that failed security policies that have militarized citizen security have only exacerbated the problem, and are directly contributing to increased human suffering in the region."
Honey produced by thousands of Mexican beekeepers is at serious risk of contamination from genetically modified soybeans. Producers have called for a new model of social production.
Translation of the Citizen's Pact read and signed in Ciudad Juarez on June 10, 2011: "We are a Mexico that has stood up against the manifold violence that has ripped it apart, torn its fabric of solidarity, devastated the instinctual generosity of its people. We are a Mexico that marches, tired of being fed fear and distrust, when what springs naturally from our people are embraces and celebration. We are a Mexico tired of impunity, crime, and insecurity because day after day we love justice, solidarity and peace."
"In the face of a national emergency, today more than ever, drastic measures are needed to end this war end its escalating violence, and reweave the social and communal fabric. This perilous and profoundly violent moment is the result of economic structures that create inequality and exclusion. Slow death reigns here, death brought by poverty's torment, unemployment, a lack of opportunities for the full development of our lives and the destruction of the environment."
Dear Friends, Below is a sign-on letter to oppose additional U.S. funds to the Merida Initiative for the disastrous drug war. We have already received an incredible response from all over the Hemisphere. We believe this is a critical juncture, as homicides and human rights violations increase in Mexico and citizens in both countries reject militarization as a strategy to weaken organized crime. We urge you to join us and the hundreds of organizations and individuals listed below in signing this statement. The movement against the drug war enforcement/interdiction approach is getting stronger in light of the history of failure and enormous cost in lives and resources that it entails. It is unconscionable that the US government continues to support it. This is the time to make our voices heard.
Written on October 29, 2010 at 10:13 am
Categories: Uncategorized
Recent Comments by various