FEATURED CONTENT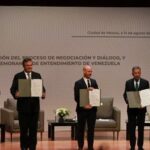 The conversations in Mexico between the opposition Unitary Plataform of Venezuela and the Maduro government, with the intermediation of Norway, represent the failure of the US interventionist strategy and the end of the Lima Group.
On our own terms: Indigenous perspectives on forced displacement
Dia de Refugiados. De la serie Voces de la diferencia, de la Corte Suprema
Mexico's elections on KPFA radio
Local candidates were killed in the run up to Mexico's recent election.
Laura Carlsen
 (
@LauraECarlsen
), Director of the Mexico City-based Americas Program joins us to analyze the political climate in Mexico following its midterm election which saw a 51% voter turnout.
Listen to the show here, at 0:08 – 36 . 
Which route to reform? Migration at core of Kamala Harris' Central America tour
We were on France 24's The Debate discussing the impact of Kamala Harris' visit to Mexico and Guatemala. You can view the show here.
Friday Round Table: News Analysis on Voter Suppression, Border, Filibuster, Atlanta killings
America's Program Director Laura Carlsen sat in on Sojourner Truth's "Friday Round Table: News Analysis on voter suppression, the situation of children on the southern border, the filibuster, and the Derek Chauvin trial" with Gerald Horne and Jackie Goldberg.
Check out the podcast here!