FEATURED CONTENT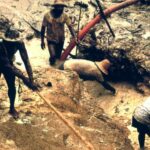 During these pandemic times, everything seems to indicate that the socio-environmental crisis is getting worse in Latin America, especially in the Amazon.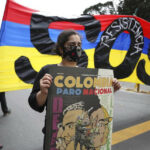 his phase of resistance began with a shout of protest against a new policy that would levy taxes on basic products and services, raising the cost of living in a country where unemployment, poverty and inequality are at  unprecedented levels. It has now become a struggle between extermination and emancipation.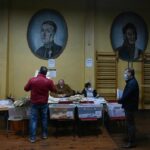 The May 15th and 16th elections in Chile, which encompassed concurrently the vote for the 155 delegates to the Constituent Assembly as well as the vote for municipal officials and regional governors, has exposed the dismal failure of the government and rightwing parties while sanctioning the triumph of the independent candidates.
Dia de Refugiados. De la serie Voces de la diferencia, de la Corte Suprema
Central American Caravan for the Disappeared Seeks to Reunite Families
Mexico's Dilemma: Tariffs or Impose Trump's Draconian Immigration
Mexico's elections on KPFA radio
Local candidates were killed in the run up to Mexico's recent election.
Laura Carlsen
 (
@LauraECarlsen
), Director of the Mexico City-based Americas Program joins us to analyze the political climate in Mexico following its midterm election which saw a 51% voter turnout.
Listen to the show here, at 0:08 – 36 . 
Which route to reform? Migration at core of Kamala Harris' Central America tour
We were on France 24's The Debate discussing the impact of Kamala Harris' visit to Mexico and Guatemala. You can view the show here.
Friday Round Table: News Analysis on Voter Suppression, Border, Filibuster, Atlanta killings
America's Program Director Laura Carlsen sat in on Sojourner Truth's "Friday Round Table: News Analysis on voter suppression, the situation of children on the southern border, the filibuster, and the Derek Chauvin trial" with Gerald Horne and Jackie Goldberg.
Check out the podcast here!