By Kristin Bricker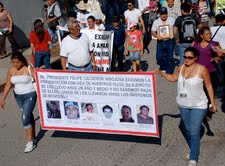 "The Dirty War never ended in Guerrero," declares Rosario Cabañas, the niece of guerrilla leader Lucio Cabañas. The Mexican military killed Lucio Cabañas in 1974, carrying out an order to exterminate the guerrilla leader and anyone who collaborated with him.
In July, unknown assassins murdered Rosario's mother, Reyna Anaya Nava, and the guerrilla leader's widow, Isabel Anaya Nava, as they left church in Xaltianguis, Guerrero.
As drug war violence spirals out of control in many parts of Mexico, people living in the countryside of the state of Guerrero are threatened not only by the traditional forces of the Dirty War—the military, paramilitary groups, and corrupt political bosses—, but now by narco-paramilitaries and drug trafficking organizations aw well.
Dirty War Crimes
Guerrero's murder rate has more than tripled since Felipe Calderón ordered drug war operations in that state in January 2007.
To put the drug war violence into context, in a thirteen-year span of the government's Dirty War against guerrilla forces and political opposition, between 1968 and 1981, 529 people were forcibly disappeared in the state. This was known as the most violent period in Mexico's history since the revolutionary war. Today, the Committee of Families of the Kidnapped, Disappeared, and Murdered in Guerrero has counted 299 disappearances over the past six years alone, meaning that Guerrero is on track to surpass its Dirty War record.
The increase in violence was no surprise in Guerrero, where the drug war is the latest chapter in a decades-long history of military occupation, paramilitarism, and state violence. The military has occupied large swaths of Guerrero since the 1970s, when President Luis Echeverría sent 24,000 soldiers—one-third of the Mexican military at the time—to the state to suppress guerrilla organizations. The military terrorized civilian peasants. Forced disappearances and summary executions at military checkpoints became common. As a result of the intense militarization, Guerrero suffered more forced disappearances during the Dirty War than any other state—eight times more than second-place Mexico City—and a huge increase in summary executions.
In a chilling foretelling of what was to come in the war on drugs, a suppressed 2006 government report on the Dirty War criticized the military campaign against the guerrillas:
"Even now, when these crimes come to light, there are those who try to justify the State's actions, arguing the necessity of bringing to justice—by any means—those who participated in illegal acts committed by guerrillas. This justification is so weak and contradictory that it necessarily concludes in the argument that crime is fought with crime, leaving aside the law…"
Most Dirty War crimes remain uninvestigated and unpunished. In 2002, then-President Vicente Fox created the Special Prosecutor's Office for Past Political and Social Movements (FEMOSSP) to investigate Dirty War crimes. However, the federal government refused to publish the FEMOSSP's groundbreaking report on Dirty War crimes. Instead, it published a watered-down version and shut down the FEMOSSP. The crimes mentioned in the report, particularly the meticulously documented disappearances carried out by government forces, remain unpunished. And the Dirty War continues in Guerrero.
In the decades since the Dirty War ended in other parts of the country, the military has continued to "fight crime with crime" in Guerrero. It is unknown exactly how many soldiers currently occupy the state, because the Secretary of Defense has denied Freedom of Information requests regarding the number of soldiers deployed by state.
But the effects of the military occupation are painfully obvious. When the peace caravan led by poet and drug war victim Javier Sicilia visited Guerrero on September 9-10, many residents recounted how soldiers murdered their family members. Their stories were similar to those in northern states: loved ones were shot or disappeared at military checkpoints. The only difference is that in the north, military checkpoints and human rights abuses committed by soldiers are a relatively recent phenomenon. In Guerrero, soldiers have terrorized residents for forty years.
Alvaro Ramírez Concepción recounted how the military massacred eleven people on June 7, 1998, as they met in El Charco to discuss community-led economic development. Ramírez Concepción's Organization for the Future of the Mixteco People has fought to bring those responsible for the massacre to justice. As a result, they have suffered attacks from unknown assailants.
"Five people were injured in my community. I was shot, too," Ramirez says as he recalls an attack that occurred just a year ago. "I have these wounds because I go out and knock on doors. I'm working against the government."
Tita Radilla recounted how the military was responsible for the disappearance of her father, Rosendo Radilla Pacheco, at a military checkpoint on August 25, 1974. His crime: he sang folk songs about human rights abuses in Guerrero. Despite winning her case against the Mexican government in the Inter-American Court of Human Rights, the government still hasn't told her where her father's body is, and it has not punished the soldiers responsible for his disappearance and murder.
In many disappearances, however, it is unclear who is responsible. Activists may receive threats for the work they do, but when they disappear, they disappear without a trace. That was the case with Jorge Gabriel Cerón Silva, who disappeared in 2007. Cerón Silva was an organizer with the Community Development Workshop (Tadeco, in its Spanish abbreviation), a Guerrero-based community organization. On March 14, 2007, witnesses saw that as he left his office, a recent-model truck with tinted windows and no license plate pulled up next to him. Men got out of the truck, threw Cerón Silva inside, got back in the truck, and drove off.
"From that moment, he was never heard from or seen again," says Isabel Rosales of the Committee of Families of the Kidnapped, Disappeared, and Murdered in Guerrero, known simply as the Committee of the Disappeared.
Tadeco helped form the Committee of the Disappeared to search for Cerón Silva. "In the beginning the Committee was just family and friends of Jorge," explains Rosales. "But when we went public, a lot of other families contacted us because they had the same problem: that someone in their family had been disappeared."
Drug War Crimes
When Mexican President Felipe Calderón declared "war on organized crime" in late 2006, his decision to deploy the military to regions controlled by drug trafficking organizations set off a wave of human rights abuses, gruesome executions, kidnappings, and other violent crimes around the country. In Guerrero, where state-sponsored violence never ceased following the official end of the Dirty War, drug war violence has compounded residents' security problems.
Guadalupe Orozco's son Francis Alejandro Garcia Orozco was kidnapped from work on March1, 2010, along with five other young men. She has a security camera video that shows that soldiers kidnapped her son.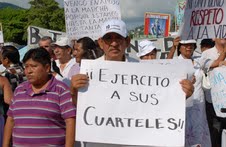 "The military refuses to accept this evidence," she complains. "They say that they don't know anything, that it wasn't them." Her family visited several area military bases, but they all deny having her son. She says neither her son nor his friends were activists, nor were they criminals. Her son and his friends simply disappeared into the back of a military truck and haven't been seen since. She has no idea what motivated the detention and subsequent disappearance and she can't get any answers from military authorities or ghe government.
Orozco is one of the many parents who have joined the Committee since the drug war broke out. Unlike the Committee's founding members, they say no one in their family is a political activist,. They insist they aren't criminals, and have nothing to do with organized crime. The families of the organization tend to come from very humble backgrounds. Some worked repairing computers; others worked in retail—in other words, not ideal extortion victims. Many families never received ransom demands.
Orozco is one of the lucky ones, because an anonymous tipster sent her the video of her son's detention, providing evidence that the military was behind the disappearance Most families don't know if the kidnappers were soldiers, police, organized crime, or petty criminals simply taking advantage of a violent and chaotic situation.
A lot of the Committee's newest members can't even begin to guess who could have taken their loved ones, nor do they have any idea as to why they were targeted. The problem is that the impunity and suspension of justice that has plagued Guerrero since the beginning of the Dirty War has allowed government corruption to fester for decades. Now it also provides a cover for violent crimes that are not politically motivated. In short, criminals in Guerrero know that there is almost no chance they will be caught, and if they are caught, there's even less chance they will be punished.
Government Turns Its Back on the Problem
Even as forced disappearances increase to alarming proportions, the Committee of the Disappeared's proposals to combat the problem fall on deaf ears. "We've proposed that the government of Guerrero implement a search plan, that it form a state-wide tactical group that would search and find them [the disappeared], that it re-open the cases and that it follow the leads that we have provided to learn their whereabouts," said the Committee in a written statement. "We want to help with the investigations despite the risks entailed, but the government refuses to give in. It insists on keeping us isolated, separated, and to keep ignoring us and shutting us up. As for our proposal that the government create a contingency fund for victims of social violence, we haven't received any response."
The government's refusal to search for the disappeared is due to a lack of will, not resources. Proceso's Marcela Turati points out that a new system called Plataforma Mexico already has all the equipment necessary to track kidnapping victims and locate mass or clandestine graves. Plataforma Mexico, which receives funding from the United States government through the Merida Initative, is designed to connect federal, state, and local police to a national communications system, a security network and satellite cameras, databases of ballistics information from crimes, police reports, and the biometric data on both criminals and victims. Turati points out that, if used correctly, the government could use satellite photos to detect geographical anomalies that would indicate a recently dug clandestine grave.
Likewise, Plataforma Mexico's network of government security cameras, highway cameras, and tollbooth cameras could be used to track perpetrators as they flee the scene of a crime, and the nationwide, multi-level communications network should allow police to coordinate actions between jurisdictions. Theoretically, this same system could be used to track kidnappers and their victims. Turati points out that instead of using Plataforma Mexico to combat violent crime and impunity, the government currently only uses the system to track and interdict drug shipments.
In Guerrero, many human rights organizations believe that the government's refusal to investigate kidnappings and disappearances indicates it may be afraid that thorough investigations would uncover government corruption and complicity with organized crime.
Javier Sicilia, whose son was kidnapped and murdered, argued in Ciudad Hidalgo, Chiapas, that corruption and impunity have "erased the line between the State and crime. It keeps us from seeing where one begins and the other ends."
Narco-Paramilitaries
When ranchers Rodrigo Camacho Rodríguez, Pedro Salgado Mora, Cuauhtémoc Román Navarro, and Artemio Soroa Brito disappeared in separate incidents in Guerrero, the Committee of the Disappeared took up their cases. The prime suspect was Rogaciano Alba, a corrupt political boss, president of the Guerrero cattle ranchers union, and former mayor of Petatlán, Guerrero.
For years, locals had accused Alba of being in cahoots with the military to repress local peasant communities. Many civilians reported that his henchmen often acted as guides for the military during raids of their communities.
"There were various incursions into communities in the Sierra where residents said they saw that the people leading the incursions were Rogaciano Alba's people, and that the military was protecting them," says Rosales. "People also say that when he was being pursued by rivals, he hid out by living in the Petatlán and Altamirano military barracks. People who live near Rogaciano's ranch say soldiers go up there to feed his animals. This tells us that he still has influence" over the military. This evidence of blatant collaboration between Alba's gunmen and the military led locals to label his operation a paramilitary organization.
In recent years, however, rumors began to circulate in the Sierra that Alba worked for Joaquin "El Chapo" Guzman Loera's drug trafficking organization. Then in February 2010, the government confirmed locals' worst fears: it arrested Alba, accusing him of controlling the Costa Grande region of Guerrero for the Sinaloa cartel. Alba is currently in prison awaiting trial on drugs, weapons, and organized crime charges, but according to Rosales, his closest collaborators continue to run his ranching and drug trafficking operations. A clear indication that Alba's reach extends beyond the jailhouse walls is the recent assassination of Javier Torres, a witness who testified against Alba. Torres accused Alba of ordering the assassination of human rights lawyer Digna Ochoa and the murders of over twenty members of Torres' family. Torres was assassinated in April; at that point Alba had been in jail for over a year.
The fact that Alba was arrested on organized crime charges, is a political boss and former government official, and has a team of armed men who collaborate with the military against indigenous and peasant communities has led to the conclusion that Alba runs what could be Mexico's first official narco-paramilitary organization.
When the Committee took up the four cattle ranchers' case in 2009, it publicly accused Alba's narco-paramilitary organization of disappearing the men. As a result, the Committee began to receive threats. "They told us to give up the fight," says Rosales, "because if we didn't, it would be our names and photos that would show up on the Committee's list of disappeared persons."
The government offered no help to the Committee in its search for the cattle ranchers. "They told us that they were disappeared for a reason, that they must have done something, or that they were involved in something that they shouldn't have been," says Rosales. "Public officials even told family members, 'Don't denounce [the disappearances]. You have other children, you have a family, don't do anything because they could come for you.' When they tell you this, it makes you think that the authorities know what happened to your relative."
Cuaúhtemoc Ramírez of the Guerrero-based Organization of the Me'phaa Indigenous People (OPIM) argues, "The state has been using [narco-paramilitaries] to eliminate any political or social opposition." He, along with many other Guerrero residents who have encountered narco-paramilitaries, says Rogaciano Alba is behind the narco-paramilitary apparatus in Guerrero.
"Everyone in the small towns knows" who the narcos are, he says. "They are armed and they drive around town in luxury trucks." Since the narcos don't attempt to maintain a low profile, Ramírez explains, residents easily identify them when they accompany the military or mingle with government officials. "One time at a town New Years Eve party, everyone saw the local [drug] boss at the party with the interim mayor."
Ramírez believes that in Ayutla, the military has an agreement with narco-paramilitaries: "they [the military] will let them [the narcos] work, selling narcotics for example, but in exchange the narcos have to eliminate us."
Testimony from the Insurgent People's Revolutionary Army (ERPI), a guerrilla organization that appeared in Guerrero in 1998, supports Ramírez's assertion that the government is using narco-paramilitaries against the political opposition in that state. The ERPI's leader, Comandante Ramiro, said that when the military detained him in 2001, known drug traffickers participated in his torture sessions inside the prison. Ramiro escaped prison in 2002. The ERPI has publicly stated that drug traffickers are on the organization's list of enemies. The ERPI says that it has battled drug traffickers and narco-paramilitaries on multiple occasions, and that it seeks to keep them out of the indigenous and peasant communities that make up the guerrilla army's popular support base.
On November 4, 2009, Comandante Ramiro was shot and killed with an AK-47. The ERPI claims that the government paid one of Rogaciano Alba's hitmen, Cayetano Alvarado Palacios, to assassinate him.
Whether or not this is true, testimonies from a range of leftist organizations in Guerrero all point to the same conclusion: in Guerrero, the government is using narco-paramilitaries to repress and terrorize popular movements.
The Drug War and the Dirty War have become one.
Kristin Bricker is a reporter in Mexico. She is a contributor to the CIP Americas Program www.americas.org.

Photos by: Santiago Navarro