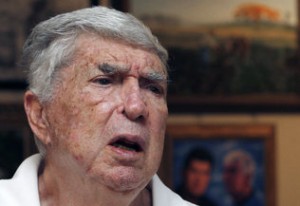 U.S.-Cuban relations – and the Obama administration's standing — received a painful and embarrassing blow on April 9 when an El Paso jury acquitted arch-terrorist Luis Posada Carriles of all charges, despite the overwhelming evidence against him. The jury heard, among other damning evidence, tapes on which Posada Carriles acknowledged being the mastermind behind the planting of several bombs in Havana, including one in the Hotel Copacabana in 1997 that killed Italian businessman Fabio di Celmo.
Despite all the evidence against him, it took the jury only three hours to decide for acquittal on all counts. How could this be?
Basically, because of the way the trial was run. The judge, Kathleen Cardone, owes her appointment to George W. Bush, and her political preferences showed. Reading over the trial, it often seemed she had simply turned the floor over to the defense attorney, Arturo Hernandez. Hernandez was allowed to attack the prosecution witnesses at length and at will, with no objections from the judge. At many points it seemed that Ann Louise Bardach of the New York Times, who uncovered Posada Carriles' activities in a series of interviews in 1998, and other prosecution witnesses were the ones on trial.  Judge Cardone sat by without raising a single objection when the defense attorney even accused one witness, Gilberto Abascal, of being a thief, a liar, a Cuban spy, a mercenary and insane to discredit his testimony.
The prosecution team struggled hard to make its case against Posada. They invited Cuban government witnesses to come up and testify against him. The defense spent more time attacking the Cuban witnesses than responding to their evidence.
The spokesman for the Justice Department, Dean Boyd, said the United States "was disappointed by the decision in El Paso." It should have been.
The prosecution was limited by the nature of the case. Since it was an immigration trial to decide if the alleged terrorist could remain in the country, rather than a terrorist or criminal case, they could only accuse Posada Carriles of lying about his role in terrorist acts, not of actually committing them. They also sought to prove that he lied to immigration officials to cover up entering the country illegally. Trying him on these lesser charges suggested the government had a weak case, which it did not. The decision to go for the lesser charges was not made by the prosecutors on the case, but by those above them. A bad decision.
That Luis Posada Carriles, a notorious global terrorist, could not even be convicted of "lying" is doubly embarrassing and casts doubt on our seriousness of purpose in the fight for justice and against terrorism.
Wayne S. Smith is a Senior Fellow at the Center for International Policy in Washington D.C. and has been an Adjunct Professor of Latin American Studies at the John Hopkins University since 1983. He was Chief of the U.S. Interests Section in Havana from 1979-82.