URGENT ACTION ALERT:
FACTS: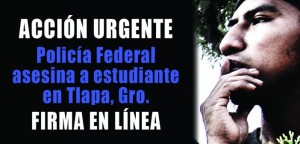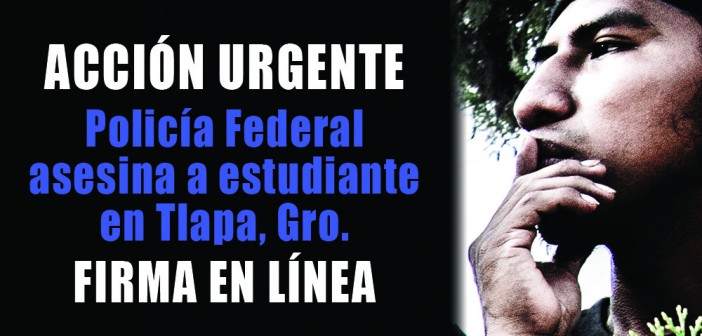 On June 7, 2015, around 14:30 pm during election day, two patrols – numbered1699 and 1566 – of the Federal Police (FP), with at least 24 policemen, arbitrarily raided the office of the Union of Education Workers of Guerrero (Coordinadora Estatal de Trabajadores de la Educación de Guerrero – CETEG) in the neighbourhood of Tepeyac in the city of Tlapa de Comonfort, next to the Regional Delegation of the Ministry of Education of Guerrero, which violently and arbitrarily arrested a group of teachers; 6 men, including a minor: Juan Sánchez Gaspar, Pablo Abad Díaz, Julián Ayerdi Chavelas, Raúl Sierra de Jesús, Francisco Ortega Vicente, Ángel Basurto Ortega; 2 women: Agustina Luna Martínez y Herlinda Iturbide Pinzón; without any warrant.
In particular, Professor Juan Sanchez Gaspar was taken from his home located next to the CETEG building, in which the Federal Police arbitrarily broke into. It should be noted that Professor Juan Sanchez Gaspar is the father of Juan Leuguín Sanchez, a teacher who was brutally beaten by the State Police, in coordination with armed individuals linked to different political parties, on Friday June 5, 2015 in the same city[1].
After the arrest of the teachers, at least 35 members of the Federal Police entered again on three patrols to the Tepeyac neighbourhood, in order to search the CETEG facilities – still without any warrant – and attempted to take two vans, supported by two tow trucks of the municipal transit police.
Witnessing the shocking images of the arbitrariness and violence of the events, many residents of the neighbourhood, went out to the streets and began to complain to the police for their actions. The altercation escalated and the residents of the Tepeyac prevented a group of 35 federal police to leave and warned that they would be retained in the neighbourhood until they freed the detainees, who by that time were being transferred by air to Mexico City, in a helicopter of the Mexican Navy.
In response to the retention, around 15:30 pm, the Federal Police deployed a cumbersome operation in which hundreds of elements besieged the town, creating an atmosphere of tension that lasted up to two hours. This situation eased due to the mediation by Tlachinollan. Thus, the CETEG reached an agreement with federal authorities that the detainees would be transferred to Tlapa and that the police elements would be released once the group of detainees were in this city; in addition, they agreed that the Federal Police forces deployed in different neighbourhoods of Tlapa pull back to about two kilometres from where the policemen retained, to avoid further confrontation.
Around 18.30 pm – while expecting the arrival of the detainees – the retained policemen were moved to the Tepeyac Chapel in order to protect them from outside groups to the neighbourhood. So far the policemen had not been disarmed; it was only then when they were asked to release their batons, shields and helmets, only such equipment was requested to be removed. Inside the chapel there were women, youths and children looking out for the policemen. Due to its mediation, Tlachinollan went to the chapel to verify the integrity of the police and to inform the families of the detainees that their relatives would be back in Tlapa, once they were taken to Chilpancingo by air and then to Tlapa by land.
However, around 20.00 pm, the Federal Police reactivated the operation and raided the Tepeyac neighbourhood, in breach of the agreements reached between the Federal Government and the CETEG teachers. During the operation gunfire, tear gas and other gases were used, which led to terror among the families and neighbours who were waiting for news about the return of their detained relatives. Various testimonies acknowledge the possible participation of members of the Army from the 93 Infantry Battalion based in Tlapa.
During the deployed operation – according to the testimonies collected – elements of the Federal Police broke into private homes intimidating the families of the Tepeyac with tear gas, causing an unknown number of wounded persons.
At the moment, there is information of at least 4 persons seriously injured and one person killed by gunshot: Antonio Vivar Díaz, a recent graduated student from the Bachelor of Integral Community Development, specializing in Norms for the Indigenous Peoples from the National Pedagogic University (UPN) of Tlapa de Comonfort.
CONTEXT AND CALL FOR ACTION:
These horrendous events took place in the midst of an election day in which an alarming number of state, federal and military forces were deployed, in Guerrero and in other states such as Oaxaca, Michoacán and Chiapas, just as Tlachinollan denounced it days before. Moreover, the events are a critical outcome of a series of repressive events from the Mexican authorities denounced by civil society organizations, such as those occurred on June 5th, when state police cracked down members of the Popular Movement of Guerrero (Movimiento Popular Guerrerense – MPG) and from CETEG in Tlapa. During those events, the police allowed and supported violent actions of armed individuals linked to different political parties, who fought against the social groups. The result: least two people were seriously injured and one of them is hospitalized.
Furthermore, these events take place just over eight months that three students from the Rural Teacher's Training University "Raúl Isidro Burgos" of Ayotzinapa were executed and 43 more forcibly disappeared at the hands of municipal police of Iguala, in collusion with organized crime; and almost three and a half years that two students of the same School were executed in the city of Chilpancingo, after federal forces and state security – including the Federal Police – opened fire in a failed operation to break up a student demonstration.
In response, we urge civil society and the international community to urge the Mexican State to:
Ensure the integrity and security of the community of Tlapa and the detainees by the Federal Police in the CETEG facilities.
Conduct an independent, prompt and effective investigation of all the events occurred on June 7, with special attention to the execution of the young Antonio Vivar Díaz; and prosecute all officials responsible for it.
Start administrative and judicial proceedings against state and federal authorities that failed their duty to reasonably prevent these serious violations of human rights.
Ensure comprehensive, medical and psychological care of the injured and detainees.
Establishing the truth and comprehensive reparation to victims and their families.
The communications should be sent to:
 Lic. Miguel Ángel Osorio Chong
Minister of Interior
Abraham González No.48, Col. Juárez, Del. Cuauhtémoc  C. P. 06600, México, D. F. – Tel. (55) 5728-7400 ó 7300. secretario@segob.gob.mx
Mtra. Arely Gomez González
General Attorney
Paseo de la Reforma 211-213, Piso 16
Col. Cuauhtémoc, Del. Cuauhtémoc, C.P. 06500 México D. F.
Tel: (52.55) 53460000 ext. 0108
Fax: (52.55) 5346.0928
Correo: arelygomez@pgr.gob.mx  ofproc@pgr.gob.mx
Lic. Monte Alejandro Rubido García
National Security Commissioner
Secretaría de Gobernación.
Av. Constituyentes #947 Col. Belén de las Flores, Del. Álvaro Obregón
Distrito Federal CP. 01110 Tel. (55)1103 6000
Correo: mrubido@secretariadoejecutivo.gob.mx
Lic. Rogelio Ortega Martínez
Governor of Guerrero
Palacio de Gobierno, Edificio Centro 2do. Piso, Col. Ciudad de los Servicios, C.P. 39074 Chilpancingo, Guerrero, México, Fax: +52 747 471 9956,Correo-e.: secretariaparticulargp@guerrero.gob.mx
Lic. David Cienfuegos Salgado
Minister of Interior of Guerrero
Palacio de Gobierno, Edificio Norte, 2º Piso., Boulevard Lic. René Juárez Cisneros No. 62. Col. Cd, de los Servicios, C.P. 39074, Chilpancingo, Gro. Tel: (747) 471 9803, 471 9804, 471 9806 secretariageneral@guerrero.gob.mx david.cienfuegos@guerrero.gob.mx
Miguel Ángel Godínez Muñoz
General Prosecutor of Guerrero
Boulevard René Juárez Cisneros S/N, esquina calle Juan Jiménez Sánchez
Col. El Potrerito, C.P. 39098, Chilpancingo, Guerrero.
Tel. 01 747 494 29 99
pgj@guerrero.gob.mx candido.zapudio@guerrero.gob.mx
Dr. Luis Raúl González Pérez
President of the National Commission of Human Rights
Edificio "Héctor Fix Zamudio", Blvd. Adolfo López Mateos 1922, 6° piso, Col. Tlacopac San Ángel, Del. Álvaro Obregón, C.P. 01040, México, D.F. Tels. y fax (55) 56 81 81 25 y 54 90 74 00 correo@cndh.org.mx, presidencia@cndh.org.mx
Lic. Ramón Navarrete Magdaleno
President of the Guerrero State Commission of Human Rights (Coddehum)
Avda. Juárez, Esq. Galo Soberón y Parra Col. Centro, 39000, Chilpancingo, Guerrero, México. Teléfono: (+52) (01) 747 471 21 90 Fax: (+52) (01) 747 471 2190 E-mail: coddehum@prodigy.net.mx presidencia@coddehumgro.org.mx
Javier Hernández Valencia
Office of the High Commissioner of Human Rights
Alejandro Dumas No 165,Col. Polanco. Del. Miguel Hidalgo. C.P 11560, México D.F.
Tel: (52-55) 5061-6350; Fax: (52-55) 5061-6358
Correo: quejasoacnudhmexico@ohchr.org; oacnudh@ohchr.org
Dr. Emilio Alvarez Icaza
Executive Secretary of the Inter- American Commission of Human Rights
1889 F Street, N.W. Washington, D.C., 20006 U.S.A.
Tel: 202-458-6002 Fax: 202-458-3992
[1] See press release – Only in Spanish: http://www.tlachinollan.org/comunicado-regresion-autoritaria-el-uso-del-ejercito-y-fuerzas-de-seguridad-publica-durante-los-procesos-electorales/