By Kristin Bricker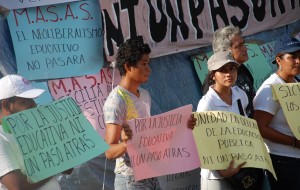 Several thousand people marched on Acapulco, Guerrero, this past Saturday chanting, "We don't want war, we want education!" The march occurred during poet Javier Sicilia's visit to the seaside city as his caravan of drug war victims makes its way to the Mexico-Guatemala border.
Acapulco was once an international resort destination. Now, drug war violence has scared away many tourists who are afraid of becoming the cartels' next victim. Last year, the kidnapping and murder of twenty Mexican tourists in Acapulco dealt a devastating blow to the city's tourism industry. Drug traffickers apparently mistook the group of mechanics from Michoacan for a rival drug gang.
The increasing violence in Acapulco drove 800 teachers in 300 public schools to \strike last week to demand that the government take measures to increase security in their schools. The strike has kept at least 50,000 students from beginning the 2010-2011 school year. The teachers say they won't return to classes until it is safe to do so. Teachers around the state are supporting the Acapulco strike by occupying all of the Ministry of Public Education buildings in the state. They are threatening to strike, too, if the government doesn't reach an agreement with the union this week.
Shoot-outs outside schools are now a regular occurrence. Just this past week, shoot-outs occurred outside of three public schools in Acapulco. The teachers are afraid that criminals will seek refuge on school grounds during shoot-outs. One of their strike demands is to improve the schools' facilities to prevent outsiders from entering the schools.
"There's schools here that don't even have a telephone," complains Roman Maynardo López Pachuca, spokesman for the Guerrero State Education Workers Coordinating Committee (CETEG), the democratic organization within the National Education Workers Union. "They installed these so-called 'emergency buttons' in the schools, but they've never worked. If a teacher hits the button, sure, the police will arrive eventually. But it's usually an hour later, or whenever they feel like showing up."
"There's been a wave of extortions, phone calls, anonymous threats, and, in some cases, some teachers have been kidnapped, and others have been carjacked at gunpoint," explains López Pachuca. "Last month, we received an anonymous threat that named certain teachers by name," recalls Lopez Pachuca. "It demanded that those teachers who earn more than eight thousand pesos per fifteen-day pay period turn over half their salaries" to a criminal group.
"They're also demanding 50% of the Christmas bonuses," says César Gonzalez, representative of the CETEG in Chilpancingo, Guerrero. "In exchange [for the payments], the schools would be protected by them [the criminal organization]. Moreover, if these teachers [who pay the quota] have problems with other teachers or with students' parents, they [the criminal group] will make sure that the teacher or parent stops causing problems."
Gonzalez says that organized crime first started demanding quotas from teachers in Acapulco, but now they've extended their threats to teachers in other parts of the state, such as Tierra Colorada.
The union has refused to pay. "If they tried to make good on their threats, there would be an uprising of all of the teachers in Guerrero, " warned Lopez Pachuca.
The union spokesman isn't making empty threats. His local, Section 14, has historically been one of the most militant locals in the National Union of Education Workers (SNTE), and it is one of just a handful of democratic locals in the union. The local stood up to the military during the Dirty War in the 1960s and 70s in Guerrero, which was ground zero for the military's brutal campaign against social movements across the country. Now, decades later, Section 14 refuses to be intimidated by organized crime.
"We teachers are not proposing a repressive police-military operation," insists Lopez Pachuca.  "Instead of responding to crime, they focus more on repressing the social movements that protest the situation."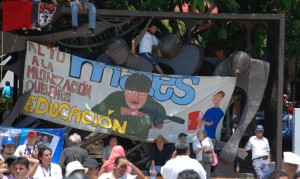 The union spokesman blames the violence on the government's decision to declare war on organized crime.
"This strategy of all-out-war, far from solving the violence problem, has only made it much worse," he argues. "The problem is exacerbated when they ignore the simplest part, which is the extreme poverty that prevails throughout Mexico."
According to the Mexican government's own statistics, 46.2% of the population—that is, 52 million people—live in moderate or extreme poverty. Another 34.5% percent are classified as "vulnerable." Lopez Pachuca explains, "This drives people to obtain money through illicit means out of necessity to pay their bills."
"The strategy of all-out-war has failed, and it is time to change that strategy," argues Lopez Pachuca. "A new strategy should combine intelligence work with social justice. There are students who were rejected from public universities, and they don't have money to attend private colleges. There needs to more access to high school and college education, and special attention needs to be paid to the poorest sectors of society."
Education Deficit
The striking teachers are demanding that the government dedicate more resources to education in Guerrero, particularly in the poverty-stricken outskirts of Acapulco. They want all students to have free access to all levels of education, including universities.
According to UNESCO's Education for All Global Monitoring Report, 19% of Guerrero residents aged 17-22 have fewer than four years of education—one of the worst rates in the country. The average Guerrero resident has only a middle school education, and indigenous peoples fare much worse. Forty-two percent of Mexico's monolingual indigenous population (that is, those who only speak an indigenous language) is in the bottom twentieth percentile for the number of years they attended school.
Most of Mexico's students are forced to end their education early due to a severe shortage of schools and teachers across the country. Last year, children in 46 rural towns in Guerrero did not attend school because the schools in their communities didn't have any teachers at all.
The nation's public universities also suffer severe shortages, leaving scores of young Mexicans with no hope of a professional education if they can't afford private universities. The National Autonomous University of Mexico (UNAM) rejected 90% of applicants in 2010; it turned away 105,386 applicants in just one of its admissions cycles that year. That same year, the Autonomous University of Guerrero rejected 35%, or 3,408 applicants.
Forty-nine rejected applicants are currently on their 32nd day of hunger strike in Acapulco's town square to demand admission to the Autonomous University of Guerrero. "We have 9.9 [out of 10] grade-point averages," says Berta Zuñiga, one of the hunger strikers. "We will not let an admissions exam undervalue us as human beings."
Unfortunately, Mexicans' demands for increased access to education have fallen on deaf ears. In July, Javier Sicilia and other drug-war victims met with Congress. During the dialogue, legislators agreed to significantly increase the education budget. "They promised that there would enough money for college and high school education so that any student who wanted to study could," recalled Sicilia in Guerrero. "We don't see that promise reflected in the 2012 budget."
The proposed budget increases the Ministry of Public Education's funding just 1.9% over last year, while the already bloated drug war budget would increase more than 10%.
"We demand that by next week, those who want to study are incorporated into the student body," said Sicilia to cheering Acapulco residents. In the war on drugs, "it's young people who are dying, and it's young people who are killing. We can't let this go on, because if we do, we'll lose Mexico altogether."
Kristin Bricker is a reporter in Mexico. She is a contributor to the CIP Americas Program www.americas.org and is currently covering the 10-day Caravan of the Movement for Peace with Justice and Dignity for the Americas Updater.