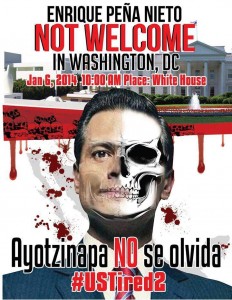 Thousands of people came out to protest on Dec. 3 in fifty-four U.S. cities under the hashtag #USTired2. Based on the slogan used by Mexican protesters #YaMeCansé (I'm tired of it) following a remark by Attorney General to cut off a press conference, #USTired2 has helped build momentum in the context of growing discontent with U.S. foreign policy toward Mexico and police brutality at home.
In a few weeks, the movement has become a contemporary example of grassroots solidarity between U.S. and Mexican communities. The organization has scheduled national protests for Jan. 6 when Enrique Peña Nieto visits the While House to meet with President Obama to discuss the bilateral agenda.
For over three months, Mexicans have organized demonstrations in the country's cities and towns, demanding justice for the disappeared college students from Iguala, Guerrero. Yet since October, protestors have not only called for the appearance of the 43 disappeared students (now presumably 42 since the remains of one student were identified among ashes found near the scene of the crime), but also the resignation of President Enrique Peña Nieto and justice for the tens of thousands of disappeared and hundreds of femicides nationwide that have occurred, especially since the war on drugs was launched in December 2006. At the core of their criticisms is the impunity and corruption at local, state and federal levels.
While protestors in Mexico have amplified their demands, multiple protests have been organized abroad in more than fifty countries. One of the largest and most notable is in United States, known by the hashtag #USTired2. The protests were organized in November to coordinate nationwide protests on Dec. 3 in support of the Ayotzinapa families. The #USTired2 protests are geared toward pressuring the U.S. government to end Plan Mexico, the bilateral security aid package that supports Mexican police and military forces like those implicated in the Ayotzinapa case.
Organized primarily by Latinos and Mexican communities in the United States, the #USTired2 protests emerged as a critique of President Obama's stance on Ayotzinapa. The new movement denounced Obama's offer to help the Mexican government resolve the Ayotzinapa case as a contradiction, considering the U.S. government has provided $2.4 billion dollars in security funding to Mexico through Plan Mexico, also known as the Merida Initiative. Plan Mexico has been funding U.S. training and equipment for Mexico's armed forces, police, courts and prison system. Since 2008 when the bilateral program began, human rights violations by security forces have soared, according to the National Commission on Human Rights.
On Dec. 3, #USTired2 surpassed its goal of organizing protests in 43 cities, one for each disappeared student, by succeeding in inspiring protests in 54 U.S. cities. On their website, organizers of #USTired2 detailed their progress to date. "We have built the first Latin American solidarity movement that from its beginnings, is led openly by Latinos, it is extremely important that our children see us leading the charge."
In an interview with the Americas Program, Rocío Zamora, who took part in the #UStired2 protests in North County San Diego, California explained why she came out to demonstrate.
"We were there to stand in solidarity with the people of Mexico, to let the Mexican government know that the world is watching them, and to demand that the U.S. government stop military assistance to the Mexican government," she said of the Dec. 3 demonstration, which drew scores of people in her city.
Within Mexico, U.S. citizens have also shown their solidarity, both politically and artistically.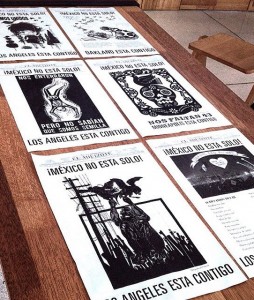 Daniel Gonzalez, a graphic artist from Los Angeles, organized fourteen U.S. artists and poets under the hashtag #MexicoNoEstasSolo to share their graphic art and poetry in solidarity with Mexican protests for justice in Ayotzinapa. Daniel explained that the project was born out of the urgency to manifest growing support for justice in Mexico.
"What is happening in Mexico now is not an isolated event. It looks a lot like the kind of violence that is happening in Palestine, Ferguson, and in many other parts of the world," he said in a recent interview.
"It's important to build solidarity among all these communities, rather than just sympathy. Action through protest and cultural activities creates solidarity, a collective consciousness that brings to life the struggles of many people from around the world and connects their cause with us and us to them."
Daniel, in collaboration with Casa de El Hijo de Ahuizote, a Mexico City-based cultural center dedicated to transnational collaboration, printed a broadside that featured a front-page graphic by a U.S. artist and poetry and literature on the other side. They distributed and distributed 2,500 during the Dec. 1 and Dec 6 marches in Mexico City.
"It has been incredible to see the look of surprise in people's faces when you hand them a sheet of paper with a printed message of solidarity from a country that seems so indifferent clearly printed on the front. One young woman was moved to tears and took the sheet and clasped it to her heart. One couple hugged and read the poetry together in the middle of the Zocalo," he said.
"Mainstream media in Mexico don't show the people the impact that this movement is having globally. Mexican mainstream media try to project an ugly face of the movement to the rest of the world, to try to discredit it. The truth is that these protests include a large part of Mexican society; they're peaceful, well organized, and if the momentum is kept up, have the potential to achieve profound social change."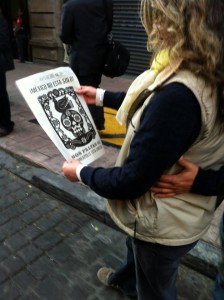 Daniel also reiterated the importance of developing transnational networks of communication and political activism. "This is one of the ways to connect and inform communities transnationally. It's like sending a note, both print and electronic, and delivering it to the people–a long-traveled message."
International solidarity organized abroad and locally has not gone unnoticed by Mexican society. During the Dec. 6 protests in Mexico City, the Americas Program interviewed demonstrators about growing international solidarity with Ayoztinapa, including the #USTired2 protests.
Karen Rosales, a student at the National Pedagogical University, explained that the #USTired2 protests inspire Mexicans to continue demanding justice by reminding them that they have support, not only nationally, but worldwide.
"I think it is important because this goes beyond 43 students, this is solidarity in a human sense. I don't think it's necessary to be a university student to be aware of the crisis in this country. I think there's a crisis not only in Mexico, but worldwide. That's why it is so important that our protests are being heard in other parts of the world, not only in Mexico. Because that means that the protests we're organizing here are bearing fruit in other parts of the world."
Marta Bañuelos Cardenas, sociology professor of the Autonomous Metropolitan University of Mexico City, said that international support has been essential to achieving democracy in Mexico. Cardenas emphasized the importance of the #USTired2 protests for the advancement of justice in the Ayotzinapa case.
"The protests in solidarity organized in various U.S. cities are very important to us because we have an authoritarian government with repressive tendencies and the fact that others are protesting and are willing to unite with us helps strengthen the front against repression by this government. It's a government that has not held itself accountable to date after two months since the disappearance of the students, and instead wants to silence us and forget what has happened, hoping that we accept the results of their investigations, preserving their impunity," she stated.
As a university student and member of the Committee in Solidarity with Ayotzinapa, Erick Reyes believes that U.S. solidarity with Ayotzinapa is telling of the deep and historical ties that unite communities on both sides of the border.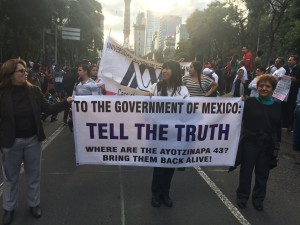 "It's not for nothing that there are more than 20 million Mexicans living in the U.S. and that people all over Latin America suffer and live this violence on a daily basis. This solidarity is not only symbolic– it's important and it's represented in the participation of more than 53 countries taking to the streets to protest, with the participation of a wide range of nationalities."
Erick noted that with the recent demonstrations in Missouri in the Michael Brown case there's a need to develop reciprocity between Mexican and U.S. communities dedicated to justice and social change on a broader scale.
"Racism is a very big issue in the United States, so we must also address what's going on in Ferguson. We have to discuss the protests that are going on there as well. It's very important to call for a well-organized resistance that isn't just sporadic, but something that can transcend into a permanent discussion among Latinos, among African Americans and among Mexicans on the causes of systemic violence, poverty, and discrimination."
#USTired2 will be out again, this time to protest Enrique Peña Nieto's visit to Washington DC on January 6. Protestors plan to publicly denounce his implication in Mexico's femicides, corruption, and the Ayotzinapa case at demonstrations in DC and at Mexican consulates in more than twenty cities across the country.
While Peña Nieto and Obama will discuss plans to fortify the bilateral security agenda, which to this date has caused over 100,000 deaths and 24,000 disappearances in Mexico in the last 8 years, citizens of both countries are demonstrating that a transnational organized effort to push for and achieve justice is not only possible, but well under way.
FOR MORE INFORMATION:
On twitter: #UStired2 and on Facebook https://www.facebook.com/USTired2
www.americas.org