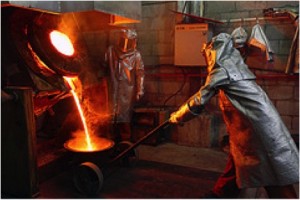 NOTE: This article is the twelfth in a series by the CIP TransBorder Project that examines the water crisis on the U.S.-Mexico border.
"I think I'll to sleep and dream about piles of gold getting bigger and bigger and bigger." — Fred C. Dobbs in B. Traven's The Treasure of the Sierra Madre (1927)
The Mexican government is making modern mining dreams come true. Nonexistent or unenforced regulations –whether regarding occupational safety, environmental degradation, water extraction, and control of hazardous wastes – make Mexico one of the world's most profitable countries for the mining industry.
The February 2014 cover article of Industrias ProMéxico, an English-language promotional magazine distributed to foreign investors, is "The Mining Industry in Mexico: A Golden Opportunity." The article points to Mexico's "500 years of tradition" of opening up the country to the "global mining industry."[i]
Aside from its mineral wealth, Mexico is attractive to the mining industry for what is euphemistically termed its "competitive" investment environment. Among 25 mining nations, Mexico ranked fifth in having the best mining investment conditions," according to an industry study.[ii] Among the factors that figure into the competiveness rating are the cost of production (including mineworker wages) and the decree of social tensions (community opposition, environmental activism, etc.) experienced by investors.
In Latin America, Mexico ranked third behind Chile and Brazil. The mining industry is attracted to Mexico because of lax and unenforced government regulations concerning the environment, water, and occupational health and safety. Mexico's proximity to the U.S. and Canadian markets also attract mining investment to Mexico.
At the Ministry of Economy in Mexico City, Mario Cantú Suárez directs the Mining Coordination Office, which includes three divisions: Mining Regulation Office, Mining Development Office, Mexican Geological Survey Office, and Public Trust to Foment Mining. Rather than monitoring or regulating the country's booming investment in mining, the Mining Coordination Office oversees the governmental efforts to promote and develop the mining sector.
Regulation in the sense of enforcement of occupational-safety, environmental, and permit restrictions fall far outside actual mission Mining Coordination Office, as was apparent in the recent environmental and occupational safety disasters provoked by the reckless mining practices of Grupo México in Sonora and Coalhuila.
Negocios ProMéxico cited Cantú Suárez on "the conditions that favor mining investment and development" in Mexico: "There is an advanced regulatory framework, on par with those of major mining powers, which gives legal certainty and security to the industry with clear rules and efficient administrative processes." The magazine is a product of ProMéxico, an investment-promotion agency created by President Felipe Calderón in mid-2010 under the joint supervision of the economy and foreign relations ministries.[iii]
Having the business sector promoting trading and investment opportunities is not unusual in any country. Nor is it unusual for governments to cooperate with industry associations to attract more investment through the national government's commerce and economy departments.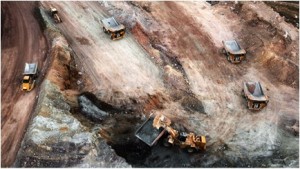 The Mexican government, which formerly owned most of the mining industry as the result of its nationalization and Mexicanización initiatives in the 1960s and 1970s, maintains its close association with the mining sector. Yet more than cooperating with the mining sector, the federal government from the offices of the Secretaría de Economía in Mexico City functions as the industry's public-relations agency, source of credit and risk capital, source of technical assistance and training programs, and much more.
Through the ministry's Mining Coordination Office, the Mexican government has taken it upon itself to provide minerals maps to mining companies, develop an infrastructure of mining-service businesses to serve the major mining corporations, help construct a nationwide network of mining industry associations, revive abandoned mines to facilitate new investment in these mines, and develop "mining districts" that function as hubs for mining operations by foreign and Mexico-based mining firms.
Government agencies – both federal and state – that are responsible for the mining industry serve as mining boosters rather than as regulators.
Government Stands Behind Mining Industry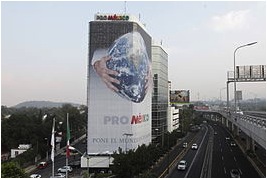 ProMéxico is typical of the type of investment-promotion agencies found in the commerce and economic ministries of most governments. It sells the advantages of Mexico's investment climate and competitiveness, highlighting the available investment and tax incentives, the lack of labor unrest, the low cost of labor, the government bureaucracy established to serve business, and the lack of enforcement of the labor, occupational safety, and environmental laws that exist on the books.
Foreign and national investors have come to expect such red-carpet treatment. But Mexico offers much more than a warm welcome. Through its Fideicomismo de Fomento Minero (FIFOMI)– a semi-autonomous government trust – the federal government's economic ministry and its Mining Coordination Office (Coordinación General de Minería) offer existing and prospective mining corporations and mine-service firms what can best be described as "development aid."[i] But this development aid goes not to the impoverished and disadvantaged but to well-heeled investors who seek to increase their wealth.
As a testament to its success in fueling Mexico's mining boom, FIFOMI noted in 2012 that the Metal Economic Group (MEG) ranked FIFOMI as the most successful government agency in Latin America promoting mining exploration, while holding the 4th spot worldwide. In its capital fund, FIFOMI counts on more 4,700.5 million pesos to provide financing, credit, and risk capital to Mexican and foreign mining firms.[ii]
FIFOMI has laid the foundation for Mexico's mining boom by offering mining business, small and large, an attractive package of development tools, including:[iii]
Direct financing of new and expanding mining ventures.
Financing the "development of [industry] providers" or service companies.
Training and technical assistance of management and labor.
Creation, promotion, and participation in "risk capital" funds for the mining industry.
Take charge of the public-relations campaigns for the mining industry – in this case, unlike ProMéxico, not to attract investment but to sell the benefits of the mining industry to other sectors of the Mexican government, the Mexican public, and affected communities.
If you tune into the local radio stations in the mining districts of Chihuahua or Sonora, you are likely to learn how the mining industry is the foundation of economic development in these states, providing plenty of employment opportunities, and taking care of environment.
Such publicity, together with newspaper ads, glowing accounts in the print media, and televised public service announcements about the industry's contributions aren't likely paid for by the mining companies but rather by the Program of Promotion and Publicity of the FIFOMI. In 2012 this mining fideicomiso spent 3 million pesos in publicity gloss for the mining industry to counterbalance accounts of the industry's record of environmental destruction and displacement of communities.
One of the latest initiatives of FIFOMI is to two-pronged strategy to create and financially support local and state mining associations that in effect are extensions of the state government's own mining promotion offices – one example being the partnership between the Dirección General de Minería of Sonora's economy ministry and the Sonoran Mining Association (AMSAC). FIFOMI has played a key role in the creation of what it calls the State Mining Councils.[iv]
FIFOMI states state mining associations, and mining councils, along with the new program of creating mining clusters and strategic promotional directorates in the major mining states, represent a coming together of government, business, and civil society, this purportedly inclusive program is narrow and self-selecting.
Not included – better said intentionally excluded – are such civil society sectors as leaders of communities affected by mining, university researchers specializing in the impact of the mining industry, mineworkers' organizations, impacted indigenous communities, and environmental organizations with mining sector expertise. Instead, these councils and clusters include as their civil society representatives mining consultants, directors of mining associations, and mining engineers.
FIFOMI is directly promoting a surge of mining operations around Mexico through its "clúster" program. The concept of using FIFOMI resources to develop clusters of mining operations completed with service providers, infrastructure, and water is closely linked to FIFOMI's program of reactivating old mines. Both initiatives count on the federal and state government, together with FIFOMI financing, to spark a surge in mining exploration and excavation. The mining cluster program is modeled after a similar program in Chile called the Clúster Minero de Chile and one in Peru.
From the perspective of FIFOMI, "The creation of mining clusters is a priority task in our country since it involves a multisectoral coalition that joins forces." Zacatecas and Chihuahua have established mining cluster organizations, and FIFOMI has also played a key role in creating mining councils in the country's most conflictive states such as Guerrero and Michoacán. These are states where organized crime has assumed control of the main mining operations.[v]
In the case of Chihuahua, FIFOMI has made available 8 million pesos "for the support of mining" through the recently established Clúster Minero de Chihuahua (CLUMIN). Collaborating with CLUMIN and FIFOMI, the Chihuahua state government has sponsored the development of a new mining district in the Sierra Tarahumara, which since 2013 has been region most affected by drug-related violence by organized crime and security forces.[vi]
Aside from using the trust's resources to build powerful government-mining industry pressure groups, FIFOMI can also point to other successes in accelerating Mexico's mining boom, including:
Technical assistance and consulting to 830 mining firms in 2012.
Reactivation of 127 mines in 2007-2012.
Training and capacity-building assistance in 2012 to 2,234 firms involved in the mining sector.
Financing 176 mining businesses during first six months of 2014, amounting to 560.3 million pesos.[vii]
FIFOMI says that it directs its assistance mostly to small- and medium-size firms. What it doesn't make clear is that in its goal to "develop a productive chain" for the mining sector that it works closely with the largest mining companies, including Peñoles and Grupo México, to ensure that their mining and metallurgical complexes can count on a chain of service providers, many of which are subsidiaries of these mining giants.[viii]
In the historical context, Mexico's mining boom is the product of a series of government initiatives that date back to the nationalization initiatives of President Lázaro Cárdenas. Among these initiatives was the creation of the Comisión de Fomento Minero (COFOMI), which, after several ideological turns, transitioned into today's FIFOMI. In other words, a government agency that had its ideological roots in nationalism became the agent of the development of Mexican mining oligarchs who are integrated structurally and financially with foreign capital.
Although that has been the main development accomplishment of COFOMI-FIFOMI, in its current iteration the government's public trust for the promotion of the exploitation of Mexico's mineral resources also offers its services to all mining firms, whether 100% Mexican capital to 100% foreign-owned mining industries.
Mining Boosterism in Sonora
When the Sonora River disaster struck, there was little public information about social and environmental impacts of the Cananea and other mining operations. The flood of toxics washing down the Sonora River also led to questions by the media, the pubic, and the anti-Independencia aqueduct forces about how much water the Buenavista copper mine and other mining operations consumed.
The state government's role as a booster for the mining sector rather than a regulator helps explain the almost total lack of information about the impact of mining on Sonora's environment and on its water resources. The one state government agency that has most information about the state's mining industry is the Secretaría de Economía.
The Secretary of Economy has four separate programs that work closely with Mexican and foreign mining firms: 1) foment growth of mining industry; 2) training courses (in association with Secretaría d Trabajo and education institutions) for mine staff and workers, 3) technical assistance and consultations, and 4) helping mining businesses grow with state assistance.[ix]
Over the past decade, the state government has dramatically stepped up its programs to boost the mining industry, creating a series of quasi-governmental entities and public trusts (fideicomisos) to aid and abet mining operations.[x]
The Dirección General de Minería, which is the office of the Secretaría de Economía in Hermosillo that interacts with mining companies, doesn't concern itself with the adverse impacts of mining.
The decree establishing the office makes no mention of water use, water contamination, land restoration, or occupational safety and health. Instead, the decree authorizes the state government's mining office to work closely with the mining industry. Its mission is not to monitor or to regulate but rather of series but rather: "fomenter," proponer," "apoyar," "impulsar," "coadyuvar," "proporcionar," "brindar," "promover," "publicar," "difundir," and "desarrollar."
The Secretaría de Economía hosts fairs and forums to promote mining in Sonora and serves as a public relations agency for the state's mining industry. More than a cheerleader for the advance of mining operations in Sonora, the state government works to boost the industry by providing direct and indirect assistance.
The Direccíon General de Minería does this by providing technical assistance, undertaking exploration studies, training technical workers, and generating sources of credit and financing. And when the industry's aggressive development of new mines encounters obstacles, the state's mining office works to remove these obstacles by working with public and private entities to "prevent and resolve mining problems."[xi]
Over the past decade the state government of Sonora has created a series of fideicomisos (decentralized semi-autonomous public trusts that answer to the governor's office). These mining fideicomisos function as governmental partners of the private mining companies, clearing the path for mining operations and assisting the firms with services that involve the expenditure of state revenues.
In November 2007 the state legislature passed the "Ley de Promoción y Fomento Minero para el Estado de Sonora." The main thrust of this mining law was to establish a process to provide financing, financial and logistical support, technical studies, and fiscal incentives for the mining industry. To provide this assistance, the law authorized the creation of the State Fund to Promote and Incentivize Mining.
Fiscal and non-fiscal incentives provided to mining companies – large or small, foreign or national – include: tax and fee exemptions and reduction; financing for modernization; training; technical assistance; business expansion; acquisition of goods and services; investment and feasibility studies; infrastructure; development aid; and mining and metallurgical studies. Neither the state nor federal government provide any accounting of the incentives and support for the mining industry.
In June 2011, Governor Padrés issued a decree to create a new decentralized state organization called the Regional Mining Development Promoter (PRODEREM) whose mission is to "strengthen the industry."[xii] This strengthening extends to all phases of mining operations – ranging from mining extraction and processing (smelting, refining, etc.) operations to transportation and even sales.
Government subsidies, infrastructure construction, and tax incentives are nothing new in Sonora. Since the 1880s the government of Sonora as facilitated the extraction of copper, gold, and silver by mining companies. In the early 1880s, Sonora exempted mining firms from taxes for twenty years. More than anything else, however, mine investors have demanded that the Sonoran government guarantee that they could extract their minerals in peace.
Referring to this need to establish a stable climate for mining and economic modernization, Sonora's governor in 1882 lamented the uprisings of "bábaros" and "the abnormal situation presented by the Yaqui and Mayo tribes who are holding fast to the river banks."[xiii]
FOOTNOTES:
[i] FIFOMI, Informe del Director Enero-Febrero 2014; "Auerdo por el que se aprueba el Programa de Desarrollo Minero 2013-2018," Viernes 9 de mayo de 2014 DIARIO OFICIAL (Segunda Sección) 27; "Auerdo por el que se aprueba el Programa de Desarrollo Minero 2013-2018," Viernes 9 de mayo de 2014 DIARIO OFICIAL (Segunda Sección) 27.
[ii] FIFOMI, "Informe del Director, Enero-Febrero 2014," at: http://www.fifomi.gob.mx/web/images/fifomi/documentos/carpetas/2014/sesord158/anexo_2%20_inf_direc_ene-feb2014.pdf
[iii] FIFOMI,"Misión y Visión,"at: http://www.fifomi.gob.mx/
[iv] Consejos Estatales de Minería have been established in Sonora, Sinaloa, San Luis Potosí, México, and Guererro, while FIFOMI is working with government and business to create similar councils in Michoacán, Chihuahua, Hidalgo, Nayarit, Jalisco, Oaxaca, Queretaro, and Campeche.
[v] Mónica Villanueva and María Idalia Gómez, "Controla narcotráfico minas en 5 estados," 24 Horas, Aug. 16, 2013; InSight Crime, March 7, 2014; InSight Crime, Jan. 28, 2013; "Mexico Organized Crime Controls Mining in Five States," InSight Crime, Aug. 13, 2013.
[vi] "Refuerza el sector minero la economía estatal," Juárez Noticias, Sept. 27, 2014; "Inicia construcción de complejo minero en la sierra tarahumara," El Milenio, Nov.3, 2014; "Anuncia director de FIFOMI recursos por 8mm de pesos para minería," Informex, Nov. 24, 2014, at: http://informados.com.mx/noticia.php?id=96319
[vii] "Memoria Documental," Coordinación General de Minería, Oct. 30, 2012; http://www.fifomi.gob.mx/web/images/fifomi/documentos/infgeneral/Rendicta/lblanco/asistencia%20tecnica%20y%20capacitacion.pdf
[viii] See, for example: Rebeca Ramírez, "Ejerce el Fondo de Fomento Minero en Coahuila 850 mdp de 1,8000 millones," Vanguardia, May 8, 2014.
[ix] Secretaría de Economía, "Minería Programas," at: http://www.1economiasonora.gob.mx/sectores/minero
[x] There are private and public fideicomisos in Mexico. Both state and federal governments can create fideicomisos for a variety of social and development objectives that involve spending government revenues. In practice, the proliferation of fideicomisos, particularly on the state government level, further shields the government from transparency and accountability. For a definition of a fideicomiso público see: http://definicionlegal.blogspot.com/2012/11/el-fideicomiso-publico.html
[xi] Secretaría de Economía, Artículo 15, Atribuciones y indicadores de gestión de la Dirección General de Minería," at http://transparencia.esonora.gob.mx/Sonora/Transparencia/Poder+Ejecutivo/Secretar%C3%ADas/Secretar%C3%ADa+de+Economia/Atribuciones+e+Indicadores+de+Gesti%C3%B3n/Atribuciones+de+la+Direcci%C3%B3n+General+de+Miner%C3%ADa.htm
[xii] PRODERM succeeds another fideicomiso of Sonora's executive branch called the Fideicomiso de Apoyo al Programa de Exploración Minera en el Estado de Sonora (FAPEMIN).
[xiii] Juan Manuel Romero Gil, La minería en el noroeste de México: Utopía y realidad, 1850-1910 (Plaza y Valdes, 2001), p. 129.
[i] Negocios ProMéxico, (Pro-Mexico: Mexico City), February2014.
[ii] Study by Behre Dolbear in 2013, cited in "The Mining Industry in Mexico: A Golden Opportunity," Negocios ProMéxico, February 2014.
[iii] ProMéxico's mission is: "To promote the attraction of direct foreign investment and export of goods and services, as well as the internationalization of Mexican companies in order to contribute to Mexico's economic and social development and to strengthen the country's image as a strategic business partner." ProMéxico, at: http://www.promexico.gob.mx/en/mx/mision-vision-valores-objetivos
All articles in this 13-part series:
1. The Yaqui Water War
https://www.americas.org/archives/13463
2. Sonora and Arizona's Uncertain Water Futures
https://www.americas.org/archives/13485
3. The Illusions of the New Sonora
https://www.americas.org/archives/13852
4. Sonora Launches Controversial Megaprojects in Response to Water Crisis
https://www.americas.org/archives/13854
5. Origins and Disappearance of the Yaqui River
https://www.americas.org/archives/13892
6. The Old and New Sonoras: The Context for Sonora's Water Wars
https://www.americas.org/archives/14008
7. Making the Desert Bloom: The Rise of Sonora's Hydraulic Society
https://www.americas.org/archives/14017
8. The Damming of the New Sonora
https://www.americas.org/archives/14025
9. Mining Boom in the Sierra Madre
https://www.americas.org/archives/14040
10. Mexico's Three Mining Giants
https://www.americas.org/archives/14044
11. Mining Water in Sonora: Grupo México's "Irregular" Water Permits in the Sonora, Yaqui, and San Pedro River Basins
https://www.americas.org/archives/13998
12. Making Mining Dreams Come True in Mexico
https://www.americas.org/archives/14055
13. Mining, Megaprojects, and Metrosexuals in Sonora