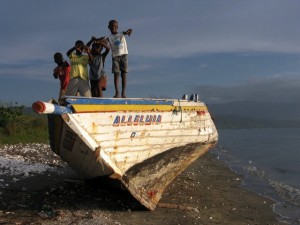 In 2010, political hopeful Michel Martelly announced his presidential campaign with singing and dancing in the streets. The famous entertainer was a favorite of Jean Claude Duvalier's brutal militia, the Ton Ton Macoutes, under his stage name "Sweet Mickey." Martelly, who was known for making controversial political statements in the often-provocative musical genre compas, also supported the military coup that overthrew Haiti's democratically elected president Jean-Bertrand Aristide in 1991.
Following the performer's victory in a January 2011 run-off election, author Jeb Sprague voiced serious concerns over a Martelly administration, explaining: "Haitians should have grave misgiving about a man who has backed two coup regimes that used death-squads to silence the poor majority and throttle Haiti's nascent democracy."[1]
Sure enough, President Michel Martelly of Haiti began to rule the island nation by decree on January 13, 2015, after allowing the National Assembly to collapse. In the wake of failed negotiations between the president and opposition parties over a new electoral law, the terms of almost all of the bi-cameral legislature's 129 representatives expired, leaving the Assembly without enough members to form a 16-member quorum, necessary to ratify laws.
Several key events led up to Martelly's rule by decree beginning this January. In December, the country's prime minister resigned in the midst of protests against the government. Martelly then dismissed the head of the Supreme Court. As parliament's final hour approached, negotiations floundered, with six prominent opposition Senators unwilling to support an extension of the constitutionally prescribed four- and six-year terms for legislators.
A week after beginning to rule by decree, Martelly installed a new prime minister and a 36-member cabinet. Still with no functioning parliament, the terms of Governor of the Central Bank and several board members were allowed to expire, and the term of the Chief of Police will expire imminently.
A Provisional Electoral Council, formed on January 23, has sent a proposed legislative calendar to the president, recommending that legislative elections take place August 9, 2015 and that presidential and municipal elections take place October 25. Legislative and municipal elections in Haiti are now more than three years overdue. The presidential runoff election is proposed to take place December 27.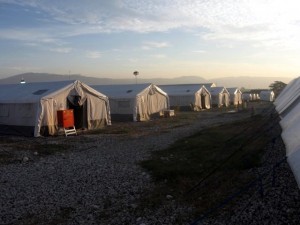 As leader of the Council, Martelly will be able to make key decisions about the elections, including who and what parties are allowed to run. Haiti's first lady Sophia Martelly announced her candidacy for Senator of the West Department, which encompasses Port-Au-Prince, on April 23. Her registration as a candidate was announced with a cryptic tweet on the President's account, saying: "What you suspected, it is so."[2] While Martelly may have meant only to confirm rumors that his wife will run for office, the statement suggests something more to those who have suspected, and feared, that Martelly will begin to look more and more like his unabashed friend and mentor, Jean Claude Duvalier.
Nostalgia for a Dictator
According to Haiti expert Amy Wilentz, "Duvalier's cheerful and emotional welcome by Martelly, more than anything Martelly did or has done as president, made Martelly's promises of democracy and openness suspect."[3] To many, the celebration of "Baby Doc" Duvalier upon his return to Haiti on January 16, 2011, illustrates not only an acceptance of Haiti's brutal past, but also a degree of nostalgia for it. Confirming his keenness to ignore the wrongs committed by the former dictator, Martelly eulogized Jean Claude Duvalier as "an authentic son of Haiti" after his death in October 2014.
Martelly's recent actions closely resemble those of Jean Claude Duvalier shortly before he was forced to leave Haiti. In 1985, when an increasingly radical Catholic Church spurred protests throughout the country, Duvalier promised to appoint a prime minister and to allow political parties. The Legislative Assembly formalized the proposal two months later, indicating, however, that parties must be authorized by the Minister of the Interior, and must accept the president as "supreme arbiter."
Legislative elections were scheduled for 1987, after which a prime minister from the majority party would be appointed, the minister's duty to "faithfully carry out the instructions and thoughts of the President." Duvalier then held a popular referendum on the presidency for life, which passed with a 99.8% majority that human rights groups claimed was fraudulent. In the wake of the November 1985 protests, during which members of the secret police killed three students, Duvalier fired his Interior and Defense Minister Jean-Marie Chanoine, in a concession not unlike the resignation of Martelly's prime minister this past December.
The Martelly administration has also followed the Duvalierist tradition of using executive power to influence the judiciary system. Martelly has been accused of stacking the courts and criminal cases against individuals close to the president have been blocked. For example, the case against former music promoter Woodley Ethéart was dropped on April 17, less than one month after being indicted for his involvement in a kidnapping ring. Ethéart is a close friend Martelly's brother-in-law. Minister of Justice Jean Renel Sanson not only demanded that Ethéart be freed on the basis that insufficient evidence existed for conviction, but fired the prosecutor in the case.[4]
Martelly, like Duvalier, seems more interested in retaining power and protecting his friends than improving the lives of Haitian citizens. He has followed in Duvalier's footsteps by accepting foreign aid and economic capital that, in some cases, does not reach the majority of Haitians, and in other cases may cause them harm. For example, many Haitians have called for the removal of the 7,000 U.N. peacekeepers stationed in Haiti since 2010. The peacekeepers introduced cholera to the country after the 2010 earthquake, resulting in more than 8,700 deaths. Despite this, Martelly has allowed the forces to stay on. In a seeming quid pro quo, the U.N. has supported Martelly's "law and order" administration, claiming that it guarantees stability.
"Stability", however, is not a word that describes the current political climate. For months, Haitians have protested the international presence in Haiti and the country's delayed elections. Growing grassroots demonstrations call for U.N. troops and other aid workers to leave the country and for Martelly to resign.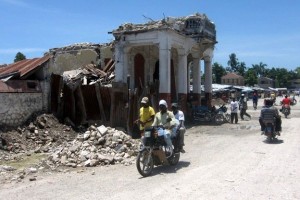 With characteristic force, police have responded by spraying the protesters with high-pressure water hoses and tear gas in multiple incidents across the country. On May 1, the Police of the Company for Intervention and Maintenance of Order (CIMO) violently dispersed demonstrators at a government Labor Fair who denounced Martelly and demanded a raise in the minimum wage to 500 gourdes ($10.57).
Many lament the fact that young people do not understand the trials their parents and grandparents went through under Duvalier, pointing to this lack of understanding as a main reason for the election of Martelly. The extent of violence and oppression under Duvalier, often dismissed in the wake of his father's brutal regime, is well documented, and its effects seen today. Combined, the two regimes resulted in the death of 30,000 people.
Duvalier's legacy must act as a reminder of the dangerous climate an all-powerful executive can bring about, especially when supported by the international community.
Alexandra Smith is a contributor to the CIP Americas Program www.americas.org
Photos: Jake Haisley
FOOTNOTES:
[1] Jeb Sprague, "Michel Martelly: Stealth Duvalierist," Haiti Liberté, December 22, 2010. Please note that though the Haiti Liberté website indicates the article was published on the above date, the text of the article discusses the January 2011 run-off election.
[2] Thony Belizaire, "First Lady Sophia Martelly joins candidates for Haitian parliament," Miami Herald, April 23, 2015.
[3] Amy Wilentz, "Why Baby Doc's Death Doesn't Mark the End of Haiti's Duvalier Era," The Nation, October 14, 2014.
[4] Peter Granitz, "U.S. 'concerned' about ruling in Haiti kidnapping case," Reuters, April 20, 2015.