FEATURED CONTENT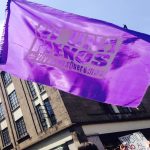 In Mexico, from 2012 to 2015, 10,010 women were murdered; seven a day, according to data from the National Health Information System (Sinais). But who are these women who were deprived of life?
Women grassroots leaders and peace activists from across the Americas met in Antigua, Guatemala in early November to discuss the root causes of the violence they experience, major challenges to peace in the region, and what feminist grassroots leaders are doing about it.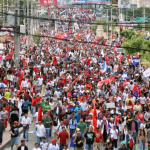 If we allow this setback in Honduras, not only will the Honduran people suffer, it will embolden anti-democratic forces around the world. With key elections coming up next year in Colombia, Brazil and Mexico, it's vitally important not to allow the right to establish a precedent of successful fraud.
Laura Carlsen on causes of gender-based violence in Mexico for CGTN
Earthquake in Mexico Unearths Years of Corruption
November 17, 2017
September 14, 2017
This post is also available in: Spanish
Laura Carlsen is quoted in Rolling Stone Magazine Read Here.
August 7, 2017