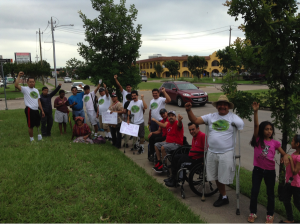 José Luis Hernández, president of the Honduran Association of Returned Migrants with Disabilities (AMIREDIS), spoke in front of Houston's ecumenical Rothko Chapel to announce that their caravan would continue north to Washington D.C.
"The name of the Caravan is 'Everything is Possible', he told a crowd of Houston supporters on June 5. "It is possible to meet with President Obama. We will tell him that it is possible to stop the deaths. It is possible to stop the mutilations It is possible that there will be no more deportations."
The eight Hondurans representing AMIREDIS had traveled more than 2,000 miles from their homes in El Progreso, Honduras to reach Houston, and would travel another 1,500 to D.C., where they hoped to meet with President Barak Obama and members of Congress. Every stop along the way they denounced the suffering, injury, and death caused by U.S. immigration policies.
In traveling from Honduras to D.C., these migrants physically connect Central America to Mexico and to the United States. The AMIREDIS Caravan carried three demands to U.S. policymakers:
"1) Hear directly from migrants who have been harmed by the migration policies and practices of all governments,
2) Stop providing military aid and training to Mexican and Central American governments. It has only led to more violence and deaths. What our countries need is more jobs with good wages and working conditions.
3) End deportations. They have only made our countries more impoverished and fostered, even further, the migration cycles."
These demands link U.S. policies to violence and abuse in Mexico and in Central America. The AMIREDIS Caravan supports the right of people to migrate and their right to live in peace in their sending communities. They are a new voice for demands expressed for years by many immigrant rights groups in the United States, Mexico, and Central America.
Like tens of thousands of Central American migrants en route to the United States, the members of AMIREDIS crossed Mexico riding atop the freight train to avoid the many checkpoints along highways. At some point as La Bestia, as the train is called, roared along its route, some fell or were pushed and lost a leg, some lost an arm, others lost two legs, or an arm and a leg.
Ten years ago, José Luis Hernández had almost reached the U.S.-Mexico border, when he fell from the train near Delicias, Chihuahua, when he tried to tie his shoe atop the train as it barreled down the track. He lost his entire right arm and right leg, and badly injured his left hand. He is one of hundreds of Central Americans who have suffered amputation from the freight train in their journey through Mexico.
His story is connected to the thousands of others who have encountered violence on their long journey through Mexico. AMIREDIS has 53 members in El Progreso, all of whom have been amputated by the train, and they estimate that almost 700 migrants in Honduras have returned with such injuries over the past fifteen years. This number does not include the hundreds of migrants from other Central American countries with injuries in or the injured who remain in Mexico.
At the Houston press conference, Hernández denounced the inherent violence of immigration policies.
"We know that it is impossible for my leg to grow again, for my arm to grow again, but it is possible to stop the suffering."
In insisting that it is possible to stop the suffering, Hernández pushes the cause of the injuries beyond the train itself. The injuries are much more than individual accidents—they are policy outcomes. Migrant injuries have roots in the oppressive and exploitative relationship between the U.S. and Honduras and in migration and security policies. Working poor migrants cannot obtain visas to enter the U.S. or Mexico—with such a visa, they could cross Mexico via bus or even an airplane. Without access to a visa, and with increased enforcement in Mexico over the past years, migrants cross the nation in dangerous conditions.
The dangerous journey starts with precarious lives at home, where migrants flee from the lack of decent jobs and increasing violence. According to the World Bank, nearly two-thirds of Hondurans live in poverty, and the country has the highest homicide rate in the world.
The Caravan demands that the Honduran and U.S. government invest in jobs and opportunities for Honduras, rather than in militarization. It points out that the Honduran government welcomes migrant remittances, but fails to provide any support for returned migrants.
Honduras received an estimated $3 billion in remittances in 2012 according to the World Bank. This represents 16.5% of the country's Gross Domestic Product, the highest percentage for all of Latin America. The World Bank and International Monetary Fund now include remittances in evaluations of the ability of low-income countries to repay debt; future remittances may be used as collateral for international loans.
While the World Bank celebrates that remittances can be "harnessed" for development—migrants such as those of AMIREDIS pay with life and limb. The Mesoamerican Working Group observed that violence increased in Honduras following the influx of military aid from the Merida Initiative in 2008 and the impunity following the U.S.-supported coup d'état that ousted President  Manuel Zelaya in 2009.  Yet U.S. aid to Honduras continues. The current Biden Plan proposes $1 billion in assistance to Central America, including support for police and military in Honduras.
At the Houston press conference, the missing limbs of AMIREDIS members were immediately visible. Yet many injuries –physical and psychological — caused by migration policies are not as visible. Policies that cause migrants to cross in increasingly dangerous areas have led to death in the extreme heat in the Arizona desert and Texas brush. Policies that cause Central American migrants to clandestinely cross Mexico have led to hundreds, if not thousands, of deaths. Policies that prevent effective recovery and identification of bodies of the dead, cause families to suffer the pain of never knowing whether their loved ones died or survived. Policies that deport parents and separate them from their children, many of whom are U.S. citizens, cause pain and lead to injury when deported parents seek to reunite with their children.
A Caravan of Conscience
The history of the AMIREDIS caravan has its roots in immigrant rights struggles of Honduras and in the other Caravans that have crossed Mexico to publicize the violent outcomes of migration policies. In Honduras, as increasing numbers of migrants disappeared in their journey toward the U.S., mothers, grandmothers, and others organized to find their lost loved ones. In 1999 they joined together to form the Comité de Familiares de Migrantes Desaparecidos de El Progreso (El Progreso Committee for Disappeared Migrant Relatives, COFAMIPRO) supported by the Jesuit-run Radio Progreso. These women organize annual caravans through Mexico to conduct searches and to publicly denounce disappearances and violence against migrants. They travel the migrant route from Honduras through Mexico and to Mexico's northern border, at times joining with women from Guatemala and El Salvador who are also searching for the disappeared.
In El Progreso, women of the Comité began visiting the homes of the returned amputees in Honduras to offer support to the injured and their families. They worked with the amputees to help them to begin to organize themselves little by little. In 2008 those injured in the migrant journey created AMIREDIS with the goals of raising government awareness of the injustice of migration policies, publicizing the harsh reality of migration, and sharing news of the suffering of the amputees. Members seek medical care for the injured and scholarships for their children to attend school.
In 2014 AMIREDIS organized its first international Caravan traveling to Mexico City in hopes of gaining the attention of policymakers because their voices were not heard in their own country. While their attempt to meet with President Peña Nieto was unsuccessful, they were able to denounce the violence experienced by Central Americans crossing the nation. Their demand of free transit for all migrants crossing Mexico and for respect of immigrant rights is a shared by the COFAMIPRO Caravans and to the annual Migrant Viacrusis organized by immigrant shelters in Mexico.
AMIREDIS's current Caravan to Washington D.C. began Feb. 25, 2015 when the group departed El Progreso, Honduras. They traveled with the small amount of lempiras that they had saved, money that ran out early in the journey in Guatemala City, even before they had reached Mexico's southern border.
The journey was difficult and dangerous. One member in a wheelchair crossed the Suchiate River at the Mexican-Guatemalan border on a makeshift raft of wooden planks tied over an inner tube. Without visas to cross Mexico, they, like the thousands of Central Americans who attempt to cross Mexico each year, were labeled "irregular" migrants, vulnerable to being detained and deported by government authorities. As migrants attempt to travel clandestinely, they are vulnerable to multiple abuses including extortion, robbery, rape, and assault. Shelters and human rights organizations have documented the abuses committed against Central American migrants not only by criminals, but also by state agents. According to the 2015 human rights report "Migrantes invisibles, violencia tangible" ("Invisible migrants, tangible violence"), twenty percent of the abuses against migrants are committed by government authorities including police, soldiers, and agents of Mexico's National Migration Institute.
The current Plan Frontera Sur (Southern Border Plan) increases militarization and enforcement in southern Mexico and is the most recent program in which the U.S. has pressured Mexico's government to stem Central American migration. Mexican President Enrique Peña Nieto and Guatemalan President Otto Pérez Molina announced the plan on July 7, 2014, promoting it as a pact to protect the human rights of Central Americans in Mexico and to give order to international crossings to increase the development and security of the region.
Yet human rights organizations and immigrant shelters along the migrant trail have harshly criticized the Plan for causing a spike in human rights abuses and overall violence against migrants. Ruben Figueroa of the Movimiento Migrante Mesoamericano calls the Plan a "hunting of migrants."
The Plan Frontera Sur has attempted to stop migrants from riding the freight train by placing armed guards on top of the trains and introducing raids in which trains are stopped and people are forced off. The Plan also includes support to improve the train tracks so that the train can move at higher speeds, preventing migrants from jumping on. These policies dehumanize migrants in the name of order and security, placing migrants at increasing risk.
The Southern Border Plan is closely tied to U.S. policy and supports its interests in stopping Central American migration. Indeed $86 million from the Merida Initiative will fund this plan. In testimony to the Senate Appropriations Committee about the "surge" in Central American migrants last summer, Counselor to the Department of State, Thomas Shannon directly connected funding for the Plan with a decrease in this migration. He noted the need to improve "the ability of Mexico and Guatemala to interdict migrants before they cross into Mexico and enter the established smuggling routes that move the migrants to our border" (July 10, 2014).
The Plan Frontera Sur has now been in effect for a full year. As U.S.-policymakers seemingly celebrate that fewer Central Americans are crossing the U.S.-Mexico border, the Mexican government has deported a record number of youth and adults. Mexico is doing the dirty work of controlling migration for the United States.
Migrant Mutilation, Detention and Deportation
On March 19, thirteen members of AMIREDIS crossed the U.S.-Mexico border at Piedras Negras and were detained in Eagle Pass, Texas because they did not have visas to enter the country. They applied for political asylum and were sent to the South Texas Detention Complex in Pearsall, fifty miles southwest of San Antonio, where they were held for six weeks.
The GEO group, one of the largest private prison corporations in the U.S., runs this detention center that can hold almost 2,000 detainees, including men, women, and juveniles. According to the Detention Complex's webpage, Immigration, Customs and Enforcement (ICE) contracted them "to house detainees pending removal processing. In cooperation with ICE, the facility assists in the admission process, housing, processing and transporting of illegal aliens (detainees) to their country of origin in an expedited manner. Due to the nature of the detained population, the facility does not offer educational or vocational training programs."
AMIREDIS members shared stories of being mistreated in the facility. Jose Luis Hernández spoke of the absurdity of being shackled when he was taken for a meeting. Because he has only one arm, agents spent twenty minutes trying to figure out how to handcuff him. They chained his arm to his waist. With only one leg, he commented, "I can barely walk, but they chained me," and added "I felt like Chapo Guzmán" (referring to the notorious Mexican drug lord who twice escaped incarceration).
The men were denied basic medical supplies, including gauze and alcohol necessary for cleaning their prostheses.
Numerous organizations have denounced abuses at migrant detention centers in Texas, including a lack of adequate medical care, the use of solitary confinement, and the lack of adequate nutritious food ("Expose & Close" Project of Detention Watch Network).
One of many concerns about privately run prisons is the millions of dollars they spend annually lobbying and the potential impact on immigration legislation. In "Private Companies Profit Off Laws that Define Immigrants as Criminals", Laura Carlsen cites the 2010 annual report of CCA that makes the direct link between profits and the need for harsh enforcement policies.
As a publicly owned company traded on the New York Stock Exchange, individuals and corporations investing in this market can profit from detention. The Detention Watch Network and Center for Constitutional Rights released a report in June of this year documenting that the private detention centers have "guaranteed minimums" meaning that ICE will pay for a certain number of detention beds if they are filled or not. This can place pressure on ICE to meet these quotas. The GEO manages seven detention centers with such quotas, making it the "largest beneficiary" of this policy. At GEO's Pearsall Detention Center alone, ICE has guaranteed a minimum of 725 detainees per day.
While 17 men of AMIREDIS left Honduras together with hopes of reaching the U.S., their numbers declined little by little due to the difficulties of the journey. Only 13 reached the U.S.-Mexico border and of these, three were coerced by ICE and the Honduran Consulate officials to sign voluntary deportation orders. Their experience reflects a common practice in which detainees are pressured to sign their deportation to obtain their release.
Once they sign such an order, not only are they deported, but they are unable to appeal their cases and if they attempt to return they may be prosecuted with a sentence of up to twenty years. The AMIREDIS group was in an unusual situation as compared to other unauthorized migrants entering the county—they had legal assistance from the San Antonio non-profit organization Refugee and Immigration Center for Education and Legal Services (RAICES). Even so, and even with their injuries, they spent six weeks in detention.  Once the members of AMIREDIS were released, they spent time in San Antonio before traveling to Houston where the planned the continuation of their caravan. In Houston, they sent a letter to the Honduran Consulate denouncing the government's failure to listen to migrant demands, to generate employment, to denounce violence experienced by migrants in Mexico, and to support migrants detained in the United States.
Several community-based groups joined the Houston blessing and Caravan send-off, including Living Hope Wheelchair Association, a non-profit organization of Latina/o migrants with spinal cord injuries, and Alianza Mexicana, an immigrant rights group. Noé Ramirez, President of Living Hope, stated at the conclusion of the event, "We don't ask, we demand that President Obama receive them [AMIREDIS]. We also demand that they recognize that it is more valuable to invest in development in poor countries than in a wall that costs millions and millions of dollars.  If they don't do that, immigration won't stop. We demand immigration reform. We demand that politicians stop stalling and approve an immigration reform that will be dignified for everyone"
Members of AMIREDIS are in Washington D.C. now, still hoping to meet with President Obama and members of Congress. While in the nation's capital, they are connecting with immigrant rights organizations such as the National Day Laborer Organizing Network, which has supported their journey through the United States.
The Caravan has held small protests in front of the White House, to show people the terrible results of U.S. immigration policies. Paradoxically, from their status of limited mobility—both as unauthorized migrants and as individuals with injuries—the members of AMIREDIS demand the rights of human mobility, the right to cross borders with dignity, and the right of all to live with dignity in their homeland.
Their letter to the Honduran Consulate in Houston states, "Based on our experiences of suffering and hope, we know that anything is possible when there is a will to work together for a dignified life for all. We will not give up. We will move forward in our journey until we reach Washington D.C. where we will take these demands to the Embassy of Honduras in the United States and also to President Obama, to demand that he do everything he can to prevent more deaths and mutilations of migrants, to stop deportations and detentions and to support just sustainability and development in Honduras.
"We know that the dignity of the Honduran people, solidarity of immigrant communities and people of goodwill in the United States will be with us and thus, this caravan of hope will continue until we achieve our goal."
For More Information
Red de Documentación de las Organizaciones Defensoras de Migrantes (Redodem). 2015. Migrantes invisibles, violencia tangible. http://www.sjmmexico.org.mx/wp-content/uploads/2015/07/informe-migrantes-2014.pdf
Reichman, Daniel R. 2013. "Honduras: The Perils of Remittance Dependence and Clandestine Migration." Migration Policy Institute. http://www.migrationpolicy.org/article/honduras-perils-remittance-dependence-and-clandestine-migration
Christine Kovic is an Associate Professor of Anthropology at the University of Houston-Clear Lake and author of the report on migrant deaths in South Texas. Her current research addresses the intersection of human rights and immigration, with emphasis on Central American migrants crossing Mexico in the journey north and on the human rights and organizing efforts of Latin@s in the United States.  She writes for the Americas Program http://www.americas.org/
Photo by Francisco Arguelles