Recent Posts by Renata Bessi and Santiago Navarro F.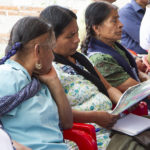 In the middle of October, the Juicio Popular y Comunitario Contra el Estado y las Empresas Mineras (People's Trail against the State and the Mining Companies) was carried out in Oaxaca City, Mexico. The participating organizations denounce that in the Central Valleys, the most populated region in the state, 80% of the territory is awarded to mining companies from Canada and the United States.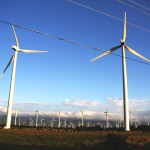 Wind energy projects on the Isthmus of Tehuantepec are facing opposition from local indigenous communities. What's at stake?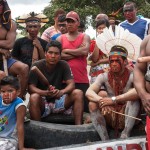 It's 5 o'clock in the morning, southern cone time, on Oct. 13, 2014. The Pataxo indigenous people of the far southern region of the state of Bahía, in the northeast of Brazil, form three barricades across the BR101 Highway in the region of Monte Pascoal, in the city of Itamaraju, one of the main roads connecting the northern and southern parts of the country.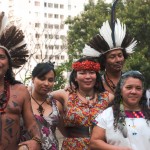 The Brazilian Ministry of Justice emphatically affirmed, "all of the proceedings to identify and demarcate the lands of the indigenous Continue Reading »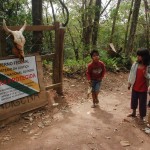 According to the western calendar of the southern hemisphere, spring starts in September. For the Guaraní people, the old year—time for introspection and rest for the earth—stays behind and opens the new year, the time to raise crops, a time of happiness and spiritual uplift.
Written on September 30, 2014 at 9:40 pm
Categories: Uncategorized

Tags: SOUTH AMERICA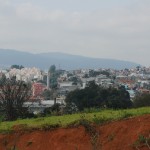 The regions in the south and southeast of Brazil are the richest areas in the country and the most industrialized in Latin America. The southeast alone is responsible for 60% of GDP, and thus, in this region 90% of the population is concentrated in urban zones. In this geography of modernity there is also an indigenous territory that is in its death throes, the land of the Guaraní.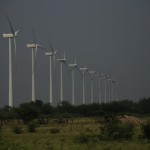 The chickens run between the rows of crops at Don Celestino Bartolo's ranch, a farmer who wipes the sweat from his brow after sowing what may be his last harvest of corn. Rosalino, his son, milks his cows and points with sadness toward the place where they used to fish. A huge wind turbine stands there now–one of 117 installed by the company Gas Natural Fenosa.
Recent Comments by Renata Bessi and Santiago Navarro F.
No comments by Renata Bessi and Santiago Navarro F.