Recent Posts by La Via Campesina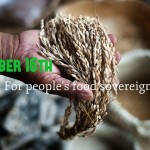 La Via Campesina calls its members and allies, and civil society organizations to mobilize and organize actions on October 16th, the International Day of Action for Peoples' Food Sovereignty and against transnational corporations (TNCs).
On June 4th about ten thousand Haitian peasants marched to protest U.S.-based Monsanto Company's 'deadly gift' of seed to the government of Haiti. The seven-kilometer march from Papaye to Hinche—a rural area on the central plateau–was organized by several Haitian farmers' organizations. The rural social movements propose a development model based on food and seed sovereignty instead of industrial agriculture.
Recent Comments by La Via Campesina
No comments by La Via Campesina