Recent Posts by Bertha Rodríguez Santos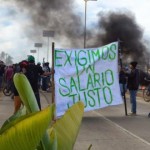 The farm workers of the San Quintin Valley have gotten the federal government to commit to facilitating negotiations for a wage hike. But movement leaders warn that the the agreement is still not a victory.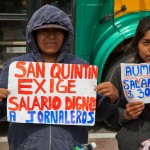 The millions the big growers make in profits contrasts sharply to the biting poverty of the men and women who work their fields in the San Quintin Valley of Baja California. A new movement has exposed the conditions they suffer– and their determination to improve them.
The immigration of thousands of Oaxacans to the United States beginning in the 1970s and the lack of government attention given to their native communities has led the Indigenous Front of Binational Organizations (Frente Indígena de Organizaciones Binacionales, FIOB) to develop communication strategies that serve as tools to further the binational defense of the participating indigenous communities' rights.
Written on February 16, 2009 at 2:27 pm
Categories: Uncategorized
Recent Comments by Bertha Rodríguez Santos
No comments by Bertha Rodríguez Santos