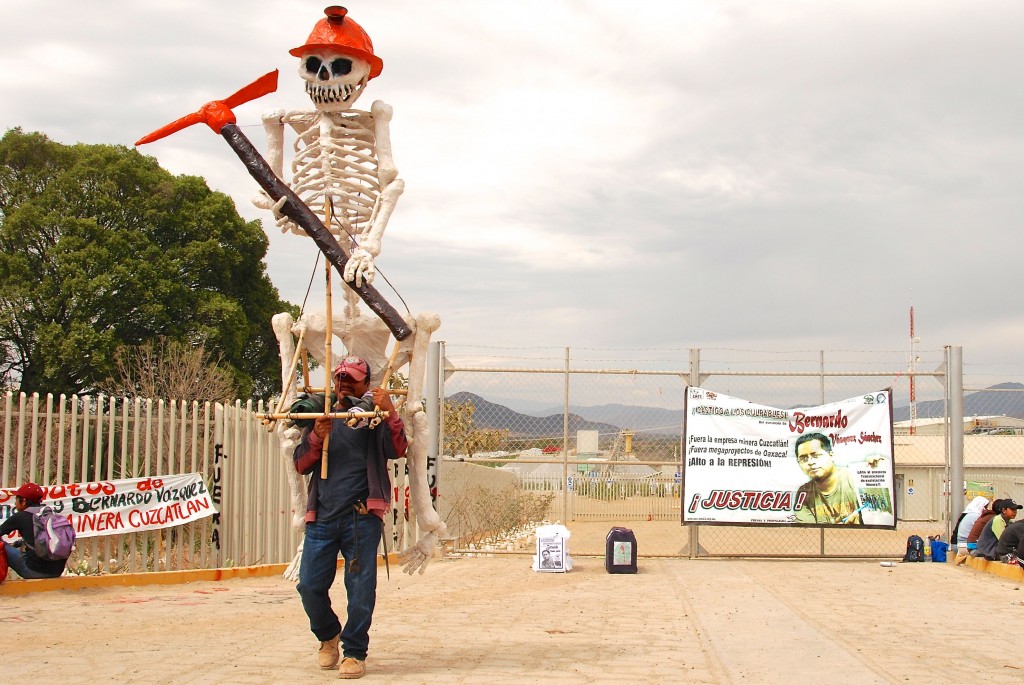 A nonviolent protest on March 15 at Fortuna Silver´s Trinidad/Cuzcatlán mine in San José del Progreso turned tense, when pro-mine groups surrounded and fired shots toward local community activists, national and international human rights observers and journalists in this small Zapotec town in Oaxaca, Mexico.
Some 200 people gathered to symbolically close the Canadian mine to commemorate the one-year anniversary of the assassination of community activist Bernardo Vásquez. Vazquez was a leader of the Coordinating Committee of the United Peoples of the Ocotlán Valley (COPUVO), a coalition of environmental and community rights defenders opposed to mining in their region.
Ceremony and photographs commemorate slain activist Bernardo Vásquez
Under a somber gray sky, protestors gathered at the entrance of the Fortuna Silver Cuzcatlán mine to pay homage to Vásquez, chanting and rallying people to continue the struggle. Protest music and radio spots about the health and environmental damages caused by mining blared from loudspeakers in the bed of a pickup truck.
As they held a ceremony, the protestors kept a wary eye on pro-mine groups that moved menacingly in the distance.
The group inaugurated a photo exhibit documenting the local opposition movement to the Fortuna Silver mine and other community struggles against mines, and showing the on-going violence. The event becomes a spontaneous act of street theater when suddenly young girls, housewives, and grandmothers step up to hold each of 32 exhibit photos.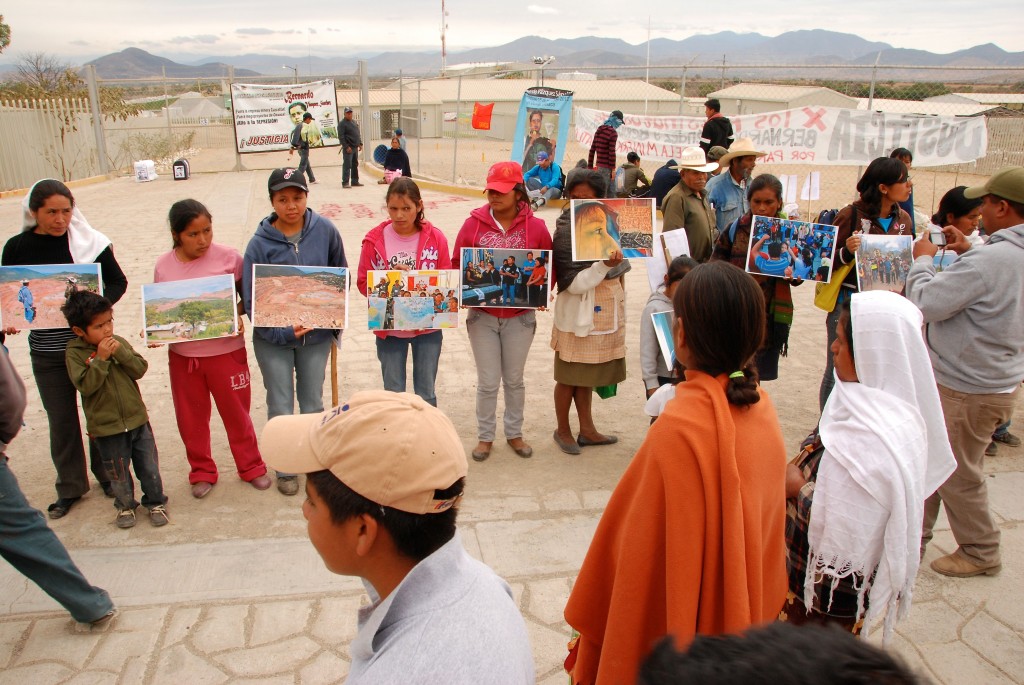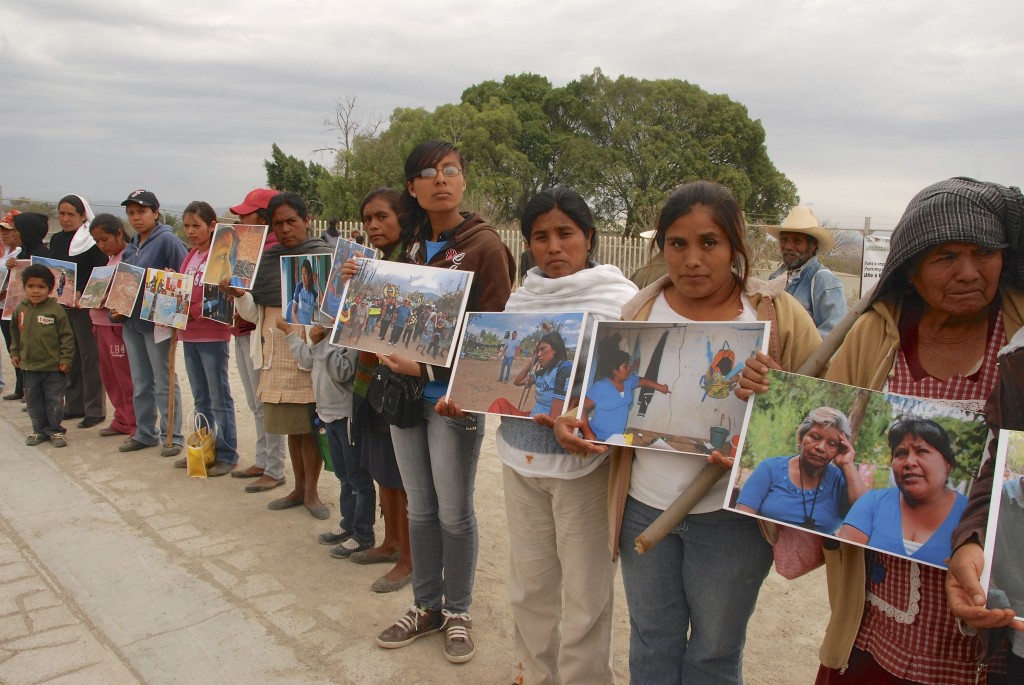 On the hot pavement in front of the Trinidad/Cuzcatlán mine a member of the Oaxacan Collective in Defense of Territories, a network of local human and community rights and environmentalist organizations laid flowers in a circle. Others placed candles and incense to create an impromptu altar.
"We are here to remember Bernardo. His struggle is our struggle, and it continues forward," says the member. "For our mother earth, for our water, for Bernardo." People chant in unison, "Bernardo vive, la lucha sigue"–Bernardo lives on, the struggle continues, and "Un pueblo unido jamás sera vencido"–a united people will never be defeated, resonated loudly, repeatedly in the air.
Women then turned to hang the photos on the chain link fence surrounding the Fortuna Silver Mine, Cuzcatlán. An elderly couple points to one of the images, identifying people they knew and reminiscing.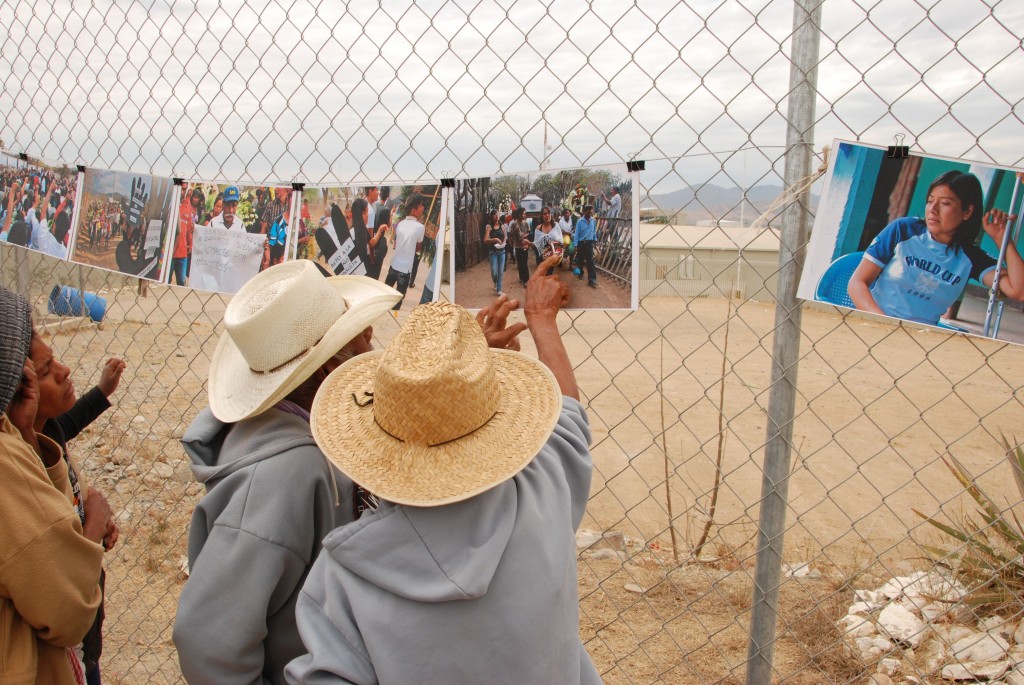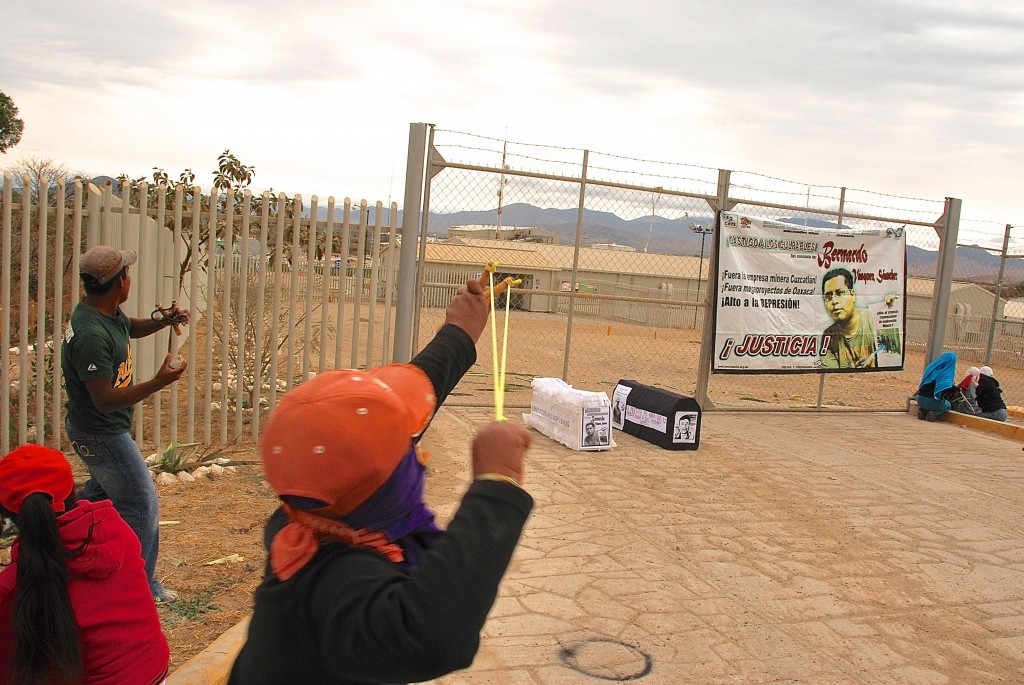 At the entrance of the mine is a banner with a photograph of Vásquez. One word, "Justice!", is written below his image. Two cardboard coffins lie in front of the gate, and masked teenagers, in acts of David versus Goliath defiance, launch rocks from slingshots toward the mine's corrugated metal buildings.
Seeing the young men, a middle age woman joins in. Picking up an old teja, clay roof tile, she finds on the side of the road and hurls it, barely clearing the tall fence.  She turns away, flashing a look of clear indignation. Some women sit talking while doing embroidery, young men sit alongside the chain link fence, carving wooden handles for slingshots, others buy nieve, homemade ice cream, from a smiling woman in a tattered embroidered apron from the bed of an old Nissan pickup.
Protestors, human rights observers and journalists surrounded, gunshots fly
The mood of remembrance and resistance abruptly turns tense.
"They´ve surrounded us," announces one young man, face covered by a bandana and brandishing a thick, carved stick.  "They want to cut off all our exits."
An older, wizened man in a frayed cowboy hat and a t-shirt honoring Vásquez looks down the road leading to the highway. "Those guys are from La Garzona (a neighboring community). "They´re not even from San José" he says.  "But Mauro (municipal president Alberto Mauro Sánchez Muñoz) has paid them to come and harass us."
At midday, roughly a quarter mile down the road from the highway to the mine and the entrance to the town, a group of men approaches slowly. Suddenly the sound of gunshots whizzing through the air sends people scrambling and hitting the ground. Several minutes pass before people slowly rise to their feet, asking each other if they´re ok. People are shaken, but defiant.
"We are here, we aren't going to leave," says one stout woman in jeans and a white "Bernardo" t-shirt from neighboring Cuajilote, a community also in the path of Fortuna Silver's expansion plans. "We don't want trouble, but we'll defend ourselves if we have to."
"This is nothing new to us. They constantly harass us," explains Rosalinda Dionisio Sánchez, a COPUVO leader who was also shot and gravely wounded in the ambush and assassination of Bernardo Vásquez. "But we've decided not to leave here today. This is a peaceful protest. We don't want violence, but we're here to honor Bernardo, to insist on justice for those who planned his murder, and to demand that the mine close and leave our community. We won´t be pushed out."
Meanwhile members of the Oaxacan Collective for the Defense of Territories, and the Mexico City based Center for Human Rights Miguel Agustín Pro Juárez are busy putting out urgent actions via phone and internet asking for intervention to diffuse the situation. A cell phone rings. One of the human rights activists announces that the Oaxaca State Human Rights Defender's Office has putgranted protective measures that requiring police to respond to the situation to prevent a violent confrontation.
Within the hour, one of the demonstrators monitoring the armed group in favor of the mine through binoculars announces that they are picking up the rocks they'd laid in the road to prevent the protestors from escaping.  Soon they pile into the livestock truck they'd come in, and leave. Why the two truckloads of state police stationed at that same entrance earlier that morning had allowed the armed pro-mine agitators pass is unclear.
A brief history of the violent repression of community activists in San José del Progreso
Bernardo Vásquez was gunned down in an ambush while driving home with his brother Alvaro Andrés and cousin Rosalinda Dionisio Sánchez on March 15 last year. Andrés and Rosalinda also took bullets. Doctors thought they might have to amputate Rosalinda´s leg due to a serious gunshot wound, but fortunately she pulled through. She is still on crutches and undergoing physical therapy for the wounded leg. Due to ongoing death threats related to her activism, state-appointed bodyguards now regularly accompany Rosalinda. Three others in the community have been killed in mine-related violence. Another eight activists protesting Fortuna Silver's Cuzcatlán mine have been wounded by gunshots, and many others beaten.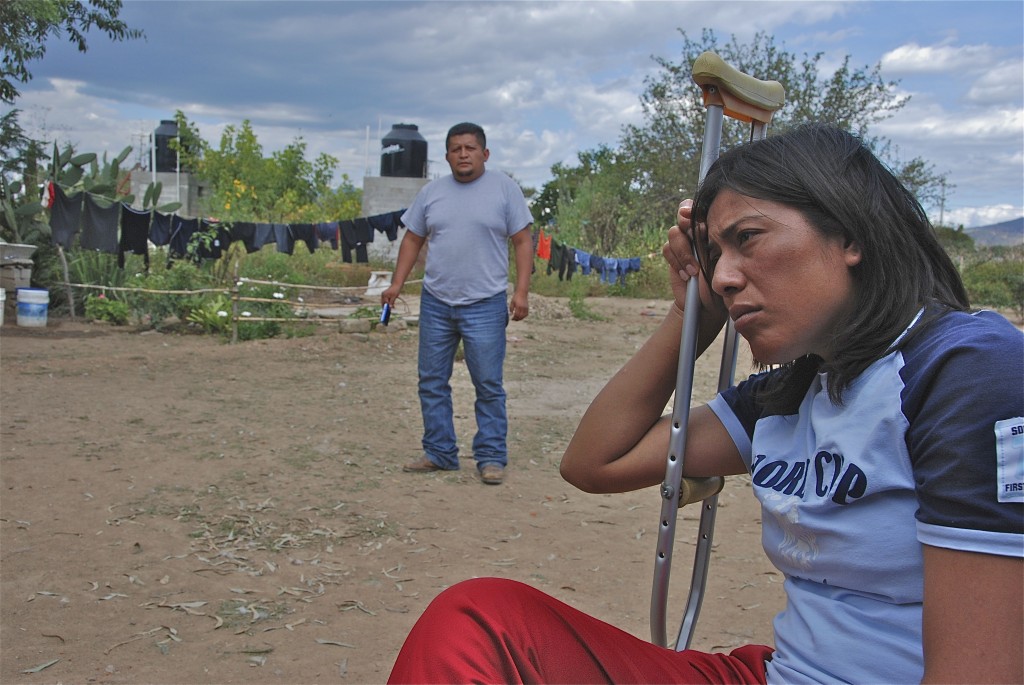 Most of the attacks have occurred in broad daylight, and eyewitness accounts point to hired gunmen connected to the mine (some of the attackers have been identified as mine workers), and to town officials and police appointed by pro-mine municipal president Alberto Mauro Sánchez Muñoz. Leovigildo Vásquez, brother of Bernardo and COPUO leader, says Sánchez Muñoz has been behind the violence against community activists opposed to the Cuzcatlán mine since the mine opened. That allegation is supported by countless other testimonies and eyewitness accounts.
On January 23 last year, for example, COPUVO member Bernardo Méndez and others in the community confronted a crew working on a water pipeline. They suspected that the line would divert scarce water from the arid town's water supply to be used for mining operations. An argument ensued when workers refused to show required work permits. Witnesses report hearing municipal president Sánchez Muñoz giving orders over a radio to police on the scene to open fire. Méndez was shot seven times and died soon afterwards. Another member of COPUVO, Abigail Vásquez, was also shot and seriously wounded in the incident.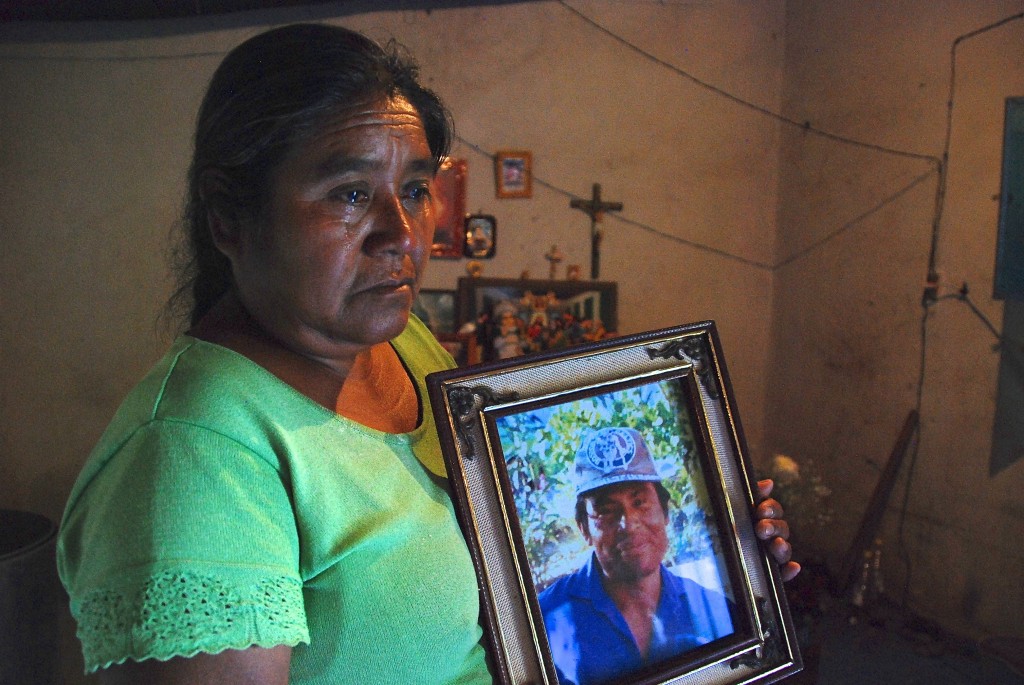 International Delegations denounce mining-related violence
Two international delegations investigating the situation of Fortuna Silver´s mine in San José del Progreso have publicly denounced the ongoing violence against community activists opposed to the mine.  In November last year a Civil Observation Mission—made up of representatives of 18 national and international organizations including the Council of Canadians, Witness for Peace, International Peace Services (SIPAZ) and the Oaxacan Collective in Defense of Territories—visited San Juan del Progreso and neighboring communities to hear testimonies from people on both sides of the conflict. In their declaration at the end of the mission, the Civil Observation Mission called for the immediate closure of the mine due to the lack of community consultation about the project, the lack of transparency on the part of federal, state, and local officials, damage to the community's social fabric and the ongoing violence against community activists opposed to the mine.
In January a coalition of representatives of United Steel Workers from Canada and the United States, together with other international activists, also visited San José del Progreso and another mining-affected community, Capulálpam de Méndez, to learn about the conflicts. The delegation issued a statement confirming allegations that mining projects have created tensions in those communities and fomented violence against those opposing mining projects. The United Steelworker delegation statement urges the Mexican federal and Oaxaca state governments to enact laws and sanctions to halt the ongoing abuses by mining companies. Local Fortuna Silver Inc. representatives refused to meet with the delegation.
"Federal and state authorities have acted in an irresponsible manner by granting 344 concessions for mining exploitation in Oaxaca from 2002 to 2011," said United Steelworkers representative Laura Ramírez.
Recent declaration by community defenders
During the March 15 protest COPUVO reiterated their demands for the immediate closure of the Trinidad/Cuzcatlán mine in San José del Progreso, effective measures to guarantee the human rights of community defenders, and for Canadian and Mexican authorities to investigate and bring to justice those responsible for the violence in the community. They also demand that Canadian and Mexican authorities investigate and bring to justice the intellectual authors of the violence that has left four dead.
"We are a movement of citizens worried about environmental contamination, social polarization in the municipality and the pillage of our territory. Our resistance is and will continue to be peaceful," COPUVO declared.
"March 15th reminds us of the impunity with which mining companies operate and of the complicity of municipal, state and federal governments in the implementation of these projects."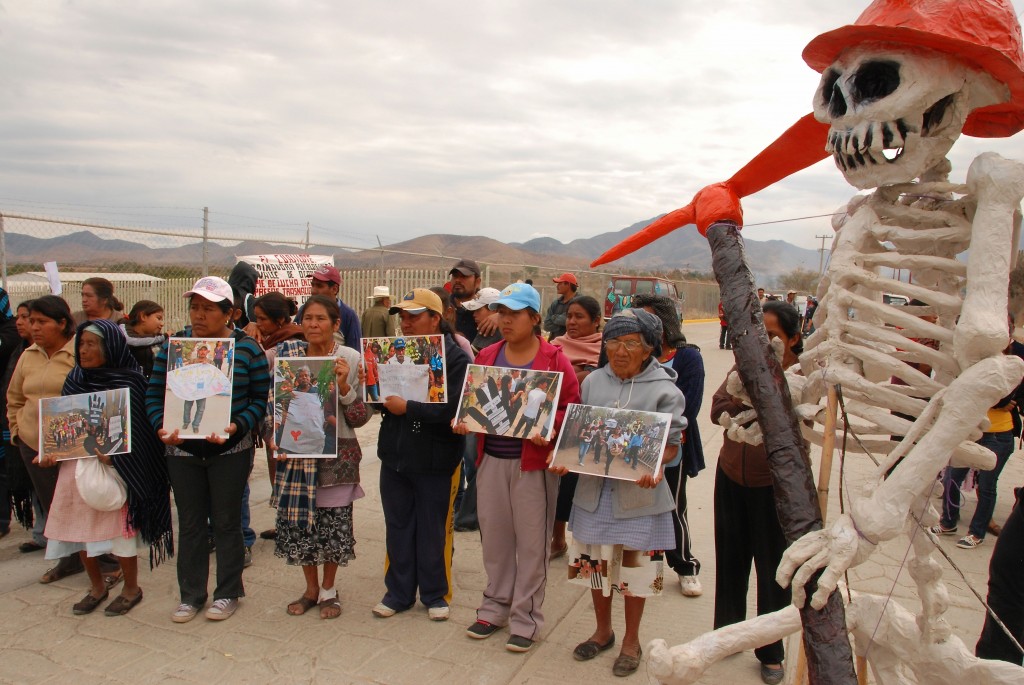 Threat of more violence
Intervention by state human rights officials apparently helped diffuse a volatile situation that likely would have ended tragically on March 15. Nonetheless, the shots fired by pro-mine agitators reflect an ongoing atmosphere of impunity, and pose the threat of yet more violence against those defending their community defenders in San José del Progreso, and in other mining-impacted communities.
Jonathan Treat is a journalist, professor, activist and founding member of the non-profit organization, University Services and Knowledge Networks of Oaxaca (SURCO, A.C.) www.surcooaxaca.org. Treat leads SURCO delegations related to defense of territories in Oaxaca and Chiapas. He is a frequent contributor to the CIP Americas Program www.americas.org

For More Information:
https://www.americas.org/archives/8896
http://witness4peace.blogspot.mx/2012/12/civilian-observation-mission-explores.html
http://justiciaparasanjosedelprogreso.org/2012/11/23/preliminary-statement-of-the-civilian-observation-mission-justice-for-san-jose-del-progreso/)