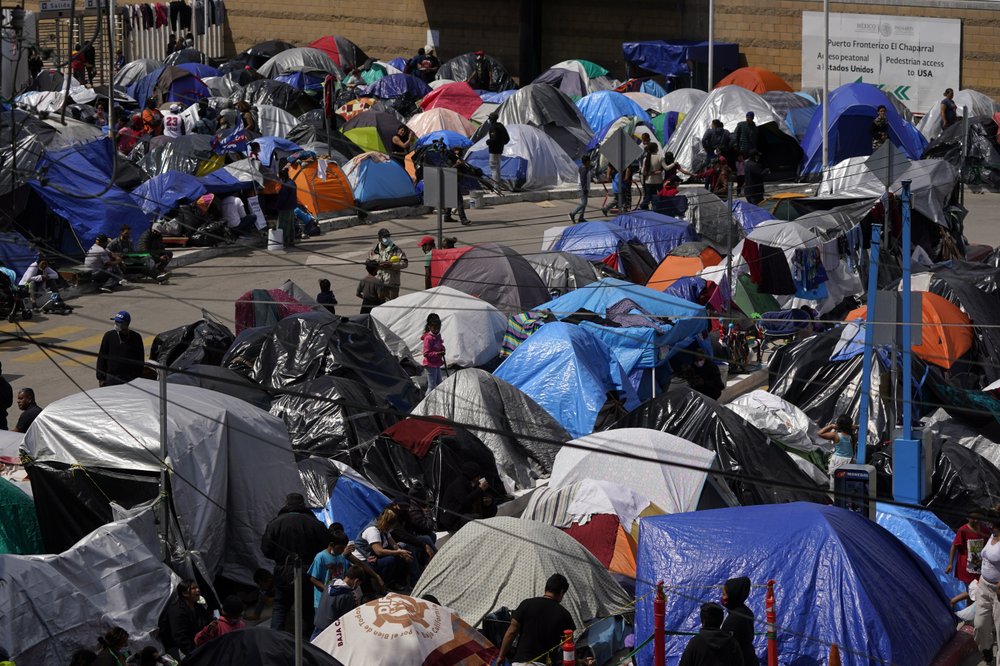 More than 70 civil-society organizations have sent a letter to the Mexican government (reprinted below) urging it to refuse to cooperate with a controversial program of the Donald Trump administration, terminated by the Joe Biden administration but recently reinstated by court rulings. Remain in Mexico, as it is commonly known, makes asylum at the United States border more difficult and dangerous to obtain by forcing migrants initially accepted into the process to return to Mexico to await their next asylum hearing.
During the United States presidential campaign, Joe Biden criticized the program as "dangerous" and "inhumane" and said he would end it. On taking office, his administration immediately suspended new enrollments into Remain in Mexico, and on June 1 terminated Trump's original December 2018 program. So far, Biden has allowed some 13,000 affected immigrants to re-enter the United States to await their hearings, but an estimated 25,000 remain in limbo near the border. Tens of thousands more have apparently dispersed to other parts of Mexico and Central America, or crossed without documentation into the U.S.
In an effort to restore Remain in Mexico, the Republican attorneys general of the states of Texas and Missouri challenged the Biden administration's repeal of the program in a U.S. District Court in Texas, and on August 13 a Trump-appointed judge ordered it reinstated. The Biden administration appealed unsuccessfully to the Fifth U.S. Circuit Court of Appeals and then to the U.S. Supreme Court, asking them to stay the Texas ruling while the case proceeded. But on August 24 the Supreme Court rejected the request and allowed the original District Court decision to stand until the appeal is decided.
In response, the Department of Homeland Security issued a statement disagreeing with the court decisions and regretting that the Supreme Court declined to issue a stay. "DHS has appealed the district court's order", it said, "and will continue to vigorously challenge it. As the appeal process continues, however, DHS will comply with the order in good faith."
Human rights and immigrant justice advocates have protested forcefully that Remain in Mexico is a violation of the law and of migrants' human rights, and must not be reinstated. An official of the United Nations High Commissioner for Refugees, Gillian Triggs, called Remain in Mexico "a menace to the asylum system and to the compliance of the U.S. with its international obligations." She told Alberto Pradilla of the Mexican news site Animal Politico, "All people have a right to seek asylum. The difficulty with MPP is that, in effect, it denies access to a process."
The original District Court ruling held that the Biden's government's memo terminating the program had not considered all relevant factors nor given sufficient justification for cancelling it. In response, immigrant advocates have called on Biden's policy-makers to quickly redraft the memo with a fuller explanation for the rescission that would pass muster with the courts. "The government must take all steps available to fully end this illegal program," commented Omar Jadwat, Director of the ACLU Immigrants' Rights Project, "including by re-terminating it with a fuller explanation. What it must not do is use this decision as cover for abandoning its commitment to restore a fair asylum system."
"It is abundantly clear that the United States cannot safely reinstate MPP and that any attempt to return people seeking safety to harm in Mexico will violate U.S. and international legal obligations to refugees", argued a letter from over 30 Democratic members of Congress, led by Rep. Veronica Escobar (D-TX16) and Sen. Bob Menendez (D-NJ). "MPP does not represent our values as a country and should be permanently discarded along with the many other unlawful Trump administration policies designed to punish and deter refugees from seeking safety."
Debate continues within the Biden administration, according to Anita Kumar of Politico, on whether to redraft the memo terminating Remain in Mexico to meet the courts' objections, or to try to comply with the ruling by implementing "Remain in Mexico Lite", requiring smaller numbers to wait in Mexico in better living conditions and with more access to attorneys. However, Marielena Hincapié, executive director of the National Immigration Law Center, told Kumar: "One of his campaign promises was to end MPP. He did that. He should stand by that. The answer is not to simply find a gentler, kinder MPP 2.0. That completely flies in the face of his promise."
Over 70 civil-society groups and coalitions from the U.S., Mexico and Central America took a different tack: they sent a letter (reprinted below) to the Mexican government calling on it to refuse to cooperate with the revived Remain in Mexico program. When Trump originally launched it, the Mexican government said it did not agree with it, but would cooperate for humanitarian reasons. The organizations now urge Mexico to reject U.S. requests to accept returnees, which the Biden administration and the courts appear to recognize would make it impossible to reinstate the program. The letter points out that the Mexican Supreme Court and National Human Rights Commission are currently hearing cases about the legality and human-rights consequences of the program, and warns of the probable harm that would be inflicted on migrants by its reinstatement.
Negotiations are reportedly being conducted between Mexico and the U.S. on issues raised by the program's provisional reinstatement. So far, the administration of Andrés Manuel López Obrador has been publicly non-committal on how much it is willing to cooperate, invoking national sovereignty to deny any obligation to comply with a U.S. court's decision, yet not ruling out humanitarian assistance. Under the original Trump policy, Mexico accepted returned migrants on humanitarian grounds.
What the Trump administration officially called the Migrant Protection Protocols had nothing to do with protecting migrants. On the contrary, the measure put them in mortal danger, sending 72 thousand mainly Central American migrants who had already been accepted as potential candidates for asylum back to await their court hearings in Mexico, often for many months, sometimes for more than a year. As the ACLU's Jadwat put it: "The whole purpose of the policy was to punish people for seeking asylum by trapping them in miserable and dangerous conditions." The ACLU and other civil-society groups challenged the program in court, but were unable to overturn it during Trump's term. They are considering restarting legal action if the Biden administration re-implements the policy.
Some border areas to which migrants have been returned by the program are so dangerous that the U.S. State Department warns travelers of the same threat level as in Syria, Afghanistan, and Yemen. They are dominated by organized crime, often in league with corrupt officials and police, and many thousands of returnees have fallen victim to violent crimes. Returned migrants are frequently forced to live in unsanitary tent camps and overcrowded shelters. Access to U.S. immigration attorneys is severely restricted, and migrants often encounter difficulties entering the U.S. for their hearings. As a result, the percentage of asylum seekers returned to Mexico who eventually receive asylum is only 1.6 percent of completed cases.
The United Nations and international human rights groups have sharply criticized Remain in Mexico as a violation of the rights to request asylum and to avoid refoulement – forced return to situations of persecution that migrants are trying to escape. The U.N. High Commissioner for Human Rights and former President of Chile, Michelle Bachelet Jeria, said she was "profoundly disturbed" by the Migrant Protection Protocols and related Trump policies that had "drastically reduced protections for migrant families." Amnesty International warned: "Trump's efforts to end asylum are an all-out assault on human rights."
Remain in Mexico was only one among many repressive weapons deployed by Trump's immigration bureaucracy in its frontal assault on asylum. Early in his term, his administration began to restrict and sometimes cut off access for migrants to request asylum at official ports of entry, which is guaranteed by the Refugee Act of 1980 and international treaties. Around the same time, Attorney General Jeff Sessions imposed what he called "Zero Tolerance", which decreed that all migrants trying to cross between ports of entry would be imprisoned, and that children would be separated from their parents. This also violated those laws and treaties, which protect the right to seek asylum anywhere along a border or within U.S. territory. The forced separation of families was condemned across much of the U.S. political spectrum. Physicians for Human Rights, a U.S. NGO, called it a form of torture and forced disappearance, and the American Association of Pediatrics characterized it as "government-sanctioned child abuse" that could cause "irreparable harm" with "lifelong consequences".
Buttressing these interlocking virtual walls against seeking asylum, Trump's cadre erected legal barriers against those already in the asylum process. These included Remain in Mexico and efforts to force Central American or Mexican governments to accept asylum seekers in lieu of granting them asylum in the U.S.
Some of these programs were struck down by courts. But Trump's immigration Rasputin, Stephen Miller, and fellow operatives continued to launch other salvos against authorized and unauthorized immigration. When the COVID-19 pandemic struck, they took advantage of it to strongarm the Centers for Disease Control and Prevention into issuing an emergency order, known as Title 42, which prohibited nearly all immigration across the southwest border, and ordered the rapid expulsion of migrants without a chance to ask for asylum. Although the Trump administration justified the measure as a means of preventing the spread of the pandemic, a loud chorus of public health experts inside and outside of the CDC objected that Title 42 could not be justified for public health reasons, and was yet another effort to exclude legal immigrants seeking asylum.
The Joe Biden administration has eliminated some of Trump's worst attacks on immigrants. But it is still enforcing Title 42, except for children, and continues to pressure other governments to stop immigration through Mexico.
The scope and brutality of the Trump administration's policies made clear that its ultimate goal was to eventually end all immigration to the U.S., except perhaps from Norway. It came close to completely eliminating the refugee program. In measures tantamount to ethnic cleansing, it also tried to exclude Muslim, African, and other immigrants and visitors of color. It also imposed measures to make both lawful permanent resident status and naturalization more difficult to achieve and maintain. More than four-fifths of migrants to the U.S. are from Latin America, Asia and Africa, as Trump's cadre were well aware. Their white sado-nationalism unleashed scapegoating and repression that reeked of racism, xenophobia, and fascism. As Adam Serwer observed in The Atlantic of Trump and his supporters: "The cruelty is the point."
In the eyes of many around the world, the Trump régime came to be viewed as a rogue state that flagrantly denied the human rights of migrants. The Biden administration could take a step towards repairing the damage by refusing to reinstate one of Trump's most destructive violations.
*                    *                    *
(Full text of letter and list of endorsers. Programa de las Américas (Americas Program) is a signatory.]
Civil Society Organizations Call on the Mexican Government to Reject Any Reinstatement of MPP
https://www.womensrefugeecommission.org/research-resources/civil-society-organizations-call-on-the-mexican-government-to-reject-any-reinstatement-of-migrant-protection-protocols
To: President of Mexico, Andrés Manuel López Obrador
Secretary of Foreign Affairs, Marcelo Ebrard Causabon
Secretary of the Interior, Olga Sanchez Cordero
CC: Alejandro Encinas, Undersecretary on Human Rights, Migration, and Population, Secretariat
of the Interior
Francisco Garduño Yáñez, Commissioner, National Institute of Migration
Roberto Velasco, Undersecretary for North America, Secretary of Foreign Affairs
Andrés Ramirez Silva, Director of the Mexican Commission for Refugee Assistance
Esteban Moctezuma Barragán, Ambassador to the United States
August 24, 2021
Dear President López Obrador, Secretary Ebrard, and Secretary Sanchez:
We, the undersigned organizations, are writing to call on Mexico to reject the reinstatement of former President Trump's inhumane Migrant Protection Protocols (MPP), also known as Remain in Mexico. For two years, this policy erected insurmountable due process barriers and inflicted extreme harm on the more than 72,000 individuals seeking protection who were returned to Mexico to await their U.S. immigration hearings.
Currently, the U.S. Supreme Court is reviewing a request to stay a lower court's order requiring the Biden administration to immediately reinstate MPP, a move that would depend on Mexico's cooperation. The Court of Appeals, in denying a previous request to stay the lower court's order, indicated that the U.S. government would still be in compliance if its good-faith efforts to reimplement the policy were blocked by Mexico. Additionally, the Biden administration said that Mexico's support was essential to operationalize MPP, and it would be impossible to unilaterally reinstate this policy without Mexico's active collaboration.
As a sovereign nation, Mexico has the right to reject the reinstatement of MPP or any future iteration of this policy that aims to externalize the U.S. border into Mexican territory. It is impossible to re-implement MPP in a way that upholds human rights and due process, and Mexico has the responsibility to block this detrimental policy.
The legality of MPP and the human rights violations of individuals returned to Mexico through Remain in Mexico are still being assessed by Mexican institutions. Mexico's Supreme Court is currently reviewing a case about Mexico's participation in MPP and a federal criminal complaint related to the thousands of kidnappings and several other complaints before the National Human Rights Commission (CNDH) remain pending. Since Mexico accepted the implementation of MPP on December 20, 2018, many of our organizations have written urging your government to halt its complicity in this harmful policy.
A return to such an inhumane policy would exacerbate the dangerous conditions and insecurity for those seeking asylum at the U.S.-Mexico border. Individuals subjected to MPP were forced to wait for up to fifteen months in overcrowded shelters and improvised, squalid migrant encampments. Civil society organizations documented thousands of kidnappings, rapes, assaults, and other crimes against those returned to Mexican border cities under MPP.
Since January 2021, the Biden administration has taken crucial steps to redress MPP's harms by suspending new enrollments and officially terminating the policy. We commend Mexico's cooperation with the U.S. and international organizations in the MPP wind down which has already permitted more than 13,000 individuals subjected to MPP to continue their asylum cases in the U.S. We urge Mexico to continue its cooperation on the MPP wind down process and to reaffirm its commitment to the protection of people who wish to present claims in Mexico or the United States. We also encourage bilateral discussions to prioritize measures that will strengthen the Mexican asylum system and U.S. asylum processing at ports of entry, increase protection options, and end policies that impede access to asylum in the United States.
We are grateful for your time and consideration.
Sincerely,
Al Otro Lado TJ AC
Alianza Americas
Alianza Humanitaria Chaparral — American Friends Service Committee LAC, APALA SD, Amnesty International, Border Angels, Borderline Crisis Center, Psicólogos Sin Fronteras, Unified U.S. Deported Veterans
American Friends Service Committee (AFSC) – Oficina Regional de América Latina y El Caribe
Amnistía Internacional/Amnesty International
Apoyo a Migrantes Venezolanos
Asistencia Legal por los Derechos Humanos  A.C. (ASILEGAL)
Asylum Access México (AAMX) A.C.
Border Angels
Border Line Crisis Center, A. C.
Border Organizing Project
Casa de Acogida Formación y Empoderamiento de la Mujer Migrante y Refugiada (CAFEMIN)
CARECEN
Casa del Caminante Samuel Ruiz García.
Casa del Migrante en Tijuana, A.C.
Casa del Migrante Nuestra Señora de Guadalupe
Casa Monarca. Ayuda humanitaria al migrante, A.B.P.
Center for Civic Policy
Center for Gender & Refugee Studies
Centro 32 FBTMX
Centro de Atención  a  la  Familia  Migrante Indígena AC
Centro por la Justicia y el Derecho Internacional (CEJIL)
Clínica Jurídica para Refugiados "Alaíde Foppa"
Coalición Pro Defensa del Migrante, A.C.
Comisión Mexicana de Defensa y Promoción de los Derechos Humanos (CMDPDH)
Comunidad Maya Pixan Ixim
Cuerpo Académico Procesos Transnacionales y Migración BUAP-CA-230
Dimensión Episcopal de Pastoral de la Movilidad Humana
Dignidad y Justicia en el Camino A.C "FM4 Paso Libre"
Espacio Migrante A.C.
Florence Immigrant & Refugee Rights Project
Fundación Izote
Fundación para la Justicia y el Estado Democrático de Derecho
Fundacion Regalando Amor
Geopaz. Instituto de Geografía para la paz AC (IGP); Institute of Geography for Peace
Global Exchange
Grupo de Trabajo Sobre Política Migratoria-GTPM: Aldeas Infantiles SOS México, I.A.P.; Alianza Américas; American Friends Services Committee; Asylum Access México (AAMX) A.C.; Casa del Migrante Saltillo (Frontera con Justicia A.C.); Centro de Derechos Humanos  Fray Matías de Córdova, A.C.; Coalición Pro Defensa del Migrante de Baja California; Comisión Mexicana de Defensa y Promoción de los Derechos Humanos; Fundación  Appleseed México, A.C.; DHIA. Derechos Humanos Integrales en Acción, A.C.; FUNDAR Centro de Análisis e Investigación, A.C.; IMUMI Instituto para las Mujeres en la Migración; Iniciativa Ciudadana para la Promoción de la Cultura del Diálogo, A.C.; INSYDE Instituto para la Seguridad y la Democracia; M3 Movimiento Migrante Mesoamericano; REDIM Red por los Derechos de la Infancia en México; Save The Children México, Sin Fronteras, IAP; Servicio Jesuita a Migrantes México; Servicio Jesuita a Refugiados; SMR Scalabrinianas:  Misión para Migrantes y Refugiados; Leticia Calderón, Analista en temas migratorios; Brenda Valdés; Elba Coria; Manuel Ángel Castillo, Investigador; IDC International Detention Coalition (Observadoras). Claudia Martínez Medrano, Jocelín Mariscal Agreda y Melissa A. Vértiz Hernández, Secretaría Técnica.
Human Rights First
IMALAB Social
Iniciativa Ciudadana para la Promoción de la Cultura del Diálogo, A. C.
Instituto para las Mujeres en la Migración, AC (IMUMI)
Instituto para la Seguridad y la Democracia, A.C.
Jewish Activists for Immigration Justice of Western MA
Las Vanders
Latin America Working Group (LAWG)
National Immigration Law Center
National Partnership for New Americans
NuestraREdMx
Oasis Providencial AC – Albergue Decanal Guadalupano
Organización México Americana para el Desarrollo, A.C.
Oxfam Mexico
Programa de Asuntos Migratorios Universidad Iberoamericana Ciudad de México
Programa de las Américas
Pueblo Sin Fronteras
Quixote Center
Red de Documentación de las Organizaciones Defensoras de Migrantes (REDODEM)
Red Jesuita con Migrantes de Guatemala
Red Nacional de Organismos Civiles de Derechos Humanos "Todos los Derechos para Todas y Todos" (Red TDT)
Refugees International
San Diego Immigrant Rights Consortium
Scalabrinianas Misión con Migrantes y Refugiados
Seminario Universitario de Estudios sobre Desplazamiento Interno, Migración, Exilio y Repatriación (SUDIMER-UNAM)
Servicio Jesuita a Migrantes México
Servicio Jesuita a Refugiados – México
Sin Fronteras IAP
Sisters of Mercy of the Americas – Justice Team
Unified U.S. Deported Veterans Resource Center
Unitarian Universalist Service Committee
Universidad Autónoma de Zacatecas México
Ustedes Somos Nosotrxs
Washington Office on Latin America (WOLA)
Witness at the Border
Women's Refugee Commission (WRC)
*                    *                    *
For an in-depth discussion
Hecho en América. "'Quédate en México' y la expulsión de migrantes al territorio mexicano" (video). YouTube, August 26, 2021.
https://www.youtube.com/watch?v=LPIyxBVPP4A
Laura Carlsen of Americas Program interviews three Mexican analysts on the reinstatement of Remain in Mexico (in Spanish).
References
American Civil Liberties Union. "Groups File Lawsuit Against Trump Policy that Forces the Return of Asylum Seekers to Mexico". New York: ACLU, February 14, 2019.
https://www.aclu.org/press-releases/groups-file-lawsuit-against-trump-policy-forces-return-asylum-seekers-mexico
American Immigration Council. "The 'Migrant Protection Protocols'". Washington, DC: American Immigration Council, January 22, 2021
https://www.americanimmigrationcouncil.org/research/migrant-protection-protocols
Amnesty International. "Trump's efforts to end asylum are an all-out assault on human rights". February 27, 2020.
https://www.amnesty.org/en/latest/news/2020/02/trumps-efforts-end-asylum-assault-human-rights
Rebecca Beitsch. "Court rulings put Biden in tough spot with Trump's 'Remain in Mexico' policy". Washington, DC: The Hill, September 12, 2021.
https://thehill.com/regulation/court-battles/571793-court-rulings-put-biden-in-tough-spot-with-trumps-remain-in-mexico
Abby Budiman et al. "Facts on U.S. immigrants, 2018". Washington, DC: Pew Research Center, August 20, 2020.
https://www.pewresearch.org/hispanic/2020/08/20/facts-on-u-s-immigrants
Columbia Public Health. "Letter to CDC Director Walensky, HHS Secretary Becerra, and DHS Secretary Mayorkas on the August 2021 Title 42 Order". New York: Columbia University Mailman School of Public Health, September 1, 2021.
https://www.publichealth.columbia.edu/node/76271
Melissa Cruz. "USCIS Changes Policy on Fee Waivers, Potentially Deterring Thousands of Citizenship Applications". Washington, DC: Immigration Impact, October 30, 2019. http://immigrationimpact.com/2019/10/30/uscis-changes-fee-waivers-policy
Josh Gerstein. "Supreme Court orders Trump's 'Remain in Mexico' policy reinstated". Politico, August 24, 2021.
https://www.politico.com/news/2021/08/24/trump-mexico-border-supreme-court-506833
Omar Jadwat. "Things to Know About the Revival of Trump-Era 'Remain in Mexico' Policy". American Civil Liberties Union, August 27, 2021.
https://www.aclu.org/news/immigrants-rights/things-to-know-about-the-revival-of-trump-era-remain-in-mexico-policy
Anita Kumar. "Biden mulls 'lite' version of Trump's 'Remain in Mexico' policy". Politico, September 6, 2021.
https://www.politico.com/news/2021/09/06/biden-remain-in-mexico-policy-509436
Camilo Montoya-Galvez. "Biden administration reviving Trump-era border policy it says led to 'inhumane' conditions". CBS News, September 9, 2021.
https://www.cbsnews.com/news/immigration-remain-in-mexico-biden-border-policy
Alberto Pradilla. "'Quédate en México' es una amenaza al sistema de asilo': ONU". Ciudad de México: Animal Politico, 29 agosto 2021.
https://www.animalpolitico.com/2021/08/quedate-mexico-amenaza-sistema-asilo-acnur-onu
Adam Serwer. "The Cruelty Is the Point". The Atlantic, October 3, 2018.
https://www.theatlantic.com/ideas/archive/2018/10/the-cruelty-is-the-point/572104
Gabriela Sotomayor. "Plan migratorio México-EU bloquea a 35 mil solicitantes de asilo: ONU-DH". Ciudad de México: Proceso, 9 septiembre 2019.
https://www.proceso.com.mx/internacional/2019/9/9/plan-migratorio-mexico-eu-bloquea-35-mil-solicitantes-de-asilo-onu-dh-230785.html
U.S. Department of Homeland Security. "DHS Statement on Supreme Court Decision on MPP". Washington, DC: August 24, 2021.
https://www.dhs.gov/news/2021/08/24/dhs-statement-supreme-court-decision-mpp