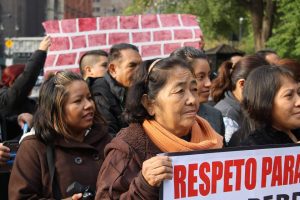 The weather is undecided. One day is winter and the next day, spring. Today, fortunately, it is springtime in New York City and we carry our coats, caps and scarves on our arm as we cross the Brooklyn Bridge on foot.
The group of migrants has decided to walk across the city's characteristic bridge to call for "fewer walls, more bridges." Among them are mothers and children who had not seen each other in more than 20 years, and grandparents who had never met their grandchildren who grew up in this huge city far away from the villages their parents were born in.
They're part of a group of 21 families brought back together by the Popular Assembly of Migrant Families, a binational organization of migrants and their families in Mexico and New York. The grassroots organization obtained visas and support so the parents could visit their children for the first time.
There's a mixture of joy and concern in the air. To finally embrace their relatives – a dream that seemed impossible for years – filled them with happiness. They come from indigenous and farm towns in Guerrero's Costa Chica, the mountains of Puebla, the small state of Tlaxcala. A man tenderly takes the arm of his small mother as they walk the streets of New York chatting in Mixteco. For the visitors, the cityscape is impressive, but even more so the gaze of the son-turned-father who left home decades ago and became a man here.
On the other hand, Mexican migrants living in New York know they are under siege. Donald Trump's campaign has made them the target of the frustration and anger of a large part of the population that feels someone has stolen the "American dream." In a country built on racism to justify the dispossession of indigenous peoples, slavery and continued exploitation of migrants, it was surprisingly easy for Trump to channel discontent into xenophobia.
Just weeks after the bridge crossing, their worst fears came true and a white, anti-immigrant backlash elected him president. These families now expect the worst.
It does not matter that the facts deny the thesis of the Mexican scapegoat. A recent study finds that there is more support for Trump in areas with fewer Mexicans. Migration is not the cause of these voters' discomfort, but rather an economic model that excludes them from the benefits that accrue to the 1%- like Donald Trump.
Stepping onto the Brooklyn Bridge, the families link arms to break through a symbolic wall of paper. "One hundred and thirty years ago, the Statue of Liberty arrived in New York and today, in 2016, freedom has still not reached more than 11 million families in the United States," said Marco Antonio Castillo, leader of the organization. Eleven million is the approximate number of undocumented people who, according to Trump's plan will be deported from the country. In the New York City event, migrant families demanded family reunification, fair immigration reform, full labor rights, an end to forced migration, suspension of the Merida Initiative and the war on drugs in Mexico, and condemnation of the wall between the United States and Mexico.
Women are at the forefront of this binational movement. Builders of community, weavers of solidarity  and architects of love, these women have had to produce and reproduce life in conditions of hostility, poverty and discrimination. Instead of becoming discouraged, they have become fighters for rights that others enjoy from birth – the right to live in a family, to live without violence, to live in dignity in their place of origin or destination, to have access to education, healthcare and employment.
Their stories cannot be told or heard without tears, despite the years gone by and miles of distance. Myrna Lazcano tells us that she arrived in New York from Puebla 18 years ago, when the economic crisis of the Carlos Salinas government deepened the poverty in her region and then the Zedillo government evicted her family in a supposed agrarian reform. She married and had two daughters in New York City.
Myrna returned to Puebla with her daughters five years ago, but she found that things had changed. The village was in the hands of organized crime; sex trafficking had become a cottage industry.
When she began to receive threats and traffickers began to harass her teenage daughter, she knew she had to get out of there quick. She sent her U.S.-born daughters back to New York. When she attempted  to join them, immigration agents detained her and locked her up for a month in a detention center before being deported to Puebla.
Three long years elapsed, separated from her young daughters. It was not until Myrna joined the Caravan for Peace, Life and Justice in April this year that she managed to cross the border and reunite with her family. Now she waits for a hearing that will determine if the family can stay together like millions of families across the globe.
Myrna has converted her suffering of so many years into action. Every morning waking up in the small upper-eastside apartment to make breakfast for her girls and husband seems like a gift from God. "We have the right to live with our families," she says emphatically. Her message to Trump and Clinton? "You are the criminals, because you separate us from our families."
There are hundreds of similar stories among the families and local activists who gathered on the Brooklyn side the celebrate traditional Mexican culture in their adopted homeland. Blandie Medina left Mexico very young. She was a victim of sexual violence along the way, and barely arrived in the city, homeless and destitute. "It was a prostitute who picked me up off the streets and took me in," she says. "Here name was Brenda; she didn't know who I was or anything but she took me home to her house. If I could find her today, I'd tell her she saved my life," she recalls.
Blandie has had to fight every step of the way since then. When the public school system diagnosed her 4-year-old son with severe autism because he couldn't speak English, she started a migrant mothers'  movement for the right to education. She now offers workshops on rights to other migrant women "so they do not have to go through what I lived through."
Hundreds of migrants, like Myrna and Blandie, do community work and popular education in their tight-knit community, like the group Manos Unidas, that feeds the homeless in the local parks, to collectives that teach rights and fight for justice. The safety network that guarantees them the basics for living is not the government, but the community itself.
With the bleak panorama exposed by the Trump campaign and now victory, migrants' organizations like these are a ray of hope. Based on the unwavering love of family and culture and supported by intercommunity and binational solidarity networks, their organizations have created radio and television programs, workshops on the exercise of labor and civil rights, public information campaigns on how to access support and against violence against women, protests, dinners, dances and most of all a sense of place—or places—in a dynamic and often hostile world.
For them, crossing the line is not a criminal act; it is an everyday act of courage in defense of life.
Laura Carlsen is the director of the Mexico City-based Americas Program and member of Just Associates.