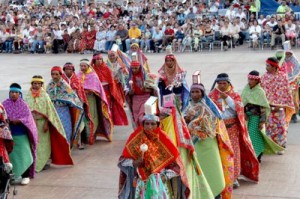 By Victor Quintana
The famine in the Sierra Tarahumara reveals a problem that goes beyond the current crisis— it demonstrates the structural exploitation of the Rarámuri, O'odam, Warixó and Odame peoples. Facied with an outpouring of solidarity and concern in the local, national and international public, the Governor of Chihuahua, Cesar Duarte, has said recently that both the government and society owe a "historical debt" to the Indian people of Mexico's largest state.
No-one would debate the fact that the state of Chihuahua, and all of Mexico, owes a tremendous debt to the original peoples of this country. For half a millennium, indigenous people have been ransacked and the looting only stops when there is nothing left to take and no one left to drive out. What should be debated today is how those historical debts will be paid.
The debts to indigenous peoples cannot be paid with food and blankets, and much less with speeches. They must be paid with effective and efficient public policy; with decisions, budget allocations, legal reforms that are enforced and affirmative actions. With all that it means to genuinely seek justice.
The government of Bolivia, headed by President Evo Morales, serves as an example of how to address historical debts with native peoples. Bolivian Vice President Alvaro García Linera lucidly lays out what must be done in an interview with Luis Hernández Navarro of La Jornada.
García Linera starts off with a fact: colonization did not end with political independence from Spain. Consequently, the governments that want to do justice to the indigenous peoples must involve themselves in a process of decolonization.
The vice president maintains that "it is a process of disengaging from the institutional, social, cultural, and symbolic structures that subordinate the everyday lives of the people to the interests of the hierarchies and the narratives imposed by external powers. Colonialism is a relationship of territorial domination that is imposed by force, but eventually becomes normalized in the 'regular behavior' of the dominated peoples."
The basic steps in the process of decolonialization begin with recognizing that indigenous peoples have become political actors, with access to real, institutional power. They make political decisions and exercise a voice. The indigenous movement has pushed the State to recuperate control of natural resources that had formerly been in foreign hands, such as oil, gas, water, and parts of the country's electrical gridding. Other resources, like land and forests, have been passed back directly to indigenous and peasant communities.
"Thanks to these actions, to the leadership of the indigenous community, who are the majority of the population of Bolivia, indigenous persons who were once predestined to be peasants, laborers, bellboys, or waiters, are now government ministers, legislators, CEOs, judges, governors, and even president," concludes García Linera. This indigenous empowerment is both a means of change and a product of change. It has emerged from the peaceful social revolution that Bolivia has been experiencing since the indigenous movement and Evo Morales took power.
It might be unrealistic to attempt that level of change in Chihuahua, but if we are really serious about recognizing the long-standing debts we owe to the Indian peoples in our state and making good on our rhetoric, we must make drastic demands.
The first would be to dismantle the colonial attitude that continues to subjugate our indigenous communities. Their lands should be returned to them, and they should be the ones who decide if and how they are going to exploit the forest—their forest. They should be the ones to decide if and how they want to plan and develop tourism projects. The monumentally erroneous law that gives priority to mining activities over the rights of the communities to do what they want with their own land should be eliminated. When that land and what's beneath the surface is given to foreign mining companies, the law is even more outrageous.
Paying the past due debt to the Rarámuri and other indigenous peoples of Chihuahua goes far beyond "creating" sources of work for them or "bringing" them roads and hospitals. It demands the political will to recognize their full citizenship, with full equality and all the rights and privileges the come along with it. It demands ceasing to treat the Sierra like a protectorate in the hands of mestizo foster parents, even if well-intentioned. It means removing barriers so that indigenous communities can become conscious political actors, responsible for their own economic, ecological, political, cultural, and social affairs.
Víctor M. Quintana is an adviser to the Democratic Farmers' Front of Chihuahua and researcher/professor at the Autonomous University of Ciudad Juárez. He is a regular columnist with the Americas Program.
Translation: Mikael Rojas