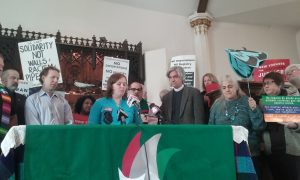 "We do not understand why there is so much hatred against us migrants."
"The day the nightmare started, the 'patrón' (the owner of the restaurant) asked me to open the place, and when we arrived, I found it strange to see several TV news teams outside the restaurant. And in less than five minutes several police cars had arrived," recalls Antonio about the day he was arrested by ICE in Buffalo, New York.
What was a normal work day became hell for Antonio. In October of last year when he was about to open the doors of the restaurant where he had been working for two years, he was arrested in a massive operation that swept up 24 other people–an unprecedented raid by ICE agents.
"I remember that day well because when I got to the restaurant, there were even newscasters outside, and that seemed strange to me," he told the Americas Program. "They did something extraordinary and treated us like pure criminals.
"We're not criminals. We're people who came to this country looking for a better life for us and our families. We are workers–we're not delinquents," he added, seeming still stunned by what happened.
That day ICE agents stormed the Mexican restaurants Agave, Don Tequila and La Divina. in the operation, people of Mexican and Cuban origin were arrested even though none of them had criminal records, according to  Meghan Malone, a lawyer for the New York Immigrant Coalition (NYIC) who legally assists some of those affected by the raid. Some were even in the process of obtaining work permits, Malone told the Americas Program.
The arrests were made in late October 2016, before Donald Trump came into power. Now those affected and the organizations that support them believe the anti-immigrant policies of the Trump administration will mean more raids and more difficulty in getting a fair hearing. The incident October raid already had many immigrants in Buffalo living in fear, and by all accounts that fear has increased since the new president took office in January.
Ninety-five percent of immigrants in the East Coast region of the country seeking asylum in the United States end up in Buffalo. Many others are in Buffalo seeking to apply for asylum in Canada. Social organizations and local churches that support migrants believe that roughly 6,000 undocumented immigrants live in the city.
Santiago Masferrer, director of the Latin American Cultural Association (LACA) in Buffalo, told the Americas Program that for the past 10 years, migrants who have arrived have helped rebuild the city and revived the local economy. "They have rebuilt homes and spaces that were abandoned," Masferrer says. "A lot of the West Side was abandoned and as many migrants have come in, that place has come to life and is full of activities again."
The ICE Operation
Antonio recounts that the night before the raid, the person in charge of opening the restaurant asked for the day off. He recalls thinking that was unusual. The owner asked him to open the premises, but only after changing the security alarm so only Antonio could open up the next day.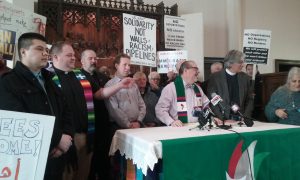 When Antonio tried to open up the restaurant, the alarm went off. "I explained (to the police) that since the alarm code had been changed recently, I thought maybe I entered it incorrectly," he said. "They asked me to show my ID and when they saw it was a Mexican identification, they immediately called ICE."
When the ICE agents arrived, Antonio recognized them. All of them were customers who frequented the restaurant, which is located in one of the busiest areas of downtown Buffalo. That seemed very odd to him. Another group of ICE agents made simultaneous arrests in other restaurants. One group of migrants was arrested while playing football in Orchard Park, a modest neighborhood located a few miles from downtown Buffalo.
Of the 25 detainees, two signed voluntary deportation agreements. The rest decided to fight. the authorities led them off to detention in shackles. Antonio and a few other Mexicans have proof of work permit approval, but they believe the delays are related to the change in government. They fear that Trump's anti-immigrant policies have stoked a new racism that has become evident the past few months.
"Our work permits have already been approved, but we're being kept from working … We cannot support our families if we're not making money," Antonio said. "The climate that has been generated since January causes us more uncertainty. We think things aren't moving forward since the Trump government is against immigrants."
The Sanctuaries
Since Trump assumed power, the climate of insecurity among migrants has grown. A few days after arriving in the White House, he signed an Executive Order targeting migrants. This outraged immigrant communities of all races and has affected religious and non-religious groups that support immigrants. Three churches in Buffalo, including a Jewish synagogue, quickly organized to declare themselves sanctuaries to protect all immigrants who are being persecuted, or who feel threatened, or who may be targeted by future raids in Western New York.
"There are some churches that cannot publicly declare themselves sanctuaries, while others are in the process of declaring as sanctuaries," Pastor Justo González told the Americas Program. "Our church El Nuevo Camino is preparing to receive people, so they can stay here if they are in danger of being deported or fear being detained by immigration agents. It is an important part of our calling as Christians–the church has to be on the streets protesting and making it clear that we stand with our immigrant brothers."
The cleric said churches of varying denominations are working to let migrants know what to do in case there are more raids in the area. "We are talking with our brothers and sisters to let them know what to do in case of further arrests, what legal recourse and protections they have access to," the pastor said. "It is important for us to teach others. Many churches are afraid of what the government might do to us, but we cannot be afraid. Many leaders of religious communities now understand that we have to honor human dignity regardless of their legal status."
According to official ICE figures, during fiscal year 2016, there were 65,332 immigrants detained in the United States who were then repatriated to their home countries. Many community organizations fear this number could double under the Trump administration.
Several Buffalo residents told the Americas Program that ICE raids were very unusual in the area. In February 2017, authorities reported the arrest of 21 others of Latino origin, including Mexican and Salvadoran immigrants. All of them were shopping at a convenience store in Hamburg, just outside the city.