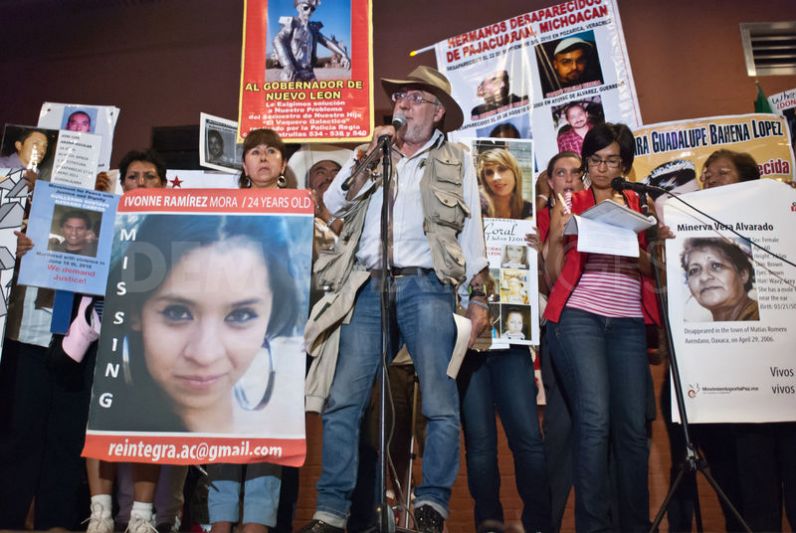 Mexico's Movement for Peace with Justice and Dignity set off from San Diego on August 12 to traverse the country with a message: To end the war on drugs in the U.S. and Mexico.
The caravan description reads:
"Led by the poet, Javier Sicilia, the caravan will meet with members of US society through dialogue and peaceful action, carrying proposals to shut off the flow of illegal arms to Mexico, supporting humane and health-oriented alternatives to the prohibition of drugs and demanding effective, non-violent security policies. It will also seek a humane immigration policy."
The CIP Americas Program–along with some 100 partner organizations of migrants, churches, unions, students, NGOs and community members in the cities along the route–is helping to organize caravan events and give voice to the victims of the drug war. We will be accompanying the caravan on part of its long journey through the country and providing daily blogs, articles and interviews as events unfold.
A handful of U.S. companies that produce weapons and defense and intelligence equipment are raking in taxpayer dollars in government contracts for the drug war, while in Mexico more than 70,000 people have died since the war was launched in December 2006.
Today the face of the U.S. government in Mexico is the face of war. This face is reflected in the vast expansion of joint security operations and direct intervention in Mexico´s counter-narcotics planning and operations. Instead of schools and hospitals, our tax dollars support military helicopters and espionage systems.
The relationship between the two nations has degenerated into a seemingly endless war on drugs, The war is commanded from the north, where enforcing prohibition is considered more important than human lives, and fought in the south, where the long arm of enforcement has left 70,000 dead in the past six years.
Despite tragically negative results, the U.S. government has dismissed calls from citizens in both countries to end the war on drugs and the misguided Merida Initiative that supports it. Instead, we continue on a path that throws U.S. youth behind the bars of lucrative private prisons and feeds defense companies by perpetuating violent conflict in Mexico.
Family members of the thousands murdered, disappeared, attacked and displaced in Mexico's drug war and their supporters will present a very different, human, face of binational relations. They will meet with families in the United States that have suffered senseless incarceration and violence as a result of criminalizing drugs, rather than supporting communities and individuals to manage the health and social threats posed by consumption and addiction.
Find out what organizations are planning in your community. You are needed to help out with organization of events and logistics for the peace caravan. Please plan to attend the events. Learn first-hand the human costs of the drug war and find out how to make change from your own community on up to the national and international levels.
Here is the caravan schedule. For more information on events in your community, see the caravan website. To volunteer for upcoming caravan events, please write us at: info@americas.org
SCHEDULE:
San Diego, CA – Aug 12 SUN
Los Angeles, CA – Aug 13- Aug 14 MON/TUES
Phoenix, AZ – Aug 15 WED
Tucson, AZ – Aug 16 THURS
Las Cruces, NM – Aug 17 FRI
Albuquerque/Santa Fe, NM – Aug 18 SAT
Santa Fe, NM – Aug 19 SUN
El Paso, TX – Aug 21 TUES
Laredo, TX- Aug 22, WED
Harlingen/Brownsville, TX – Aug 23 THURS
McAllen/San Antonio, TX – Aug 24 FRI
Austin, TX – Aug 25 SAT
Houston, TX – Aug 26 SUN
New Orleans, LA – Aug 27 MON
Jackson, MS – Aug. 28 TUES
Montgomery, AL – Aug 29 WED
Atlanta, GA – Aug 30  THURS
Atlanta-Fort Benning – Aug. 31 FRI
(Travel Night to Chicago, IL & Rest Day – Sept 2 SUN)
Chicago, IL – Sep 3-4 MON/TUES
Cleveland, OH -Sept 5 WED
New York, NY – Sept 6-7 THURS/FRI
Baltimore, MD – Sept 8-9 SAT/ SUN
Washington, D.C. – Sept 10-12 MON-WED – FINAL CITY
For More Information:
Some English-language press on the Caravan so far:
Democracy Now! "Javier Sicilia Brings Peace Caravan to the U.S.to Condemn Deadly Drug War" Aug. 16.  http://www.democracynow.org/2012/8/16/mexican_poet_activist_javier_sicilia_brings.  Also see: "Mexican Poet Javier Sicilia Condemns U.S. Role in We¡idening Drug Violence" May 11. http://www.democracynow.org/2012/5/11/stop_the_drug_war_mexican_poet
"Cross-country tour to point out the failure of the war on drugs", Steve Lopez, Los Angeles Times, Aug. 12, 2012.  http://www.latimes.com/news/local/la-me-0812-lopez-moms-20120812,0,6855876.column?page=1
"Mothers share their anguish at losses to Mexico's violence", Steve Lopez, Los Angeles Times, Aug. 15, 2012. http://www.latimes.com/news/local/la-me-0815-lopez-mexicomoms-20120814,0,218429.column
The Nation: Can the Caravan of Peace End the War on Drugs?
Los Angeles Times: Mexican activist, poet brings Caravan for Peace to U.S.
AFP: Drug war 'peace caravan' woos Hollywood
KPFA 94.1-FM in Berkeley: Victims of US/Mexico Drug War Lead Caravan for Peace
Contacts for Organizing:
1) Kirsten Moller: San Diego, Los Angeles, New Orleans, Jackson, Atlanta, Charlotte
kirsten@globalexchange.org, 415 255 7295
2) Louise Levayer: Tucson, El Paso, Brownsville/Harlingen/McAllen, San Antonio, Austin, Houston
louise.levayer@gmail.com, (415) 575 5531
3) Chelsea Brown: Albuquerque, Santa Fe, New York City, Baltimore
Chelsea.avril.brown@gmail.com, (415) 575 5531
4) Liz Sanchez: Cleveland, Phoenix, Montgomery, Chicago
lizsanchez0916@gmail.com, (415) 575 553