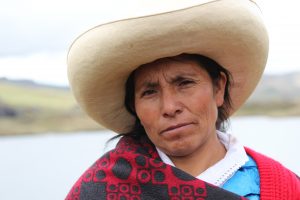 Peruvian peasant Máxima Acuña de Chaupe, in San Francisco April 18th to accept the 2016 Goldman Environmental Prize for South and Central America, vowed she would not be intimidated by the murder of Honduran activist Bertha Caceres, the region's previous winner.
"For me it's of great concern that those of us who are defending the water and the land run this risk," Acuña said during an online news conference. "I don't know what to expect, but it doesn't scare us," said Acuna, whose family traditionally herds sheep and grows potatoes on a 9-hectare tract in the Andes.
The Acuna Chaupe family is standing in the way of the world's second-largest gold-mining company's demand for access to four mountain lakes crucial for Andean subsistence agriculture in northern Peru. One of the lakes would be converted in the country's largest toxic waste dump, if plans pan out to use it as a tailings pond, as approved by the government.
Like Caceres before her, Acuña has resisted violence and eviction in championing the protection of natural resources against powerful international corporate exploitation. The international prize is awarded annually for grassroots environmental heroism.
Hit-men burst into Caceres' home in the middle of the night of March 3, gunning her down and ending her opposition to the Agua Zarca Hydroelectric Project, which would displace Lenca indigenous people and culture in Honduras.
"It doesn't give us reason to not keep fighting," Acuna said of Caceres' murder. "If something like that happens to me, I have faith that my god will receive me with open arms, because we are not the criminals; we are not the thugs, we are not the murderers."
Acuna and her public interest lawyer explained her struggle with the Denver-based Newmont Mining Corp. and its partners, beginning five years ago, when she refused to leave her home for Minera Yanacocha's Minas Conga open-pit project in the Cajamarca region of the Peru's northern Andes.
"On Aug. 9, 2011, the company came in with a lot of police and mineworkers. They wanted to take our lives. They beat me, my husband and my children. They threw us to the floor so the Conga company could carry out its projects.
"They killed my sheep, stole and killed my dogs, burned down my cabin, and carried away all my belongings in their vehicles," she lamented.
When the family rebuilt their dwelling with the solidarity of people far and wide, the mining company proceeded against her with claims of criminal trespass on her own land. It appealed her defense all the way to the Supreme Court, losing five decisions before final determination that the land is rightfully her family's.
The conflict in the courts helped stall mining construction operations during four years of legal challenges. The legal proceedings are part of widespread public discontent over the mining, which has resulted in roadblocks by thousands of protesters.
Earthworks environmental policy advocate and Mining Director Payal Sampat said the efforts of Acuna and dissidents has resulted in a victory.
Newmont's April 2016 mandatory filing of investment documents states that "under the current social and political environment, the company does not anticipate being able to develop Conga for the foreseeable future."
Yet, Acuna said the harassment of her family continues. She feels like she is in captivity because the mining company employees have fenced in her property and patrol it constantly.
Acuna's lawyer Mirtha Vásquez, who is the director of the Honduran environmental case-law group GRUFIDES, said the mining company now is going after Acuna in civil court to get possession of her family's land.
"Maxima and her supporters are not afraid," Vásquez said. "We think we have the proof and the truth is on our side."
The mining company security and police destroyed the family's half-hectare of 3-month-old potato plants in February and threatened Acuna's son Daniel with death. The private security team returned in March to plant its own crop on land the family plowed.
"The company informs that it will continue peacefully enforcing its ownership, preventing new invasions," Yanacocha said in a written statement. It claims it is exercising legal defense of possession.
Vásquez called the actions "total abuse" and said, "Defense of possession is exercised within 15 days of an alleged invasion, as you will see, this crop was more than three months' along."
Daniel Chaupe Acuna said the police and private security guards threw some of the family's potato crop to the company's alpaca herd and the rest of just went to waste.
"They told me, we've already done away with your dog, we've already done away with your food, next we'll do the same to you," he said in a radio interview GRUFIDES recorded.
Chaupe Acuna said the security forces wanted to detain him and take away his cell phone camera, but he was able to run away and they couldn't catch him because they didn't know the terrain the way he did.
Revealing Peruvian peasants' predilection for potatoes, a crop they originated from wild seeds centuries ago, Chaupe Acuna expressed his ire at the security forces action with these words: "What the hell do the eat to make them act this way? They must not eat potatoes."
Earthworks is promoting a petition to end the harassment, which can be signed at https://action.sumofus.org/a/newmont-mining-peru/ It states:
"We call on Newmont to respect the Peruvian court ruling and immediately ensure that Maxima and her property are no longer harassed."
Acuna said the Goldman Environmental Prize, known as the Nobel Prize for Environmental Activism, is helpful in spreading the word about the struggle over mining in Peru.
She encouraged people to lean on their governments to influence Peru's, which has relaxed mining restrictions and is not responding to people's demands for environmental justice, according to Vásquez.
"It's important because in our country, they don't stand up against violation of our human rights and the violence we're facing," Acuna said. "All I ask is that they let me live in peace on my land and go on with my life."
This is not the first time that Newmont's Peruvian mining operations have bogged down in controversy.
Newmont, the second-largest gold mining company in the world, owns 51.35% of Yanacocha's operation. It's partners are Minas Buenaventura, Peru's largest publicly-traded precious metals company, which owns 43.65%, and the World Bank's International Finance Corp., with 5%.
Compañía de Minas Buenaventura S.A.A. announced on Nov. 30, 2011, that Minera Yanacocha S.R.L., in response to a request of Peruvian President Ollanta Humala, had suspended construction at the Conga project "for the safety of employees and community members."
The company noted that during the past month, the project had "experienced intermittent work stoppages as a result of ongoing protests in the region."
In 2004, it suspended plans to develop the Cerro Quilish gold deposit after residents blockaded roads and protested the project.
In 2000, a truck carrying mercury from the Cajamarca's Yanacocha operation, Latin America's largest gold mine, spilled 330 pounds of the toxic mercury along a road near the town of Choropampa, sickening hundreds of people, including children.
Over the past two decades, the mining industry in Peru has been growing at breakneck speed. With promises of jobs and economic prosperity, the Peruvian government awarded mining licenses across the country.
Despite these promises, rural dwellers, who were rarely consulted in the development of mining projects, largely continue to live in poverty. In many communities, mining waste has polluted the local waterways, affecting local people's drinking water and irrigation needs.
The pillage of natural resources that has resulted has been promoted under false pretenses, according to Vásquez, since it is not the priority for the country's stability. Only 1 percent of the Peruvian workforce is employed in the mining industry.
The Conga Mine, 10 miles from the giant Yanacocha, called for draining the four nearby lakes. The one known as Laguna Azul would be turned into a waste storage pit, threatening the headwaters of five watersheds and Cajamarca's páramo ecosystem, a high-altitude biologically diverse wetland.
It was back in 1994 when Acuña and her husband bought a plot of land in Peru's northern highlands known as Tragadero Grande. They built their house and lived a peaceful life raising their children. They lived off the potatoes and other crops they grew, keeping sheep and cows for milk and cheese. Occasionally, Acuna made a long trek into town to sell vegetables, dairy, and woolen handicrafts.
She never learned to read or write, but she understood that the land was her lifeblood. She sought Vásquez' help after she and her daughter were beaten unconscious in the 2011 incident.
Initially a provincial court found her guilty of illegally squatting on her own land. Acuña was sentenced to a suspended prison term of almost three years, and fined nearly $2,000—a huge sum for a subsistence farmer in Peru.
Her land title proved she held legitimate property rights to the land claimed by Newmont. In December 2014, the courts ruled in Acuña's favor, overturned her prison sentence and halted her eviction.
An international jury selected her for the Goldman Environmental Prize from a list of confidential nominations submitted by a worldwide network of environmental organizations and individuals.
The Goldman Environmental Prize was established in 1989 by late San Francisco civic leaders and philanthropists Richard and Rhoda Goldman.
The prize "is a source of pride, and I am going to keep on fighting together with my community," Acuna said in her acceptance of the honor.