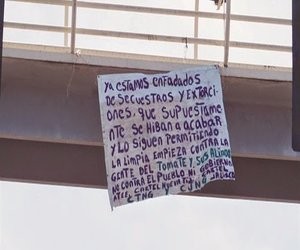 Despite recurrent pronouncements of death by some U.S. and Mexican officials, high-profile organized crime groups continue operating and shedding blood south of the border. Tijuana, where control of both the local and export drug business is the prize of contention, figures once again as a significant flashpoint of violence.
Violent rivalries were on public display this past week as at least five so-called narcomantas, or narco banners, were placed in highly visible spots in the Baja California border city of an estimated 1.6 million people.
Signed with the initials of the Arellano Felix Cartel, the messages railed against out-of state rivals attempting to move in and gain control of the drug market.
Although narcomantas are not new, what surprised some observers were the immaculate lettering and the lack of spelling errors usually found on such banners.
One purported Arellano Felix banner read: "Cartels from other states, we will continue burying intruders as we have done until now, gang against gang, ready to continue the fight, the cleaning is for the purpose of bringing order to the city."
Another banner proclaimed that "Tijuana does not have a new owner, it's the Arellano Cartel…"
The messages were displayed in apparent response to a September 4 banner signed by the CTNG and CJNG, presumably the New Generation Tijuana Cartel and New Generation Jalisco Cartel, respectively, that boasted the "plaza," or drug market, had a "new owner."
The banner ranted against several individuals, including an alleged hit man and "kidnapper of the nieces of Mayo Zambada," in reference to a leader of the Sinaloa Cartel. "… out of the plaza thieves!" the September 4 banner demanded.
The Arellano Felix family and the Sinaloa Cartel have a long-standing feud stretching back more than 20 years.
The narcomantas were discovered amid a mounting violent upsurge in Tijuana. From Tuesday, September 8 to Saturday, September 12 alone, at least 13 people, eight men and three women, were slain gangland style. One of the women was found shot and half-burned on a dirt road in Playas de Tijuana.
In one instance, three bodies were pulled from a burned-out van on the outskirts of Tijuana. Pending scientific identification, the probable victims were tentatively named as Autonomous University of Baja California academic Juan Antonio Rodriguez Moreno, 67; engineer Jose Martin Palafox Cervantes, 50; and Palafox's assistant, 39-year-old Dionisio Arevalo Corona. Press reports suggested a land dispute might have been the motive for the murders of the three men.
In yet another violent episode, three men were shot and wounded in a barber shop located in the Tijuana district of Mesa de Otay on Saturday afternoon, September 12.
According to the Mexico City-based daily Excelsior, Tijuana witnessed more than 460 homicides from January 1 to September 2 of this year. In addition to murders, extortions are also reportedly on the upswing, leading some observers to compare the current situation with Tijuana's violent era of 2008-2010.
For some time now, law enforcement officials on both sides of the border have pronounced the Arellano Felix group—once regarded as the most powerful underworld force in Mexico but weakened by the killings or detentions of the flamboyant brothers who headed the organization in its heyday of the 1990s and early 2000s—as largely finished.
But as the war of bullets and banners would seem to indicate, the group appears not quite done. Nonetheless, Victor Clark Alfaro, director of the Binational Center for Human Rights, ventured that the power of the present-day Arellano Felix outfit is pretty much confined to its "Tijuana bastion" in conjunction with allied groups.
"The fact of the matter is that this alliance strengthens them as a group for maintaining control, but not total control."
Business leaders are openly expressing serious concern about the turn of events. Gustavo Fernandez de Leon, head of the local Coparmex employers' association, called on Governor Federico Vega to show greater political will and coordinate efforts with security forces from the three levels of government as well as the courts.
With violence rising in Tijuana, local politics percolates in the background  as municipal elections loom in 2016. Among the emerging politicians is Lt. Col. Julian Leyzaola, the retired military man who served controversial terms as police chief of Tijuana (2008 to 2011) and Ciudad Juarez (2011 to 2013). Leyzaola was the target of a Ciudad Juarez shooting last May, but survived the attack and was recuperating as of late in San Diego.
Now a security consultant for the new Social Encounter Party, Leyzaola, who is highly criticized by human rights groups for his record in both Tijuana and Ciudad Juarez particularly the use of torture, has expressed strong interest in running as the party's candidate for Tijuana mayor next year, despite an order issued by the municipal government of Tijuana two years ago barring Leyzaola from holding any public office for eight years.
Back in Leyzaola's old stomping ground of Ciudad Juarez, news of a July report by the  U.S. Drug Enforcement Administration (DEA)  raised questions about previous assessments of two longtime rival criminal groups, while disclosing the surprise entry of a third one.
Citing the DEA, the Ciudad Juarez daily Norte reported that a third force, the Beltran Leyva group, has a presence in the El Paso-Juarez region. Like the Arellano Felix organization, the Beltran Leyva group was also reportedly splintered, weakened or dismantled in the aftermath of the deaths or detentions of some of the brothers and other leaders who spearheaded the syndicate.
The alleged leader of the crime group, Hector Beltran Leyva, was arrested while in the company of a local political figure at a mom-and-pop restaurant in San Miguel Allende, Guanajuato, in October 2014.
According to Norte's DEA report story, the Juarez Cartel remains the biggest organization in the Paso del Norte region, followed by the Sinaloa Cartel of Chapo Guzman and Mayo Zambada. What's more, "the (New Mexico) territory of Las Cruces and Albuquerque is disputed by the two cartels," according to the Norte story.
In response to Norte's story, Ciudad Juarez Mayor Enrique Serrano insisted to El  Diario de Juarez that no third group had entered the local underworld competition. Serrano even claimed that no leaders of organized crime are present in his city, only operators of criminal bands, and that drug cartels no longer have an important presence in the city.
In remarks to a meeting of Mexican border mayors in Juarez last week, Serrano declared that "you who visit us will observe a city in peace."
On the other hand, another report in El Diario noted the presence of a fourth and also supposedly debilitated group, the Zetas, in assisting affiliates of the Juarez Cartel in their struggle against the Sinaloa forces. El Diario's story was drawn from a recent report delivered to the U.S. Congress.
Although criminal violence in Juarez has dramatically diminished from its peak in 2010, narco-style executions in the city of more than 1.3 million people and adjoining rural areas are reported on practically a daily basis.
In a recent posting on her Frontera List, New Mexico State University researcher Molly Molloy calculated that "about 220 people" had been murdered in Juarez in its immediate surrounding areas from the beginning of the year until the end of August.
Truth be told, Juarez remains a coveted plaza both for domestic drug sales as well as the export opportunities presented by an existing and growing network of international bridges and highways that meander into the vast and illicit drug-hungry market of El Norte. And the value of this plaza is likely to increase even more soon with the anticipated opening of a new international bridge in the Juarez Valley that would be highly useful for smuggling not only contraband to points north, but cash, guns and products of all sorts south.
Lt. Edgar Soto Zambrano,  Mexican Navy psychologist, said Juarez is like Nuevo Laredo farther to the south, standing as "an important logistical point" capable of generating "massive distribution."
Meanwhile, a Mexican court granted the release from prison last week of an old cartel warhorse. Purportedly senile, 85-year Ernesto "Don Neto" Fonseca Carrillo had served 30 years in prison on charges that included the 1985 murders of DEA agent Enrique Camarena and his driver Alfredo Zavala. Now put on house arrest, Fonseca was a capo of the old Guadalajara Cartel, the mega-mafia that spawned the Juarez, Arellano Felix and Sinaloa groups.
Sources: El Sol de Tijuana, September 10, 11 and 13, 2015. Articles by Manuel Cordero and Daniel Angel Rubio. Zeta, August 31, 2015;  September 9, 11 and 12, 2015. Articles by Isai Lara Bermudez and editorial staff. Frontera.info, September 11 and 13, 2015. Article by Luis Gerardo Andrade.
Proceso/Apro, September 11, 2015. Norte, September 10 and 11, 2015. Articles by Salvador Esparza Garcia. El Diario de Juarez, September 10 , 12 and 13, 2015. Articles by Miguel Silva and staff. Lapolaka.com, September 9 and 12, 2015. CNNMexico, August 30, 2013.
This article was originally published by FNS News.  Frontera NorteSur is an on-line, U.S.-Mexico border news site from the Center for Latin American and Border Studies of New Mexico State University, Las Cruces, New Mexico.