Organizational Sign-on Statement on David Castillo trial for murder of Berta Cáceres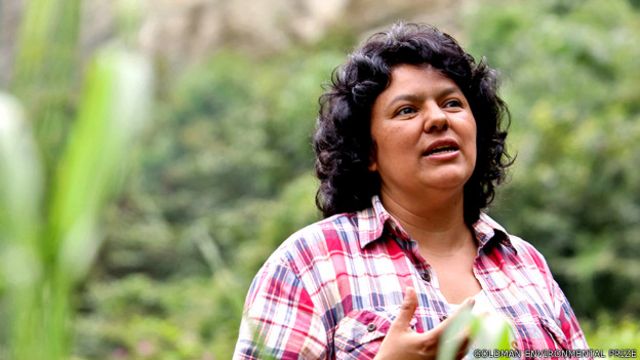 The March 2, 2016 murder of Honduran indigenous rights defender Berta Cáceres, Coordinator of the Lenca organization COPINH, provoked indignation in Honduras and around the world. Berta was murdered while supporting Indigenous Lenca communities in opposing the Agua Zarca Hydroelectric Project that was being advanced through a public limited company created for the project, Desarrollos Enérgeticos S.A. (DESA).
An unprecedented level of international scrutiny of the subsequent murder investigation resulted in five related penal prosecutions that have been conducted or are currently taking place.
The trial of the DESA hydroelectric company CEO and former military intelligence officer David Castillo is underway and is expected to conclude within two weeks. Prior to Castillo's trial, on Nov. 29, 2018, five paid assassins and two former DESA executives were convicted of murdering Berta. Three other prosecutions are related to fraud and abuse of power in the granting of the permits and contracts for the Agua Zarca Hydroelectric Project.
It is essential that the judges in Castillo's case be able to make their decision without pressure from powerful actors interested in swaying the verdict and obscuring the truth about the intellectual authors of this crime. Given the emblematic nature of, and international focus on this crime, holding both material and intellectual authors accountable is essential for progress in addressing impunity in Honduras and ensuring the protection of activists.
Despite lobbying and public relations efforts intended to obscure the facts, the evidence indicating that Castillo directly participated in the murder of Berta is conclusive.
The extensive and detailed evidence submitted in this trial and related prosecutions also demonstrates that Castillo was part of a criminal structure that engaged in a range of crimes, including financial crimes and violence, and that other members of this criminal structure participated in actions to facilitate Berta's murder and other crimes. The emerging picture of the criminal network is a clear illustration of the kleptocratic networks that perpetrate the corruption and violence whose eradication the Biden Administration has pledged to make the focal point of its strategy in Central America. The political and economic influence of members of this criminal network is extensive and formidable.
The evidence demonstrates that Castillo directly participated in Berta's murder by hiring and assisting the former DESA chief of security, Douglas Bustillo, to assemble a team of assassins to carry out the crime. Though communications between Castillo and Bustillo demonstrate that Castillo made some effort to keep the operation at a distance, to protect himself and his company, he did not take sufficient precautions. The telecommunications data clearly demonstrates that Bustillo informed Castillo of failures in the first attempt to murder Berta on February 6, 2016 and requested that Castillo provide more funding in advance of the murder so that the assassin team could have better logistics. Castillo and Bustillo then coordinated a meeting for purpose of advancing money to Bustillo just two days before the successful March 2, 2016 murder operation.
The telecommunications evidence also demonstrates that David Castillo used his military intelligence background to develop a line of direct communication with Berta in order to evaluate options to neutralize her advocacy in defense of the Lenca indigenous communities. The information he learned was used in attempts to convince her, to bribe her, to discredit her, to intimidate her, and finally to inform the planning of the murder.
Further, evidence presented in the trial shows that DESA executives under Castillo's direction – principally the Environmental and Social Manager Sergio Rodríguez, and the former head of security of the company, Douglas Bustillo – established communication with a network of informants to closely monitor Berta's activities and plans, and reported back to David Castillo. Both men were convicted in 2018 for their participation in the murder.
The evidence also demonstrates that additional members of the criminal structure were participants in Berta's murder. During the current trial of Castillo, DESA Chief Financial Officer Daniel Atala refused to testify, claiming that as the object of a criminal investigation himself, he was protected from self incrimination. Nevertheless, over 5 years after Caceres' murder, there have been no additional indictments against members of this criminal network.
David Castillo is also one of six people awaiting trial for corruption charges related to the construction of the Agua Zarca project that Lenca indigenous farmers organized in COPINH sought to stop, with Berta's help. COPINH, which represents the Lenca people who were impacted by the project, has been excluded from the legal process as victims. COPINH clearly has the right under Honduran law to participate in the process, and that participation is critical to ensuring due process and full prosecution. It is vital that when the trial starts, which is expected to be immediately following the conclusion of the murder trial, COPINH is allowed to participate in the process as victims.
It is essential that the final decision on the David Castillo trial and other ongoing investigations into Berta's murder be monitored closely by the international community. Progress in achieving accountability for Berta Caceres' murder is fundamentally important for progress toward justice and protection for human rights defenders and other activists in Honduras.
Signers: Center for Economic and Policy Research, Rights and Ecology, Americas Program, Sisters of Mercy-Justice Team, Latin America Working Group Education Fund, Just Associates (JASS), Committee in Solidarity with the People of El Salvador CISPES, Alianza Americas, Friendship Office on the Americas, Latin America Caucus of Interfaith Council for Peace & Justice, CODEPINK, Honduras Solidarity Network in North America, Sisters of St. Joseph, Chambery/West Hartford, Society of the Holy Child Jesus, Sisters of Saint Joseph of Chestnut Hill, Philadelphia, PA, SHARE FOUNDATION, Maryknoll Office for Global Concerns, Network in Solidarity with the People of Guatemala (NISGUA), Global Exchange, Dominican Sisters of Hope, InterReligious Task Force on Central America, Justice Coordinator Sisters of St. Joseph of Carondelet Albany, Carmelites-Vedruna, JPIC, Global Fund for Women, Mothers & Others: Justice and Mercy for Immigrants, 25 Instituto para las Mujeres en la Migración (IMUMI), Servants of Mary, US/Jamaica Community Council, Global Labor Justice-International Labor Rights Forum (GLJ-ILRF), National Advocacy Center of the Sisters of the Good Shepherd, Congregation of Our Lady of Charity of the Good Shepherd-U.S. Provinces, Sisters of St. Joseph of Orange, Sisters of St. Francis (Oldenburg), Pax Christi USA, Migrant Roots Media, Chicago Religious Leadership Network on Latin America – CRLN, Witness for Peace/Solidarity Collective,  Franciscan Action Network, Servite Sisters, Grey Nuns of the Sacred Heart, Dominican Sisters~Grand Rapids, CARECEN-LA, Sisters of Providence, FSPA, Pax Christi USA, Faith in Action, Sisters of St. Joseph of Rochester Justice & Peace Office, Wheaton Franciscans JPIC Office, FCCPA, Interfaith Movement for Human Integrity, Society of Helpers, Congregation of Divine Providence-Peace and Justice Committee, Congregation of Bon Secours of Paris, Quixote Center, US El Salvador Sister Cities, The Grail in the United States, Human Rights Observation/Honduras (HROH), Amnesty International, TONATIERRA, Unitarian Universalist Service Committee, Immaculate Heart Community Commission on Justice for Immigrants and Refugees, Congregation of the Sisters of St. Joseph of Carondelet, No Endless War or Excessive Militarism, School Sisters of Notre Dame, Central Pacific JPIC Office, Washington Office on Latin America, Adrian Dominican Sisters-JPIC Office, Servants of Mary, US/Jamaica Community Council, Holy Spirit Missionary Sisters, USA-JPIC, Denver Justice and Peace Committee (DJPC), Sisters of Mercy of the Holy Cross USA Province, Sisters of Mercy of the Holy Cross USA Province, Ursuline Sister of Louisville, Kentucky, Observatorio de Derechos Humanos de Rio Negro, Arg, Church Women United in New York State, Leadership Team – Dominican Sisters and Associates of Racine, WI, Leadership Conference of Women Religious, GNSH, Sisters of St. Joseph of Cluny, Peace House, Ashland Oregon, Sisters of  St. Francis of Philadelphia, Dominican Sisters of Houston, Guatemala Human Rights Commission/USA, Erie Benedictines for Peace, Franciscan Sisters of Perpetual Adoratiom, Sisters of the Holy Names of Jesus & Mary, Sisters of Charity of New York PJIC Office, Appleton Foundation, Lucha para Honduras Libre, InterReligious Task Force on Central America and Colombia, School Sisters of Notre Dame Atlantic-Midwest Province, Columban Center for Advocacy and Outreach, Alliance for Global Justice, National Lawyers Guild International Committee,  Texas Campaign for the Environment, Congregation of St. Joseph P&J Team, University of San Francisco- Master in Migration Studies, St. Francis Parish, United Church of Christ, Justice and Witness Ministries, Mercy Ecology, Pax Christi Metro DC-Baltimore Region, SOA Watch, Sisters of St. Joseph, Brentwood NY Office of Justice, Peace, Integrity of Creation, Casa Qatzij, Portland Central America Solidarity Committee PCASC, Sisters of Bon Secours, USA, EarthRights International, WILPF Portland Branch, Maquila Solidarity Network, Khulumani Support Group, Feminists in Kenya, Latin America Solidarity Committee–Milwaukee, UGTT, Madre Tierra, Block 13 Kakuma refugee camp, Voices of the Voiceless (VOVO), Women's Human Rights Institute, Feminist Hiking Collective, Protect Our Activists, Woman Health Philippines, Block13 advocacy group, Amadiba Crisis Committee, Center of Excellence on Ageing, Coordinadora Feminista Peñalolen, FOKUS Forum for Women and Development, American Friends Service Committee, Réseau des Organisations de la Société Civile pour l'Observation et le Suivi des Élections en Guinée (ROSE), Sisters of Charity of New York PJIC Office, Comité pour les droits humains en Amérique latine (CDHAL), CEPROMUN Centro de Promoción de la Mujer del Norte. Perú- Latino América, COLECTIVO CA-MINANDO FRONTERAS, Latin America Solidarity Committee-Corvallis, Buddhists Responding-Corvallis, IDS, Social Transformation Project, Artist for Social Justice, National Indigenous Women Forum (NIWF), Nepal, HUAIROU COMMISSION, Women, Homes and Community, Rights Action, African Diaspora Workers Network (ADWN), Morada Feminista NIcaragua-UK, Animal Answers International, People's Health Movement – Canada, Sister of St. Joseph, Environmental Network for Central America (ENCA), SAFES, Latin American Canadian Solidarity Association, WilderUtopia, Rochester Committee on Latin America, UNBC Guatemala Research Group, Justicia para la Naturaleza, New Hampshire – Vermont Guatemala Accompaniment Project, Mango Network, FAMM Indonesia, Lucha para Honduras Libre, Asia Pacific Network of Environment Defenders (APNED), Masithandane End-Hate Collective, Asociación de Mujeres Feminista Puntos Subversivos, MOFFE Timor-Leste, BioVision Africa (BiVA) – Uganda, Western Mass CodePink, Education in Action, Mon Women's Organization, Tanggol Bayi – Philippines, Karapatan Alliance Philippines, Khoelife, Elders for Environmental Justice, Plataforma Canadá Guatemaltecxs Exiliadxs por Terrorismo de Estado, Casa Baltimore, Limay, Friends of Latin America, Alliance of Baptists, Latin America Solidarity Coalition of Western Massachusetts, K.U.L.U.-Women and Development, Nicaragua Center for Community Action, Cedar Hills United Church of Christ, Movimiento Ambientalista Santabarbarense MAS, Adorers of the Blood of Christ, US Region, etwork of Indigenous Women-Bai, Inc. Philippines, Oregon PeaceWorks, Calala Fondo de Mujeres, Akina Mama wa Afrika, Urgent Action Fund Africa, Zivai Community Empowerment Trust, Task Force on the Americas, MADRE, Mass Peace Action Latin American/Caribbean Working Group, Grassroots Women Iniative Network, CREA, Trócaire, Sisters of St. Joseph, Phila., Robinhood Cove Foundation, Community Alliance for Global Justice, SSND, Gender Action, Sisters of Notre Dame de Namur, Congregation of Sisters of St. Agnes, Urgent Action Fund Latin America and the Caribbean, Grassroots Global Justice Alliance, Global Women's Institute, Colectiva Sobrevivientes de feminicidio en México, CISPES-SF Bay Area, "MADRE TIERRA" Latina Women Organization in USA, Portland Jobs with Justice, Hondurans Association of Northern California, Institute for Young Women Development, African Women Leaders Forum, Masvingo Women movement, COLECTIVO KAWSAY, Center for International Policy, Well Worn Theatre Company, CIPE: Centro de Investigaciones para la Equidad Política Pública y Desarrollo, Misericordia, Tejedora de Sueños