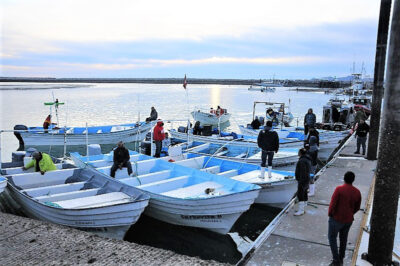 SAN FELIPE, Baja California, Mexico – (Part II) The up-and-coming generation of the fishing families who founded this port village is studying Aquaculture at the local high school and the state capital's Autonomous University of Baja California, hoping education will help them create the sustainability to revive their collapsed Sea of Cortez commercial fishery.
The involvement of drug cartel operatives in the illegal trade of critically endangered totoaba and vaquita porpoise bycatch here has eclipsed efforts to enforce a five-year-long ban on gillnets, provoking foreign sanctions on the village's all important seafood exports.
Having spent their lives in and around the Upper Gulf of California, fishing family members have begun applying their studies, boating skills and intimate knowledge of the area to remove the clandestine fishnets, called ghost nets, from the no-catch zone of the Vaquita Refuge.
Half a decade back, they formed the local non-profit Fishing Alternative of Baja California, or Pesca ABC, to design a program helping protect the vaquita and their own economic future.
International non-governmental organizations, marine scientists, the Agricultural and Rural Development Ministry, and the Environmental and Natural Resources Ministry, as well as the Baja California state government, welcomed them.
In 2019, Pesca ABC won Mexico's highest honors awarded for Ecosystem Restoration at the first national competition "Sharing Experiences to Cultivate Ideas", promoted through the National Commission for Protected Natural Areas.
Participants demonstrated what forward-thinking could do in the refuge, which is located in a part of a UNESCO World Heritage Site where no catch is permitted.
Their combined and sustained efforts paid off with more than 655 ghost nets being removed and as many as 20 vaquitas still alive, despite increased illegal fishing in the habitat where they once numbered nearly 600.
The rescue work now is stalled, however, not only because the coronavirus pandemic health crisis suctioned away federal funds that otherwise would have subsidized outboard motor fuel, but also because of escalating dangers posed by those involved in illicit trade.
The most recent in a series of violent incidents occurred on New Year's Eve, a month after the landmark arrest and confinement of four fishing concession owners, alleged poachers, and traffickers on charges of leading organized crime against health and environment.
This was the first time that Mexican prosecutors have made accusations linking clandestine fishing conspirators with a drug cartel whose transport route they are thought to utilize.
Totoaba was abundant when San Felipe was founded in the early 20th century. The species was declared endangered and protected in 1979. A marked rise in trafficking began in 2012.
With one of the recently captured suspects, Sunshine R., garnering control in 2014 of the four fishing permits of Baja Mar Cooperative, to which he previously did not belong, the competition has been crushing for undercapitalized legal fishing.
When the government began suspending permits, seasons and catch areas in 2015, legal fishing incomes dropped annually from 10,000 to 6,000, to 4,000 pesos a month.
By 2018, the insufficient enforcement of bans resulted in desperate illegal fishing. The totoaba catch bourgeoned. Shrimpers without permits had to sell their catch to those with permits. The pay, it is rumored, was partly in drugs.
For five years, the consumption of methamphetamines has been rising, along with common crimes. Once-productive fishermen now are found addicted in the streets. The quality of life is declining in San Felipe and the Sonoran fishing town across the Sea of Cortez, El Golfo de Santa Clara.
In recouping the fishery of the Upper Gulf, hands on deck know that the way forward is not only about enforcing bans; it's also about government and community collaboration to strike upon an adequate recovery package and acceptable catch alternatives.
While both factions are slow to change, the little-known option of the suripera fishnet might have a chance to capture their mutual acceptance.
This modified cast net is in use at the world's first Fair Trade USA wild-caught shrimp fishery, a sustainable Gulf of California blue shrimp cooperative association, certified since 2016 in Sinaloa, Sonora's neighbor state to the south.
Dominican fishing villages are receiving support from U.S. AID and the U.S. Forest Service for transitioning to this artisanal technique to protect their coral reef and shrimp industry.
The technique is similar to the one employing a butterfly net for shrimping through the centuries on the Mexican lake of Patzcuaro in Michoacán.
Research shows the suripera could lead to a 20-fold income increase with a 50-fold decrease in the shrimp catch if fishing cooperatives achieve certification by an independent fair-trade agency.
The AMLO Administration is shoring up the fishing community with its universal assistance programs for youth training, student grants and aid to vulnerable family members.
Yet the administration has removed subsidies that once compensated fishing cooperative members to refrain from fishing. Plus, official relations are strained with a legacy of authority deceit remaining from previous administrations.
The thousands of able-bodied coop members could really benefit by a certification process that would create a chain of production verification resulting in a label designating their output as "sustainably caught."
The United States' market, Mexico biggest shrimp consumer, is willing to pay $21 a pound at the dock in San Felipe or El Golfo de Santa Clara for certified sustainable shrimp catch, about four times the cost of the catch using suriperas.
The profit margin is accentuated by the fact the cost of operating with suriperas is one-third to one-half that required in conventional shrimping. However, the fishing families have yet to receive the international solidarity to tool up for fair trade.
(Part III will examine an imminent inter-institutional pact for more effective measures.)
Talli Nauman is the director of Journalism to Raise Environmental Awareness and a long-time analyst and columnist for the Americas Program.