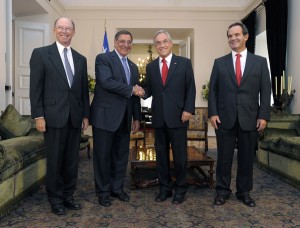 US Secretary of Defense Leon Panetta's recent tour of three South American countries and the installation of a Southern Command base in Concón, Chile demonstrate the Pentagon's growing military presence in the region.
"We are really trying to develop a key part of our defense strategy in order to strengthen some very innovative alliances in a very important region of the world, which represents a key security interest for the United States," said Secretary of Defense Leon Panetta from aboard the military plane carrying him to his first visit of the region since assuming office.
Panetta made three stops: in Colombia he reaffirmed Plan Colombia's calling to export security to other countries in the region, in particular to Central America and Mexico; in Brazil he promised carrots in order to bring the world's sixth largest economy into Washington's orbit; finally, in Chile his visit coincided with the inauguration of the Southern Command's first military base in the country, specializing in urban warfare.
His speeches revealed the Pentagon's political objectives in the region: innovate, modify and deepen security policies in line with the new Defense Strategy presented by President Barack Obama in the beginning of January 2012. The center of gravity is shifting from the Middle East to the Asia-Pacific region, and in order to attract allies he proposes building partnerships in the form of "a network of alliances across the globe", who will be rewarded with "technology transfers, intelligence exchanges and military sales abroad."
In each of the countries visited, Panetta's speech and objectives were adjusted according to the current level of collaboration and the strategic objectives outlined.
Plan Colombia exports security
"For many years Colombia was considered a simple receiver of aid, but some time ago Colombia was transformed into an exporter of knowledge and capabilities," explained the Colombian Minister of Defense Juan Carlos Pinzón at a joint press conference with Panetta.
We have known for years that Colombia is training Mexican—and now also Central American—police officers and soldiers. In January 2011, the Washington Post published an extensive report in which it stated that Colombia had already trained more than 7,000 Mexican police officers and soldiers to deal with the drug cartels, with training sessions taking place in both countries.
According to the Post, the United States is partially financing the trainings (it has contributed 9 billion dollars to Plan Colombia) and is relying on the Colombians to work around the current "anti-Yankee" nationalism in Mexico. In turn, Colombia is trying to position itself as a country that can help resolve the hemisphere's security problems.
A good example of the problems caused by the intervention of armed personnel from the United States is the recent scandal in Honduras regarding the death of four civilians gunned down by DEA agents in the beginning of May, among them two pregnant women. Days after the operation, the people of Ahuas—the village along the Caribbean coast where the incident took place—rioted, burning government buildings and affirming that the dead were fisher-folk and not drug traffickers.
With the crisis and budget cuts, Colombia's importance as a security service provider is only increasing. "Within the context of limited resources in the United States in terms of defense, we have an opportunity to partner with these countries in such a way so that they can become security exporters," a high-level, anonymous American official said at the conference.
Mexico and Central America are not this "innovative" Colombian export's only destinations. In a faraway country governed by a progressive president, the Colombian security "aid" has been denounced by the Service of Peace and Justice (Serpaj-Py). According to the organization's report, "the Colombian government has become the principal advisor to the Paraguayan government for security matters," through "an agreement to receive advice and training from, and to be accompanied by, Colombian intelligence agencies and special forces".
Colombian aid specifically falls under three areas: arms sales (more than 500 Galil rifles in 2010), consulting and intelligence work "with prosecutors and judges, special police units, powerful economic groups like cattle ranchers and businessmen" and the "training of the Special Police Operations Force." Colombia's Unified Action Groups for Personal Liberty (GAULA) spent two and a half months in Paraguay, instructing 35 police officers.
Finally, several sources have reported that Colombia trained 107 police officers of 13 countries in the region in 2011: Mexico, Costa Rica, Brazil, Ecuador, Guatemala, Belize, Honduras, Bolivia, Paraguay, the Dominican Republic and Panama. Along the same lines, Panetta said that he aims to establish a State Partnership Program between Colombia and the National Guard in the United States in order to cooperate with other partners, "among them Chile, Peru and Uruguay."
Chile and urban warfare
"With the financing of the United States, a base for the training of soldiers specializing in urban operations was built—in record time—on the Chilean navy's Fort Aguayo," reports the Chilean newspaper El Ciudadano. It consists of installations built in Concón, 30 kilometers north of Valparaíso, which is a part of the Southern Command's Military Operations in Urban Terrain (MOUT).
The Chilean military base at Fort Aguayo is home to the Marine No. 2 Infantry Outpost, "recognized as the army's most well-trained," and which in 2003 "was used by petty officers to recruit applicants to work in private security outposts in Iraq for the American firm Blackwater."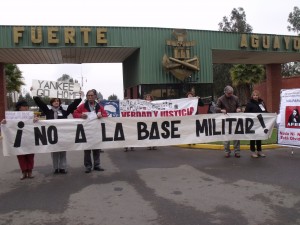 The urban warfare installations (MOUT) were built on navy territory in only six months time with a 465,000 dollar contribution from Southern Command, and were inaugurated on April 5. The base "comprises eight buildings, one with two floors and the rest with one, simulating a mini-city" suitable for urban combat training.
When President Barack Obama visited Chile in March 2011, both countries signed a partnership agreement with the Federal Emergency Management Agency (FEMA), and six months later the Chilean Minister of Defense, Andrés Allamand, "signed a partnership agreement that allows for the deployment of American troops on Chilean soil, in the event that the national army finds itself overwhelmed in an emergency."
Chile has gained importance in the Pentagon's strategy ever since various countries in the region—such as Argentina, Bolivia, Uruguay and Venezuela—stopped sending troops to the Western Hemisphere Institute for Security Cooperation (WHINSEC), the heir to the School of the Americas. On the contrary, Chile, which had sent more than 3,800 soldiers to the School of Americas for training, has been sending "some 190 students each year since 2006" during this new stage.
Panetta's visit to Chile came just when the third phase of PKO-A 2012 (Peacekeeping Operations-Americas) was taking place, coordinated by the Southern Command. The first phase was carried out in Concón and the final one in the city of Santiago. According to minister Allamand, "the times of military interventions in Latin America, both domestic and foreign, are over; today, the correct word is cooperation."
The director of the Chilean Joint Peacekeeping Operations Center (CECOPAC), navy captain Claudio Zanetti, explained clearly what "cooperation" means. "Since after the incursions into Iraq and Afghanistan public opinion makes it difficult for the United States to continue to send soldiers to die in other countries, it is betting on training soldiers from other countries who now act under the mandate of the United Nations." Zanetti added that now "the term enemy isn't preferred because you are going to establish or impose peace."
As can be seen, this is the same logic being used for putting Colombia in charge of training Mexican and Central American soldiers: avoid the direct involvement of American troops. Panetta used more diplomatic language in Chile: it is no longer about the United States taking care of the security and defense of countries in the region, "but about facing common enemies together."
We did not have to wait long to hear some criticism from social movements. Human rights layer and executive secretary of CODEPU Alejandra Arriaza said that "they are going to give the old enemy a name that is appropriate for what they want to fight," and that the current trainings were set up in order to "wipe out any form of social mobilization".
Human rights organizations mobilized and delivered a letter to the Minister of Defense in the beginning of May, signed, among others, by Serpaj-Chile, OLCA, the Victor Jara Foundation, Le Monde Diplomatique-Chile, CODEPU, the Martin Luther King Ecumenical Community, the Argentinean Human Rights League and the Alternative Nobel Peace Prize winner, Paraguayan Martín Almada.
The president of the Group of Family Members of the Politically Executed, Alicia Lira, linked Concón's Urban Warfare Training Center with the popular uprisings in Aysén and Calama and the student movement, which are being met with an "insurgency scheme" because they are considered "domestic enemies."
Attract or neutralize Brazil
Brazil was Panetta's most important stop. The decisive moment was the conference held in Rio de Janeiro's Superior School of War, the country's most prestigious military institution, created in 1949 and frequented by the economic and political elites. It was a refined speech, very well thought-out in order to keep Brazil within Washington's sphere of influence.
He began with the normal formalities, praising the "natural beauty" of the city and "its beaches," before pointing out that he is a son of poor Italian immigrants as a way of explaining why he "feels a very strong connection to (Brazil)."
He soon came to the central issue: defense. "We are at a critical point in the history of our two nations, where we have the opportunity to forge a new, strong, innovative security relationship for the future," the Secretary of Defense said. That is why "we have before us a truly historic opportunity to build that defense partnership, a strategic partnership based on mutual interest and respect."
He analyzed the five aspects of the United States' new defense strategy: smaller but more agile and technologically advanced armed forces; "rebalancing our global posture to emphasize the Asia-Pacific," building defense partnerships on all continents; maintaining the ability to defeat more than one enemy at a time; and "prioritizing investments in new technologies," such as unmanned systems, space, cyberspace and special operations.
He later said that the White House approved more than four thousand requests for licenses to export advanced technology to Brazil, ranging from weapons and aircraft to integrated combat systems for navy ships and submarines. He stated that the government of the United States is doing this only "for treaty allies, for our closest partners." He later defended the purchase of Boeing Super Hornet fighter aircraft, since Brazil wants to buy France's Rafales.
Furthermore, he explained that the new strategy includes the incorporation of new nations into global security. Within this framework, he defended a "new dialogue" with Brazil, which in his opinion had been initiated by Obama and Rousseff in Washington earlier in the month. But one sentence in particular reveals how he understands the partnership: "With our deepening partnership, Brazil's strength is more than ever our strength."
Everyone can judge for themselves what type of alliance the Pentagon is proposing to Brazil. As I see it, it is has to do with what can be observed behind all the speeches and action, the undeclared objectives being pursued, as Noam Chomsky points out in his analysis of the "War on Drugs." He states that "in order to determine the real objectives, we can adopt the legal principle that foreseeable consequences constitute proof of intent."
"The War on Drugs," Chomsky argues, "is an attempt to control the democratization of social forces," because "there is in these programs an underlying counterinsurgency abroad and a form of domestic 'social cleansing'" with the mass incarceration of young black males. For this reason, he concludes that the "failure" of the war on drugs is "intentional," since it seeks the destruction of the social fabric with violence and to "get rid of the autonomous economic efforts of various communities in the region, for the benefit of powerful interests."
In the case of relations with Brazil, the Pentagon's objectives appear to consist of: accepting that Brazil is increasing its military power, which is inevitable, but subordinating it to that of the United States. And if it does not consent to subordination? Could it run the risk of being considered an enemy country?
Raul Zibechi is an international political analyst from the weekly Brecha de Montevideo, a professor and researcher on grassroots movements at the Multiversidad Franciscana de América Latina, and adviser to many grassroots groups. He writes the monthly "Zibechi Report" for the Americas Program.
Translation by David Feldman
See Spanish original at http://www.americas.org/es/archives/6866
Sources
Carnegie Endowment, "A Conversation with General Martin Dempsey", 1 may 2012 at http://carnegieendowment.org/2012/05/01/conversation-with-general-martin-dempsey/acqo
El Ciudadano, Santiago, at http://www.elciudadano.cl/
Embassy of the United States-Santiago, Chile "América Latina y EE.UU. enfrentan desafíos comunes, dice secretario de Defensa de los EEUU Leon Panetta", 23 april 2012, http://spanish.chile.usembassy.gov/2012press0425-panetta_latam_eeuu.html
Embassy of the United States-Santiago, Chile "Secretario de Defensa de EE.UU. Leon Panetta promete continuidad de apoyo a Colombia", 23 april 2012, http://spanish.chile.usembassy.gov/2012press0425-panetta_colombia2.html
Juan Forero, "Colombia stepping up anti-drug training of Mexico's army, police", The Washington Post, 22 january 2011.
United States Diplomatic Mission in Brazil, "Palavras do secretário de Defesa Leon Panetta na Escola Superior de Guerra", 25 april 2012, at http://portuguese.brazil.usembassy.gov/pt/panetta-esg.html
Serpaj-Paraguay, "Los nuevos rostros de la militarización. Paraguay 2009-2010", Asunción, 2011.
Pictures: El Ciudadano