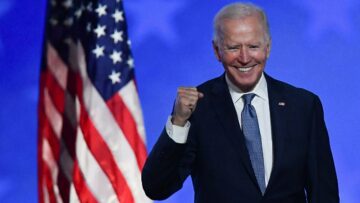 If any country on earth should be breathing a huge sigh of relief about now, it's Mexico. Four years of bashing, bullying, trade threats and white supremacist machinations now ends with the ignominious exit of Donald J. Trump. That's got to be good news.
Yet Mexico, for the most part, did not respond with cheering in the streets. There was a marked absence of the universal enthusiasm for the post-Trump reset on U.S.-Mexico relations that one might expect, considering that more than 90% of the population holds a negative opinion of Trump, according to polls. That's even higher than Trump's 79% disapproval rating among Hispanics in the U.S.
The mixed reaction had much to do with the response of Mexico's president Andres Manuel López Obrador. López Obrador, known by his initials as AMLO, refused to recognize the election results, announcing he would wait for Trump's legal challenges to be resolved. Even after Trump authorized the GSA to begin the transition, Lopez Obrador held back, standing almost alone on the world stage, in the questionable company of Vladimir Putin and Jair Bolsonaro. It wasn't until December 15, the day after the Electoral College declared Biden the winner and some five weeks and two days after the election was called for Joe Biden, that AMLO finally recognized Biden's win.
Although the Mexican president argued that his decision shows Mexico's commitment to non-interference in the internal affairs of other countries, the pretext never held water. Out of eight presidential elections in his administration so far, AMLO joined the rest of the world in the common practice of recognizing the winner after the vote count in six of those nations. Also, by giving arguing that he would await the result of Trump's court cases, he explicitly attempted to legitimize Trump's baseless legal claims. And then even as the court cases fell and Trump's attempt to influence state legislatures not to certify or to release electors failed, AMLO still put off congratulating the US president-elect.
This means that the Mexican administration's stance is not a diplomatic principle, but either political or transactional—political in the sense of actually preferring a Trump victory and attempting to bolster a fizzled GOP attempt to revert the popular vote, or transactional in the sense of getting something in return for humoring Donald Trump. That would be mere speculation, but AMLO did get one major and highly suspicious gift–the bizarre capture and liberation of Mexico's former Secretary of Defense, General Salvador Cienfuegos.
On October 15, General Cienfuegos was arrested in Los Angeles and charged with drug trafficking and money laundering, following a multiyear investigation by the DEA. Prosecutors claimed to have a strong case against the general, including taped conversations with the H-2 cartel. Then William Barr, at Trump's bidding, intervened directly in the New York District Court, charges were dropped and Cienfuegos was sent back to Mexico a free man.
Trying Cienfuegos in the US would likely have revealed not only his collaboration with organized crime, but more widespread corruption in the armed forces. AMLO has gone out of his way to keep the armed forces close, handing them construction projects, port management and even COVID vaccination distribution. Apparently, he has now decided to grant the military impunity from corruption investigations, especially ones with an international profile. The Lopez Obrador government has still not filed charges against Cienfuegos, despite a joint statement that the general was being sent back to "be investigated and, if appropriate, charged, under Mexican law". Returning him to Mexico where Mexico can control a trial or obviate it altogether is clearly a political favor. But for what in return?
The other possible motivation for Mexico's chilly response to the Biden victory and repeated applause for Donald Trump could be concern over what Trump might do in the time between his defeat and his departure. Fear of the real power that the U.S. government has over Mexico has been the driving force of U.S.-Mexico relations under AMLO. Trump's threat to impose a 25% tariff on Mexican exports led to a Mexican crackdown on Central American migrants and the infamous "Remain in Mexico" program to send asylum seekers back over the border to wait months for legal hearings in dangerous refugee camps. The rush to finish the revamp of the North American Free Trade Agreement, now called the US-Mexico-Canada Agreement, aimed at damage control rather than rectifying the asymmetries and injustices of the first NAFTA.
The continued praise of Trump from the loquacious Mexican president (he holds a two-hour press conference every weekday morning and often on weekends) fueled arguments from rightwing pundits in the U.S. and Mexican press who claimed that the two leaders are both populist demagogues, just on different ends of the political spectrum. That's ridiculous, given the opposing nature of their political projects—one an open offensive by the 1%, the other an effort to include and enfranchise the poor. Still, the use of AMLO's completely unnecessary Washington visit during election campaigns in Trump re-election propaganda leaves doubts about the ethics of the two men's relationship.
We may never know the real reasons behind Lopez Obrador's surprising friendliness toward a dishonest billionaire who sought to establish unfettered white, male rule in the world's most powerful nation, meanwhile attempting to take down democracy. But let's say that that's all water under the bridge, or as AMLO apologists say, merely the kind of realpolitik that a dependent nation has to adopt when it shares its border with an imperialist superpower. So where does that leave US-Mexico relations now? When Joe Biden takes office will the slate be wiped clean?
The relationship between the two heads of state will require some serious retooling. The Biden team–led by Secretary of State designee, Antony Blinken, who has little experience in Latin America–has nothing to gain from punishing Mexico's government for its incessant Trump tributes, although the press has quoted several anonymous sources saying Biden and his Latin America advisors are miffed at Mexico's attitude. The relationship will undoubtedly be chillier than it would he been if Mexico had joined other democratic nations in criticizing Trump's moves to dismantle multilateralism, undermine U.S. democracy and use public office for personal gain, but it will work out.
Biden will have to move fast to undo Trump's deals and make the relationship more transparent and oriented to human rights and common principles. As he rebuilds a devastated State Department, he will have to quickly replace Trump loyalists like Mexican ambassador Christopher Landau, a corporate lawyer with virtually no diplomatic experience who has fervently support the Merida Initiative drug-war strategy that has led to more than 300,000 homicides in the country and massive purchases of US guns and equipment. AMLO's Trump-appeasement policy has created obstacles to future efforts to rebuild badly damaged US-Mexico relations, but not insurmountable ones if the president and, in particular, his foreign secretary, Marcelo Ebrard, are willing and able to change chips.
Both leaders have a mandate for change, including change that requires retooling the binational relationship. Biden comes into office with a divided country and party, but a strong and mobilized base for social change. He takes office with a political debt to Hispanics, and to progressives. Lopez Obrador completed his second year in a strong position, with an estimated 60% approval rating despite the tragic results of his laissez-faire approach to the COVID-19 pandemic, economic pain and political blunders. Programs that prioritize the poor and target corruption have kept alive the dream of social justice under his government.
A new relationship from the grassroots
An alliance to support the goals of the Fourth Transformation in Mexico and progressives in the United States could be the basis for a powerful and just relationship that could change history. But let's be realistic–both presidents will likely disappoint on that count. Biden has been a staunch supporter of the militarized war on drugs and private sector-led development that feeds inequality. AMLO has talked about ending neoliberalism as he promotes megaprojects and extractive industries that displace indigenous peoples and damage the environment.
Fortunately, the real hope doesn't lie with the governments. It relies on recognizing the power and vision of progressive grassroots organizing. Mexican and U.S. grassroots movements have historically had ups and downs in building binational bridges. Now there's a renewed impetus. The massive participation of the Latino population in the elections—not just in terms of record voter turnout, but also in mobilization—was in general a targeted campaign to oust Trump in order to move forward on a much broader, longer-term program. United We Dream, the 400,000 strong immigrant youth led network based on DAAC students, stated shortly after the election. "We rolled out one of the largest electoral programs ever led by immigrant youth in the United States… This decisive victory is a mandate by voters and those of us who couldn't vote but energized and mobilized others to the polls, to reject greed and white supremacy, and to vote for policies that value people over profit. But our win doesn't end here."
Immigration obviously links the two nations, but so do other issues. A new agenda on immigration will please human rights groups in Mexico that have decried the AMLO measures against Central Americans in the country and the militarization of the borders and immigration enforcement. The U.S. Movement for Black Lives calls for racial justice, defunding the police and ending brutality should find easy echo with Mexican demands to withdraw the military from public safety, end the war on drugs and reform prisons. Their mobilizations have spurred greater awareness of racism in Mexico with potential ties there as indigenous, women's and defense of land movements deepen the critique of colonialism and neocolonialism. There could also be common ground on challenging the structural violence of DEA operations on both sides of the border.
Mexico's anti-militarization and drug policy reform campaigns will likely not find a sympathetic ear with Biden, although there may be room for progress on gun control if youth in both countries push hard and the Mexican and U.S. populations are moving forward on legislative gains on drug regulation. The grassroots movements need to unite on climate change to question the Mexican government's reliance on oil and gas and make sure rhetoric from their leaders becomes real action. Women can also support each other on calling out gender-based violence, sexual abuse and discrimination wherever it is found. In general, the surge in grassroots mobilization in the U.S. is an opportunity for people's movements to build common cause.
As the leaders seek to reset the relationship, it's time for the movements to do the same. Stale arguments on progressive our presidents are lead nowhere. They will always have limitations. The challenge is to use the grassroots energy, the radicalization of the past year, the innovations of pandemic organizing, the emergence of new social leaders and the increased articulation of movements to look over the border as well. Before the pandemic, Mexico also experienced record numbers in the streets, at the March 8 Women's March. Harnessing that energy and commitment and channeling at least part of it into binational efforts can only make both sides stronger.
Laura Carlsen is the director of the Mexico-City based Americas Program. The original version of this article was published by the New York Indypendent, Dec. 10, 2020.