Recent Posts by Laura Carlsen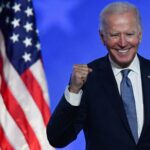 If any country on earth should be breathing a huge sigh of relief about now, it's Mexico. Four years of bashing, bullying, trade threats and white supremacist machinations now ends with the ignominious exit of Donald J. Trump.
Written on January 4, 2021 at 8:37 pm
Categories: Democracy and Society, Drug War, Featured Content, Gender Equality, Human Rights, social movements

Tags: AMLO, binational movements, Joe Biden, Mexico, NORTH AMERICA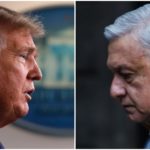 To praise a tyrant is to insult a people. López Obrador's proposed visit to Washington is an insult to the American people, and especially to the 37 million Mexican migrants who live in the United States.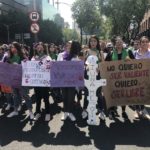 It was the largest and the boldest Women's Day march in the history of Mexico City. Tens of thousands of women pulsed through the downtown streets, a river of violet mirrored by the jacaranda trees in full spring bloom. Women of all ages, sectors, classes, barrios, schools and political and sexual orientation marched; they filled the streets with their bodies and their cries.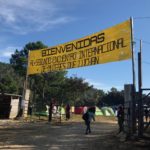 When four thousand women from forty-nine countries met in a Zapatista community to find ways to end violence against women, we knew what we were up against. Many, if not most, of the women brought with them the scars of gender violence. We also knew we were meeting at a critical and contradictory point in the history of women's movements–a point when an all-time high in public attention and mobilization coincides with a rise in the violence the movements aim to stop.
This year different Mexican women's groups organized two actions for the historic conmemoration of March 8, International Women's Day. The  8M march and the Mar. 19th women's work stoppage.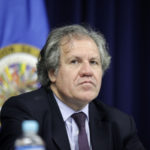 An in-depth analysis of the actions of the Organization of American States reveals a disturbing political bias, a willingness to manipulate events and data for political purposes, and a pattern of double standards under the leadership of Secretary General Luis Almagro. In favoring rightwing governments and forces, while attacking or attempting to eliminate the left in power, Almagro has marked a course that has eroded the regional organization's legitimacy in two critical areas of OAS operations: election observation and human rights monitoring
Written on March 3, 2020 at 5:04 pm
Categories: Democracy and Society, Human Rights

Tags: Chile, COLOMBIA, Haiti, Honduras, human rights in the Americas, Luis Almagro, OAS, OAS Electoral Observation Missions, Organization of American States
Recent Comments by Laura Carlsen
No comments by Laura Carlsen