Recent Posts by Alex Sierra R.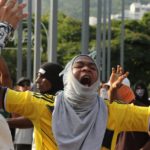 On November 21 nationwide demonstrations began that drew hundreds of thousands of Colombians into the streets to protest against the Duque government. Just three years after signing the peace accords, more than 23,000 people have been killed in Colombia. Forty-three percent of the victims are under 25.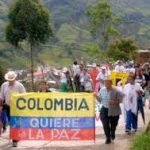 Tens of thousands march to support the peace process after the Oct. NO vote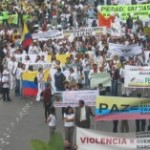 In the midst of a severe crisis in the peace talks between the Colombian government and the guerrilla Revolutionary Armed Forces of Colombia (FARC by their Spanish initials) in Havana, terrorist acts have reappeared in urban centers that could be part of a dirty war by the extreme right and other enemies of the peace process, as they prepare to run in upcoming elections next October 2015.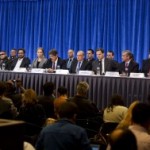 The Revolutionary Armed Forces of Colombia (FARC) began peace negotiations with a surprise proposal in La Habana (Cuba) on November 19th. In Colombia some groups assert that peace depends upon the political will of the guerrillas, but what conditions exist for a successful process?
Following President Juan Manual Santos's August 27 announcement that exploratory talks were underway with the FARC to put an end to Colombia's armed conflict, the organization "Colombians for Peace" issued a proposal for achieving peace from the perspective of civil society. The Americas Program was present and interviewed one of the spokeswomen, social and political leader Piedad Córdoba, about this new and, hopefully, definitive peace process.
Written on October 10, 2012 at 8:39 pm
Categories: Uncategorized
On June 12, Colombian president Juan Manuel Santos responded to criticism from a group of a group of retired military Continue Reading »
Written on August 21, 2012 at 1:23 pm
Categories: Uncategorized
Hanging from City Hall in the center of downtown Bogota is an enormous banner that reads: "To arm or to love?" [Armar or amar], advertising an initiative being carried out by the new administration of democratic leftist mayor Gustavo Petro Urrego. The initiative bans legal firearms from public places in an effort to reduce the number of homicides. The measure is also intended to strengthen the ability of the police to dismantle criminal bands and decommission illegal firearms and other weapons.
Written on April 3, 2012 at 7:33 pm
Categories: Uncategorized
Recent Comments by Alex Sierra R.
No comments by Alex Sierra R.