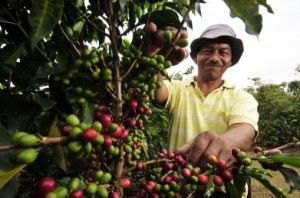 The dual plagues of blight and price fixing are causing the scarcity and high prices of the fragrant bean, but the real problem for communities is the need to grow other foods.
"The scarcity of coffee and the price increases will have an affect on the indigenous population," warns Eliseo Gómez Álvarez, member of a small association of coffee growers in the community of San Pedro, in Chenalhó, in the highlands of Chiapas. Jorge Santiago, who works alongside the local communities, explains that "the coffee economy is not an alternative, they have to be able to produce corn and other foods."
During the months of January and February 2014, coffee prices rose in Chiapas. One explanation was coffee rust, a fungus that infects coffee trees. However, as local experts explain, there are many factors working together to turn production into a crisis. "There's not far to go until the situation becomes explosive," explains Javier Galván, member of the coffee network of the National Union of Regional Autonomous Rural Farmworker Organizations (UNORCA, in Spanish).
Scarcity and price increases will directly affect many families, for whom it is their only source of income. "This will become chaos, there will be a lack of food and people will begin to migrate to large industrial cities, to Cancún, to other countries. We won't have any other option," laments Gómez Álvarez.
On the large plantations of Soconusco, one doesn't hear about the rust problem, explains Jorge Santiago, founder of the organization Social Economic Development for Mexicans (DESMI, in Spanish). Where one does hear of it "is in rural farming communities and indigenous areas, in Chenalhó, in Pantelhó." Some of these rural farmers work to strengthen the coffee plantations, he explains, "and they work in agroecology. Many of them already have experience in dealing with these kinds of pests."
Other problems pushing prices up are sales and price fixing. Those that are organized in cooperatives are better able to resist this, but that depends on the organization, explains Jorge Santiago. The state wants "control over economic matters and there are cooperatives that are deciding to close down." Santiago explains that the new tax laws, corruption, and a lack of corn are suffocating rural Chiapas farmers.
The International Coffee Organization declared recently that the price of coffee had risen so dramatically because of a reduction in production in Brazil, due to lack of rain. However, in the state of Chiapas, "the problem now is that there is no coffee because of the rust," Galván explains.
In Chiapas, Oaxaca, and Veracruz, production has decreased. Galván points out that "in Chiapas, the decrease in production is severe, because from the 2.2 million bags that we normally get in every harvest, now we are lucky if we get a million." A family has at most a hectare or two for the coffee, explains Eliseo Gómez, a local indigenous tzotzil farmer. The money that they earn "is used to buy food and medicine or tools that we need."
Santiago explains that this situation is permanent. "Coffee is just one more component of the food crisis," because if the small-scale producers lose production areas they lose everything, and the large corporations or plantations only lose a small percentage, he adds.
Mexico produces more than six million bags and with this crisis the reduction is expected to be about 50 percent. The problem in the domestic market is the prevailing idea that production should be for exportation, notes Galván. This puts small producers at a disadvantage, besides the fact that some are not organized, points out Santiago: "The trend is to eliminate small producers and traders and their organizations so that they don't compete with the larger businesses that have more resources or have a certain relationship with the state."
The rust blight is expanding to Oaxaca and Veracruz, says the UNORCA representative, and there are additional breakouts being reported in Colima and Nayarit. Organizations of coffee growers asked the Secretary of Agriculture, Livestock, Rural Development, Fishing and Nutrition (SAGARPA, in Spanish) to declare an emergency, but this has not yet happened. "We warned them that the blight could turn into a very serious problem, and now we have that problem," Galván points out.
Coffee price increases have already begun to lead to grassroots mobilization. In Chiapas, more than 8,000 people organized across the Coast, Mountain, and Soconusco regions. In the Concordia region they have also taken control of the highways.
"There is a real lack of interest among the authorities of Chiapas," according to Galván, although this would be "the first state that would run out of coffee, since this is where it's first harvested."
"We are already in April and there's no more coffee; we don't know what's going to happen," says Eliseo Gómez, "but with mutual assistance and solidarity we can confront this problem."
Originally published at desinformemonos.org