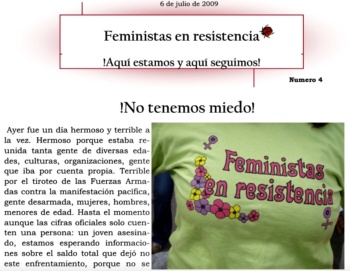 When the news first came out, we were in shock. Then came a slow calm of disbelief. This is an old habit inherited from the 2009 coup, when every time we thought the repression would ease up and that the world was not going to put up with such nonsense in the 21st century, the regimen imposed new measures. One of those was the executive decree that prohibited the emergency contraception pill (ECP), aimed at the rights of all women.
We learned to normalize bad news, as if it were a change in the weather, with impassiveness and resignation.
So on March 8, at 9:00 p.m., it took a while for the news to sink in: The Minister of Health and President Xiomara Castro Sarmiento had signed an executive agreement that declares the free use and sale of ECPs. Expressions of joy broke out, alongside the "indignation" of those who opposed the decriminalization of ECPs.
Honduras is one of the few countries in the world to prohibit the "morning after" pill. The World Health Organization (WHO) announced its medical opinion that the ECP is not abortive, and (separate discussion) even if it were, the UN has already declared that abortion is a human right. But there is still a long way to go in terms of the sexual and reproductive rights of women in the country.
The Central American nation of Honduras has a population of approximately 9,673,261 million inhabitants. According to the National Institute of Statistics, women continue to be the majority of the population, with 4,967,139 women (51%) and 4,706,122 men (49%). Many of these women are young, between the ages of 10 and 25, a figure that coincides with the main victims of sexual assault, according to studies by the Observatory of Violence in Honduras.
With the election of the Supreme Court of Justice last February, deputy Tomás Zambrano of the conservative nationalist party, stated: "The Supreme Court of Justice cannot be handed over to Libre (Party) with its socialist agenda, because they are going to want to 'legalize' abortion and equal marriage… The family in Honduras is made up of a woman and a man with our children".
The deputy is apparently unaware of the reality of families in Honduras. According to data from the statistics institute, 73% of households are in poverty and of these, 53.7% in extreme poverty and so many "families" are forced to flee and move to the United States, Spain or other European countries.
Little do they know that living in Honduras as a child or adolescent implies a greater risk of sexual abuse and, therefore, of early pregnancies in a country where impunity is rampant. Little do they know about the "corrective" rapes of lesbian women as part of a process to become "a woman as she should be".
They ignore the mothers who flee the country or the regions due to threats from organized crime that they will capture their daughters and force them into the network of sexual exploitation. Little do they know, it seems to me, of the reality of women in all the places their luxury cars don't go. They do not know the cries of adolescent girls over an unwanted pregnancy, because women suffer in silence, desperate, looking for alternatives.
The reality of women in Honduras, at least for the majority, is also a matter of class. The poorest and most vulnerable women are too often forced to give birth to a child from the body of a child. This is not just a women's issue, it is a social class issue.
I have had to accompany cases of girls after suicide attempts due to getting pregnant by their father or some other relative. Some have died in the process and others have to undergo mandatory C-sections because their bodies are not ready to give birth. Almost in all cases of girls and adolescents under 15 years of age, a cesarean section is the indicated option. I, who have had two C-sections, know that it is a brutal procedure and the body will never be the same again.
So, I am stand up for the lives of those girls, of those adolescents, of those women. The approval of the EPCs is not a gift–it is one of President Castro's campaign promises to women. It is perhaps one of the first to be kept in more than a year of government, but even so, it is appreciated.
Although we still have a long way to go and we continue to be one of the countries with the highest rates of femicide in the world, this is a step forward. We know that it can be a fragile achievement because we are surrounded by conservative and powerful forces, conditioned by the resources of the evangelical and Catholic churches to have control of women's bodies. We know that and, as a feminist, I am alert to backlash because, as I said at the beginning, I've learned to be wary and not take good intentions for granted.
But for today, the decriminalization of EPCs is good news–enough to make us happy and feel like dancing, singing, and celebrating. It was not for nothing that we had to wait thirteen years for this day.