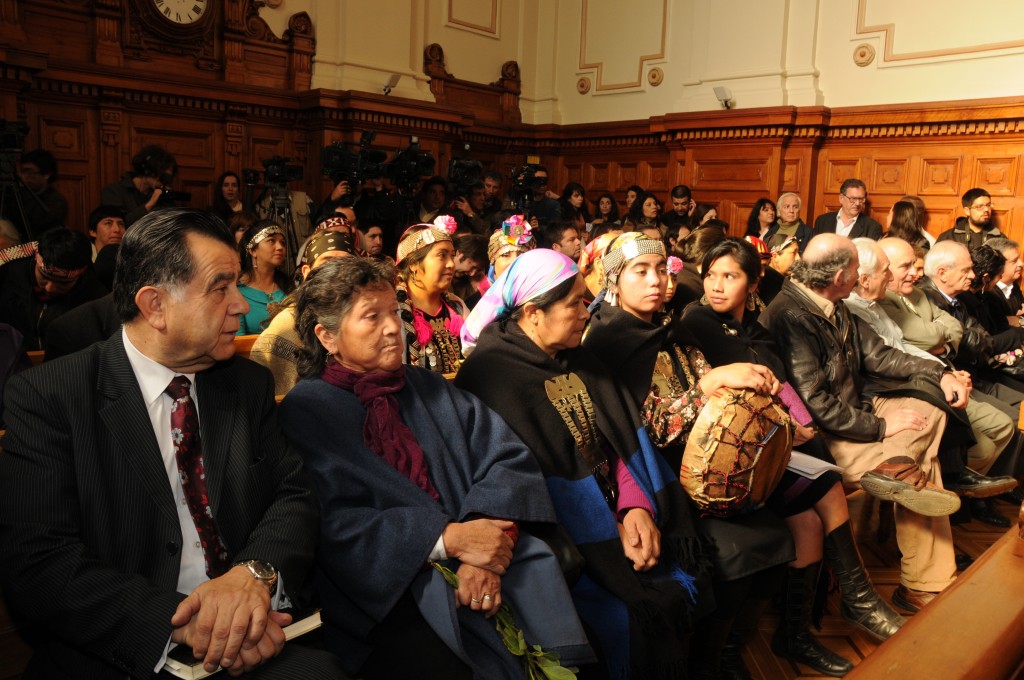 "While the nation and its governments do not have the political will to resolve our historic demands, which are based in territory and autonomy, it will be difficult to have peace.  If the government continues to obstinately militarize certain territorial spaces, there will be no real possibilities to seek some kind of understanding," declares Ramón Llanquileo Pilquimán from the southern Chilean prison in Angol.  He is one of the two Mapuche political prisoners on  hunger strike since November 14.
Llanquileo and Héctor Llaitul, both leaders of the Coordinadora Arauco Malleco (CAM), demand a reconsideration of their legal situation after being convicted for attempted murder. This is the third hunger strike they have carried out since their arrests in 2009. During the previous strikes, they lasted close to 90 days without nourishment.
The "Mapuche problem," warns an appeal circulated in solidarity with their cause and with the activists on the hunger strike, "is not simply a criminal or legal issue; it is a political issue that involves recognizing that the Mapuche are enlisted in a cause that stems from Chile's abusive occupation of their territory south of the Bío-Bío"
Llaitul and Llanquileo, emphasizes the manifesto, "cannot be treated like delinquents and much less like terrorists." Keeping them in that condition, it continues, "makes it even more difficult to move forward with the current dialogue between the Chilean nation and the Mapuche people."
The Coordinadora Arauco Malleco, criminalized and persecuted since its beginnings, is an organization that demands the autonomy of Mapuche communities and the recovery of seized lands, reasons for which they have been categorized as "terrorists." The CAM, states Wikipedia, "is a nationalist Mapuche organization of a terrorist character." No more, no less.
But it is neither terrorist nor criminal. The CAM is part of the autonomous Mapuche movement that struggles for the reconstruction of a people that has been historically dispossessed, plundered, and destroyed. For over a decade, its struggle has expanded and not only includes the recovery of land usurped by the Chilean state and transnational corporations; but also struggles for the vindication of the best elements of a culture that has been vanishing along with the land: language, ancestral organizations, traditions, human relations. In sum, being Mapuche.
The CAM "headed a cycle of recovery of ancestral lands from 1998 to the present, with demands for territory and autonomy in order to reconstruct and defend their rights as native people. The state's response has been an aggressive criminalization and persecution of the Mapuche movement, in which close to 250 activists have been prosecuted, many of them members of CAM," warns the call to solidarity.
There has been an attempt to prosecute both Ramón Llanquileo Pilquimán and Héctor Llaitul twice, they were acquitted in a military tribunal, and convicted in a civilian court, strangely enough with the same witnesses and evidence.
"We find this violation of some of the most basic legal principles alarming. Principles such as non bis in idem, in which a person cannot be tried for the same crime twice, and the use of secret witnesses as has happened in this case, breaching legal guarantees. We are extremely worried over the violation of basic human rights, considering that the state's response to indigenous demands for land, territory and autonomy cannot be the criminalization of social protest," indicates a global initiative of intellectuals in their defense.
Currently, the specific and urgent demands are: a rejection of double jeopardy, prison benefits for Ramón Llanquileo (who can access these benefits after serving half of his sentence); and the recognition of time served on remand (close to 5 years as a result of the anti-terrorism law) as part of the sentence already reduced.
Guaranteeing due process of the detainees, revising the legal irregularities in their trial, guaranteeing dignified prison conditions and bringing an end to their unjust prosecution, is the demand that traverses the continent, along with the call to "the immediate and unconditional release of Héctor Llaitul and Ramón Llanquileo as a way to end the hunger strike; the creation of a dialogue between the Chilean state and legitimate representatives of the Mapuche people; the defining of a common agenda; the communities' recovery of the territories now in the hands of forestry companies and the recognition of the 1825 Treaty of Trapihue, currently valid and not respected by the Chilean state."
Gloria Muñoz Ramírez is the director of the electronic journal, Desinformémonos, where this article was originally published.
Translated by Marlene Medrano
Originally published by the author in Ojarasca, a supplement of La Jornada on January 12, 2013.
INTERNATIONAL PRONOUNCEMENT
FREEDOM TO MAPUCHE POLITICAL PRISONERS
JANUARY 2013
We, artists, academics, indigenous, civil, popular and social organizations of various nationalities, wish to make public our concern over the irregularities and iniquities committed in the criminal proceedings against the Mapuche political prisoners in Chile, Ramón Llanquileo Pilquiman and Héctor Llaitul Carrillanca, members of the Coordinadora Arauco Malleco, as well as the violation of any guarantees for the dignified fulfillment of their sentences.
We find this violation of some of the most basic legal principles alarming. Principles such as non bis in idem, in which a person cannot be tried for the same crime twice, and the use of secret witnesses as has happened in this case, breaching legal guarantees. We are extremely concerned over the neglect of basic human rights, considering that the state's response to indigenous demands for land, territory and autonomy cannot be the criminalization of social protest.
We make an energetic call to the Chilean state to guarantee the detainees' due process, to revise the legal irregularities in their trial, to guarantee dignified prison conditions and immediately bring an end to their unjust prosecution. In the same manner, we make a call to respect the rights and basic guarantees of the Mapuche people, to recognize the rights of indigenous peoples established in the ILO's Convention no. 169 and to respond urgently to the demands of the political prisoners on a hunger strike.
We want to express our support for the humanitarian proposal made by 12 public figures, including renowned historians and journalists, student and church leaders, among many others. The initiative, which calls on the state to take a path of peace, based on the recognition of ancestral lands and other measures, is without a doubt, a proposal from the Chilean civil society that deserves our support and backing.
We join the calls for international solidarity to mobilize in January 2013 to demand the release of Mapuche prisoners. Finally, we send a message of solidarity from many parts of the world to the prisoners and their families, and to make it known to native peoples, especially to the Mapuche people, that they are not alone.
SIGNED:
ERNESTO CARDENAL, NOAM CHOMSKY, JAMES PETRAS,MICHAEL LÖWY, EMIR SADER, PABLO GONZÁLEZ CASANOVA, RUBÉN ALBARRÁN, MANUEL GARCIA, CAMILA MORENO, GUSTAVO CORDERA, PEDRO LEMEBEL, ELENA PONIATOWSKA AMOR, ANÍBAL QUIJANO OBREGÓN, MARTA HARNECKER,RODOLFO STAVENHAGEN, WALTER D. MIGNOLO, MICHAEL LEBOWITZ, EDGARDO LANDER,ANA ESTHER CECEÑA, JOHN HOLLOWAY, DEMIÁN BICHIR, MARCOS ROITMAN ROSENMANN, RAÚL ZIBECHI,AMPARO SANCHEZ, FRANCOIS HOUTART, ADOLFO GILLY, ÓSCAR CHÁVEZ, MARISTELLA SVAMPA, FERMIN MUGURUZA, CLAUDIA KOROL, CARLOS WALTER PORTO-GONÇALVES, GASPAR LLAMAZARES TRIGO, BEATRIZ AURORA CASTEDO, HÉCTOR DÍAZ-POLANCO, GLORIA MUÑOZ, GUILLERMO ALMEYRA, GILBERTO LÓPEZ Y RIVAS, PABLO MAMANI RAMIREZ, ÓSCAR OLIVA, RASHID SHERIF, THIAGO DE MELLO, FRANK GAUDICHAUD, PIERRE SALAMA, FABIOLA VIDAL TOLEDO, VIVIAN LAVÍN, IGOR GOICOVIC DONOSO, GENNARO CAROTENUTO, MARIO CASASÚS, ORLANDO CAPUTO LEIVA, RAÚL ORNELAS, ELVIRA CONCHEIRO, JOSÉ VENTURELLI,ALIPIO FREIRE, DANIEL OZUNA, FARIDE ZERÁN, VIRGILIO CABALLERO, HERMANN BELLINGHAUSEN, MARÍA EMILIA TIJOUX, VÍCTOR MUÑOZ, RICARDO ANTUNES, PAULINA FERNÁNDEZ CHRISTLIEB,RAQUEL GUTIÉRREZ, JOSÉ LUIS ÁLVAREZ GARCÍA, CARLOS TAIBO, MARIO AMORÓS, BENJAMÍN ARDITI, JORGE RIECHMANN, SILVIA RIBEIRO, SERGIO NARANJO, CARLOS ANTONIO AGUIRRE ROJAS, ALFREDO VELARDE SARACHO, AXEL DIDRICKSON,SILVIA SORIANO, JUAN ARANCIBIA, CARLOS FAZIO, VÍCTOR TORO RAMÍREZ, CARLOS FERNÁNDEZ LIRIA,BÁRBARA JACOBS, VICENTE ROJO, HÉCTOR SILVEIRA, AGUSTÍN ÁVILA,ELÍAS LETELIER, SUSANA RUÍZ GUZMÁN, JEANNETTE MONTOYA, AURELIO CUEVASDÍAZ, GERMÁNICO DRUSO (JUÁN CARLOS PACHECO),DIEGO ALVAREZ MAUREIRA,SALVADOR LÓPEZ ARNAL, JOSE MARÍA RIPALDA CRESPO, PACO SEGURA, JOSÉ ALBELDA RAGA, MIGUEL ÁNGEL TROITIÑO VINUESA, MASSIMO MODONESI, GERMÁN HURTADO ALDANA, MIGUEL ÁNGEL ÁLVAREZ QUINTANA,  CARLOS RIVERA, TOM KUCHARZ, NÚRIA VIDAL DE LLOBATERA, MANUEL MONEREO PÉREZ, LOIS PÉREZ LEIRA, DIANA GUILLÉN, MARCO CEDILLO COBOS, ANTONIO RAGO FILHO, CARLOS EDUARDO MARTINS, JUAN CARLOS MONEDERO, ALEJANDRO MOREANO, FABIOLA ESCÁRZAGA, JURY GARCÍA ANCAMIL, LOS DE ABAJO,ELENA URRUTIA, YLENIA HARTOG, CATALINA EIBENSCHUTZ, ARNALDO PÉREZ GUERRA,VICTOR HUGO DE LA FUENTE, ISELA VEGA, BEATRÍZ STOLOWICZ, HERNÁN OUVIÑA, LUISA HUERTAS, JOSÉ MANUEL MARTÍN MEDEM, LUCIANO ESPINOSA, NIALL BINNS, JAVIER MOYA EQUIZA, ABEL ESTEBAN;JANEKEN MONTOYA; JAVIER ANDRADE; MARCO ANTONIO VELÁZQUEZ NAVARRETE, ANA LAURA VILCHIS OCHOA, CARLOS BEAS, ADRIÁN SOTELO, MARTA DE CEA, MODESTO LÓPEZ, LAURA CARLSEN, FERNANDO ALTEMIR, MARIO BLADIMIR MONROY GÓMEZ,  MARCELA ALVAREZ PD, ALFREDO DUARTE CORTE,
TOGETHER WITH:
People's Front in Defense of the Land (Mexico); Platform of Solidarity with Chiapas and Guatemala in Madrid (Spain); La Dignidad Popular Movement (Argentina); La Karakola Social and Cultural Space (Mexico, D. F.); National Sector Workers and Employees of the City, the Countryside, the Sea, and the Air of the Other Campaign (Mexico); Intelligent Action Collective of the Unemployed, Students, and Workers, (Mexico); Administrative and Academic Workers Coalition of STUNAM (Mexico); Uniroyal National Workers Union (Querétaro, Mexico);  The Other HuastecaTotonacapan (Veracruz, Puebla, Hidalgo); Autonomous Center for Training and Political Education of the Workers of the Other Campaign (Mexico, D.F.); Dorados de Villa (Puebla and Veracruz, Mexico); Ollin Alexis Benhumea Hernández Autonomous Community (Cuetzalan, Puebla); Ernesto Guevara de la Serna Autonomous Community (Ayotoxco, Puebla); Independence Collective (Xalapa, Veracruz); Independent Art Collective (Puebla, México);  Francisco Villa Independent Popular Front-UNOPII (México);  youth in alternative resistance (México); Unity and Citizen Resistance Movement (Poza Rica, Veracruz); San Juan Copala Autonomous Municipality (Oaxaca, México); Honorable National Student House (México, D.F.); The Word of Water Ñomndaa Radio Committee (Guerrero, México); Education for the Liberation of Our People Zapatista Organization (México); Popular Indigenous Council of Oaxaca "Ricardo Flores Magón," CIPO-RFM (México); Guetza Radio (Oaxaca, México); Street Brigade for the Support of Women 'Elisa Martinez' A.C. (México); the People's Front in the Other Campaign; Neighborhoods' Union; Friends of Puerto Rico Committee, Southeast Maderas del Pueblo A.C. (Chiapas, Mexico); Mexican Action Network on Free Trade (RMALC), (Mexico).