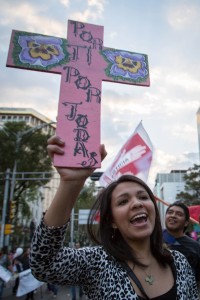 This article is the first in a series by the Americas Program honoring Mexico's women human rights defenders, to be published during the 16 days of activism Against Gender-Based Violence between the International Day for the Elimination of Violence Against Women (Nov. 25), and the International Human Rights Day (Dec. 10). Watch for the rest of the series here and please send us your comments at: info@americas.org. -Laura Carlsen, Editor
Mexican women have consistently organized against gender violence. Women whose children have been disappeared, whose daughters have been murdered, or who have been attacked themselves have used this rage and heartbreak to organize collectively to create a Mexico where this violence does not exist, or at least is brought to justice. These women human right defenders work in a country where violence against women is pandemic, and by dedicating their lives to defending human rights, their own lives are often endangered.
In 1993, Ciudad Juarez was booming thanks to the maquiladora industry that drew tens of thousands of women to the city for work with transnational companies such as General Electric, Alcoa and Dupont. By 2009 the Chihuahua border city was christened as the "murder capital of the world" when it set a record of homicides per capita. Capitalism and free trade agreements like NAFTA inspired the creation of maquiladoras, or sweatshops which appealed to low-income women seeking employment. Between 1993 and 2014 in Ciudad Juarez's state of Chihuahua there were 1,530 femicides—the term used to describe the murder of women for being women.
This violence against women goes beyond Ciudad Juarez's borders and has become a horrific phenomenon across the country. Between 2012 and 2013 there were 3,892 femicides in the country, according to the National Citizen Femicide Observatory (OCNF). Only 24 percent were investigated, and merely 1.6 percent sentenced. Under the cover of massive impunity, violence has risen to where now six women are murdered a day in Mexico.
With such daunting statistics it is easy to forget that each number represents a woman's name, voice, life and dignity. Neyra Cervantes, Beatriz Alejandra Hernández Trejo, Lilia Alejandra García, Esmeralda Herrera Monreal, Claudia Ivette González, and Nadia Vera, are just a few of the women whose futures were stolen from them by a patriarchal culture and society of violence. These thousands of women are not merely numbers, but human beings with dreams, purpose, family, and so much more.
Violence Against Women Human Rights Defenders
The defensoras, or women human rights defenders, embody courage every moment as systematic violence has broadened its target toward them as a way to disempower women activists, weaken movements for social change, and maintain the patriarchal, militarized Mexican State. Between 2010 and 2014 the National Network of Women Human Rights Defenders documented 615 attacks against women human rights defenders. In the last five years, 36 women human rights defenders have been assassinated.
The statistics, while horrifying, shouldn't only lead to indignation and action if enough women are killed for being women. One woman is enough; one woman is too many.
___________________________________________________________
The statistics, while horrifying, shouldn't only lead to indignation and action if enough women are killed. One woman is enough; one woman is too many.
___________________________________________________________
Women human rights defenders risk their lives every day to create a Mexico where being a woman doesn't inherently mean a doomed fate. Bety Cariño, María del Rosario Fuentes Rubio, Susana Chávez, Malena Reyes, Luisa Ornelas, Josefina Reyes, Sandra Luz Hernandez, Norma Angélica Bruno, and Juventina Villa Mojica are just some of these fallen heroes that have sacrificed their lives to defend others.
To honor their lives, resilience and work, and to portray the grave reality of women human rights defenders in Mexico, the Americas Program is publishing a series highlighting assassinated defensoras. We should say their names. And we should learn from their feminist legacy to continue their work.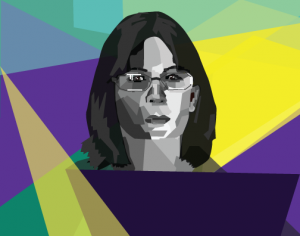 Marisela Escobedo Ortiz
Mother of femicide victim, human rights defender and activist who was assassinated on Dec. 16, 2010.
In August 2008, Rubí Marisol Frayre Escobedo, Marisela Escobedo's 16-year old daughter, left the house and never came home again. Rubí was in a tumultuous relationship with Sergio Barraza, who had ties to the drug cartel Los Zetas. Together they had a daughter, Heidi, who was 6 months old at the time of Rubí's disappearance. Months later, they found Rubí's dismembered and partially burned remains in a dump.
Marisela's activism was motivated by love for her child, despair for her loss, and an unwavering search for justice in a country where impunity thrives. When authorities' search for the culprit failed, Marisela took the quest into her own hands. She discovered the murderer was Sergio Barraza, and she tracked him until he was arrested. In custody, Barraza confessed to beating Rubí to death and then burning her body.
Despite going to trial backed with this confession, three Chihuahua judges—Catalina Ochoa, Rafael Boudib y Netzahualcóyotl Zúñiga—released Barraza for what they deemed insufficient evidence. Pressure from human rights groups led to a retrial that sentenced Barraza to 50 years of imprisonment, but he had already fled.
Marisela organized with other mothers of disappeared or murdered children. She staged many demonstrations, and even marched during a protest wrapped in a poster of Rubí. She stated, "All I demand and need is justice and no more femicides". She embodied conviction, courage, and creativity as a mother, activist, and human. At a forum where she denounced the lack of justice and the crime against her daughter, Marisela read a letter addressed to Rubí, frequently choking back the tears:
There are moments when I feel like the pain is going to explode in my chest. Each day that passes I think, this is the most pain I can feel, and then the next day is even more painful… I don't want time to erase your face, your gestures, your smile, your happiness, your habits. I want to remember you forever so that one day I can tell your daughter all about you… In my nights of insomnia, I look for your face in the stars. But I can't find you. All I see is darkness and sadness… If you have to go, help me find peace to care for your daughter as much as I have loved you.
But Marisela never found peace and she will never be able to tell Heidi about her mother Rubí. As Marisela continued to track Barraza to bring him to justice for the murder of her daughter, she and her family began to receive death threats.
On Dec. 16, 2010 Marisela was taking part in a peace vigil with the Justice for Our Daughters organization outside of Governor Cesar Duarte's offices at the State Capitol of Chihuahua. In broad daylight, an assassin shot her down as she fled for her safety. She fell at the steps of the government building where she had so often demanded justice for the femicide of her daughter; the headquarters of the authorities charged with protecting citizens.
Marisela's son, Juan Manuel Frayre Escobedo stressed that, "I've always maintained that my mother had become a problem for the authorities and for this they allowed her assassination right in front of their premises."
Marisela's death is telling of the state's inability, unwillingness, and failure to protect women's lives. Laura Carlsen, Director of the Americas Program, states, "Marisela's murder at the steps of the State Capitol symbolizes the relationship between gender violence in the private and the public spheres, between the lethal sexism of men who kill women and of governments who let them get away with it, between an out-of-control counter-narcotics war and the long-boiling situation of unpunished gender crimes."
The Mexican and U.S. governments have invested billions into their war on drugs, of which some $3 billion comes from the U.S. funneled mostly through the Merida Initiative. Instead of pacifying organized crime, the war on drugs has resulted in increased militarization of the state and extreme violence against women. Patriarchy, capitalism, militarization, and a government that is in collusion with organized crime has made women targets of violence, disappearances, sexual assault, harassment, and murder.
After Marisela's assassination, her brother-in-law was kidnapped and killed. Marisela's family continued to receive threats and so, days after her death, Heidi, Juan, four aunts and uncles, and other family members left to the United State to seek political asylum.
Over the next two years the state would develop three different stories, and accuse three different suspects: Sergio Barraza; Héctor Miguel Flores Morán, alias "El Payaso" (The Clown), and José Enrique Jiménez Zavala, alias "El Wicked". Juan doesn't agree with any of these versions of the crime and believes that , Antonio Barraza, Sergio's brother, murdered Marisela.
In Nov. 2012 Sergio was killed in a confrontation between the military and Los Zetas. Then in Dec. 2014, José Enrique Jiménez Zavala, "The Wicked", who was imprisoned for Marisela's murder, was found convulsing in his cell and soon afterwards was declared dead. Initially his cause of death was ruled a heart attack, but reexamination found a fracture in his cervical vertebrae, indicating a violent death. There was no further investigation into his death in prison. When violence prevails, no life is safe or valued.
Marisela was a mother driven by a strong and abiding love for her daughter. She was a powerful human rights activist whose words moved people. With her bravery and implacable sense of justice, Marisela was the kind of citizen Mexico needs, a leader with an unbreakable commitment. She is no longer here to share her passions, or her vision for the future, or her memories of life was before Rubí's murder. A broken world stole her.
Once when Marisela was discussing her daughter she stated, "I'll tell you something that no murderer and no authorities know. My daughter has a name: Rubí. She had a personality. She had a family that loved her. And she left a baby 6 months old who disgracefully had to witness the murder of her own mother. And something else–my daughter will not be a number. She will not be one of the 7,649 women in Ciudad Juarez that have been violated and assassinated during the last 17 years."
Marisela will also not be a number. Her bravery, like that of defensoras throughout the country, sets an example.
The struggle of women anywhere in the world is our own. This war against women silences and disempowers us. Mainstream media largely ignores the voices of women activists, and pushes the death of women under the rug. We must not let gendered violence deter us, and instead unite our voices to create a world that values women's lives.
Rest in peace, Marisela. We will continue your fight.
Nicole Rothwell is an intern for the Americas Program www.americas.org and writes about global social movements, education, and human rights in the region. 
Editor: Laura Carlsen
Artwork by Sarrah Hashim
Photo by Maria de la Guardia
For Further Information:
The Drug War's Invisible Victims By: Laura Carlsen
https://www.americas.org/archives/6297
The Murdered Women of Juarez By: Laura Carlsen
https://www.americas.org/archives/3895
Casa Amiga: Leading the Fight to Protect Women in Ciudad Juárez By: Jonathan Treat
https://www.americas.org/archives/1274
War Crimes against Women: A Private Hell By: Laura Carlsen
https://www.americas.org/archives/2111
Women Human Rights Defenders Risk Death, Discrimination By: Laura Carlsen
https://www.americas.org/archives/4075
The City of Outrage: The Impact of Violence in Ciudad Juarez By: Americas Program
https://www.americas.org/archives/5738
Americas Program's Gender Equality Article Archive: https://www.americas.org/archives/category/equality